Yay Flash's turn!
---
He always seems to self stack when I don't have my camera ready. I finally managed to get a shot of him today! It's not his best IMO but it's the best I've snapped. Slightly downhill too.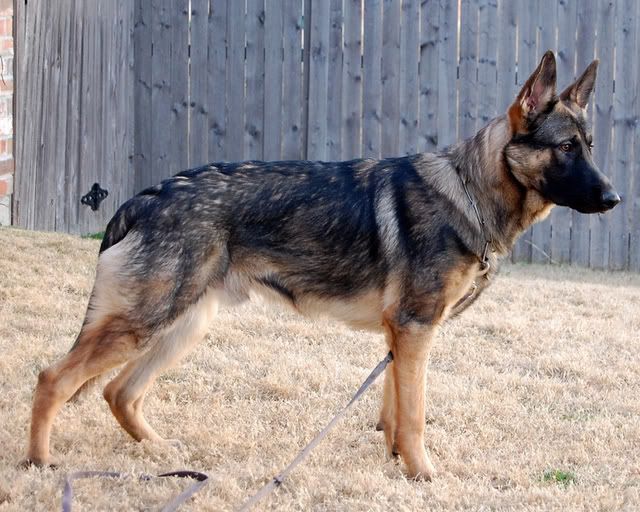 Best headshot I was able to get today (sorry about the ear!)...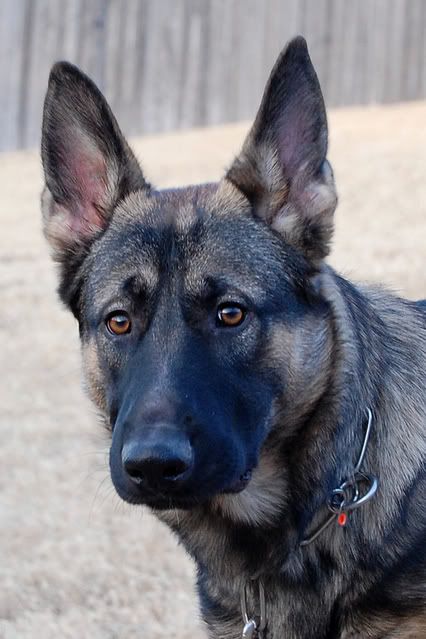 8 months old
---
The German Shepherd's faults are faults of education not nature, for if someone worked with him he would be blissfully happy and most obedient of all dogs. - Max von Stephanitz
Re: Yay Flash's turn!
---
Masculine young male that looks balanced and athletic. Flat withers, good topline going into a short, but well placed croup. Sufficient angulation front and rear and he is a bit upright on his pasterns. Very nice head and earset. Excellent rich color and pigment. You have him in good condition too.
---
Lisa Clark

To view links or images in signatures your post count must be 10 or greater. You currently have 0 posts.
SG1 Deja IPO3 AWD1 KKL1 B/HOT, SG Elena IPO1 KKL CGC B/HOT, LB (the ugly little sable) IPO2 KKL B/HOT, Jarka (up and coming) BHOT, and gone but not forgotten, Vala SchH3 AWD1 FH2 CGC B/HOT, Donovan IPO1 TR2 AD, Nike SchH1 OB1 TR3 AD CGC HOT, Treue SchH3 CD CGC HOT
Re: Yay Flash's turn!
---
Wow, he is gorgeous! Love his coloring - very close to my Tessa's.
---
Holly~
Tessa vom Sonnenaufgang

Re: Yay Flash's turn!
---
Thanks Lisa! If only I obsessed about my condition as much as I do his!
---
The German Shepherd's faults are faults of education not nature, for if someone worked with him he would be blissfully happy and most obedient of all dogs. - Max von Stephanitz