Lisl has been sleeping with in my bed except for one night I crated her because I was dead tired and had to get up earlier than usual the next morning.

I like it because she seems to like it and I don't have to crate her. She spends enough time in there when I'm at work, so I don't want her in there if she doesn't have to be. She can't get off either because she's too small and the beds is too high.

She behaves and can make it through the night if I make sure she goes out enough before bedtime and restrict her water intake after 8PM.
---
Bear, Anna, Molly, Ossie, and The Countess Lisl von Schlaf

An Unhappy German is a Sour Kraut!
Yes, it is bad..... because I never get a good nights sleep!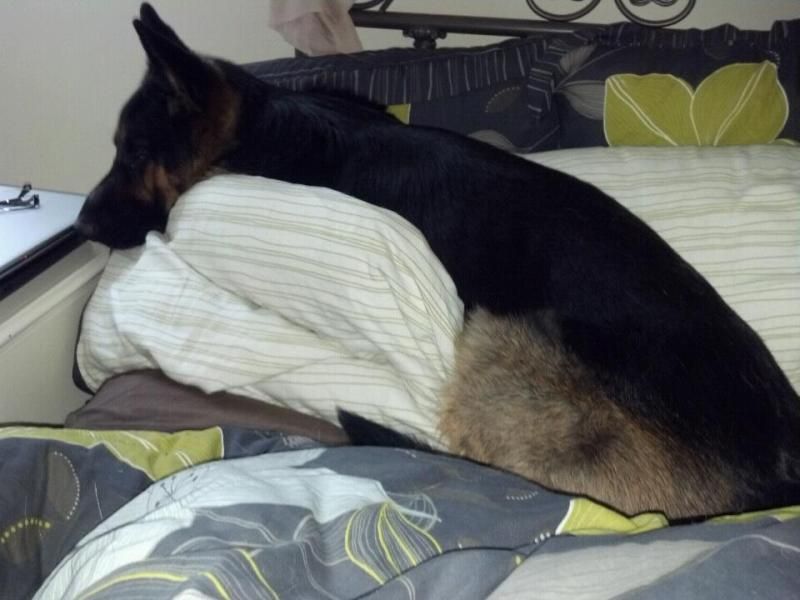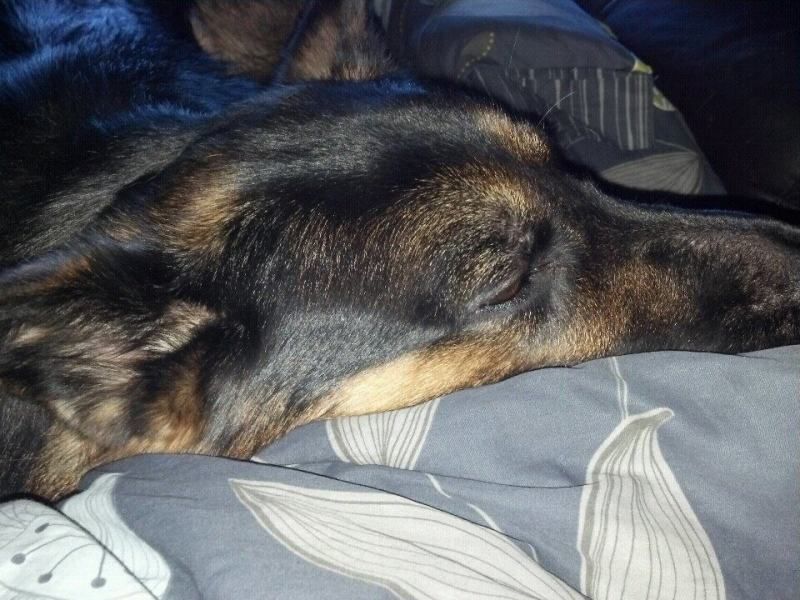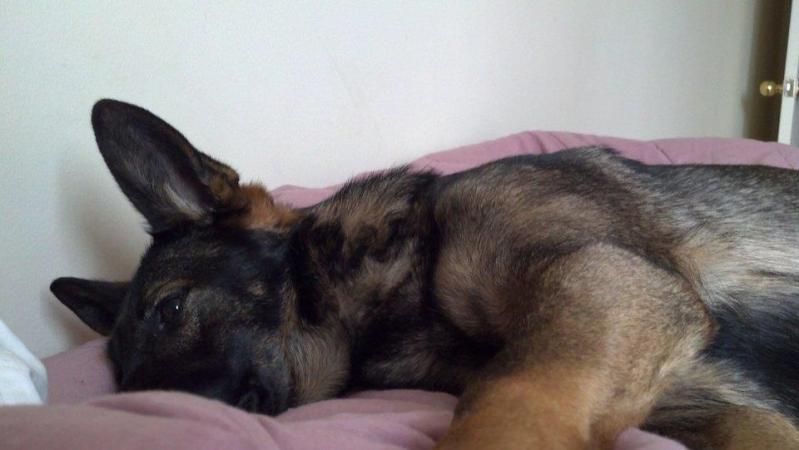 ---
G Wild Winds Zephyr of Cognac BH, HIC, NTD, ITD, CGN
Wild Winds Archangel Raphael HIC, TT
*Coming soon* "__" z Weberhaus
...but he looks so comfy-couldn't you sleep on the couch
I think I have a permanent crook in my neck. Babs has decided that her spot is across my pillows. Even if I get her off there and get myself situated, by the time I wake up, I am lying diagnal, crooked, and she is breathing down my neck on all my pillows.
---
Jenna, RN CGC & Babs, CD RA CGC HIC
Heidi, RA CGC
SG3 Odessa, SchH1, Kkl1, AD
Ninja, RN CGC & Milla, RN CGC
Joy, Star Puppy, RN CGC
Dolly CGC & Bear CGC
Hepzibah
Shasta sleeps on the bed with me pretty much all night. She does know thats she's only allowed up when the comforter is pulled up though. She can lay on the comforter but thats it and she has to be invited up (mainly because I have to adjust the covers where I want them before I'm battling 70lbs of dog to move the covers where I want them lol).

helps in the winter too because i'm under the covers and surrounded by cats and at least one dog so its not too cold haha. She knows she's not allowed up to sleep when my husband is home thought because theres not enough room for all of us to be comfy on a queen sized bed.
---

To view links or images in signatures your post count must be 10 or greater. You currently have 0 posts.


Shasta GSD 5/5/10 CGC, ITD, TC
"Dax" Thor z vom Weberhaus CAX, CGCA, ETD, HCT, NCO-1, PKD-T, RATI, RATN, RA, TC 3/18/2013
Zena GSD 6/1/03-2/16/2016
Riley GSD/BC 1/10/05-2/1/2013
Hmmm
---
It is preference but my boy Bama has been sleeping in the bed with me since the day he came home with me I've never had any behavior problems with him except being young and very excited he not allowed on the bed if I'm not in it though and he waits for me to get situated and I call him before he gets up there but my husband is a long haul truck driver so he is gone like five plus days a week so that's where Bama normally sleeps but when hubby home he sleeps at the end of the bed its almost like he has to be touching me to sleep and the cat sleeps wherever but when she wants to be on the bed she sleeps on my pillow
Selzer your post made me rofl and that picture was so cute!
My rule: no dogs on the beds, no dogs on the furniture. Personal preference.
Sent from my iPhone using
Petguide.com Free App
Ollie's not allowed on the bed right now but that's mostly because when I do let him he blunders around, gets into everything and harasses the small dogs. If he'd behave and sleep then sure but I think he needs a bit more training and some maturity before that happens, lol. So for now he sleeps either in his crate or on the floor next to my side of the bed.
---
Ollie vom Grunenfeld HIC CGC
Anastasia(Mishka) vom Feuergarten HIC
My dog shares my bed with my husband and I, and there is no doubt about him respecting me as pack leader. Silly myth.
---
SG S-Hunter vom Geistwasser CA CGN TT ATD (Airport Wildlife Control K9)
Zenna vom Geistwasser NTD


To view links or images in signatures your post count must be 10 or greater. You currently have 0 posts.

Knighted Member
Join Date: Apr 2004
Location: Iowa
Posts: 2,087
Probably. But we let her anyway.
Posting Rules

You may not post new threads

You may post replies

You may not post attachments

You may not edit your posts

---

HTML code is Off

---