Quote:
Nicky B., I agree with you. I also would have thought the complete opposite: okay with other dogs, but touchy with the new people. I would also have thought like you, it was due to first day stress, then I got to thinking what Steve said, about the high drive and protection training, and how he would take her. On his website, I read that Steve had planned to be a K-9 handler. Dogs like Zoey are very hard to find. She is a natural at protection training. You are first in Zoey's heart, but Steve is her handler during the weekday. He is enamored of her and has formed a bond. If that hadn't happened, Zoey would not have been cooperative at all, and she needs training. So, just my thoughts, Zoey doesn't want to share, she is the only dog with you, so when Steve turns to another dog - that's it, instead of sulking, she goes into drive. If I were you I would put aside my hesitation and I would sign her up for the protection training, that would give Zoey the outlet and she would learn how to control her agression. The dog learns to stop the protection on the Out command as I know from my Dobe who was defense trained before I got her. Also, if you practice with her, you will keep that bond strong. I play tug with my Sting, not because I want to, but because he needs it as an outlet for his prey drive, and the tug satisfies that drive and he associates me with doing that. Cheer up - today is Friday - you'll have the whole weekend with her, make the most of it. Steve doesn't use treats in his training according to the website - so open up the high powered treats after a good game of tug that Zoey wins at the end. And most important, all weekend she will not have to share you with another dog :-)
Thanks Mary Beth, your post made perfect sense! My main concern is Zoey training with other dogs, I want her focused on the sleeve and nothing else, ya'know? I will 100% be breaking out the secret treats for her and maybe get her a nice piece of chicken or steak this weekend... actually I might get her some after every training day/session as a reward, thoughts?
Playing tug is a great idea, we got a few ropes around and we will be playing with them a lot this weekend. You're right about the weekend, Zoey and I will be doing some serious bonding, I was all bright eyed and bushy tailed this morning going to work knowing its Friday, only to get pulled over 10 minutes later
Oh well, no ticket...
p.s. You have a Dober??
I was planning on buying a Dober puppy until Zoey's ad came up, then I planned on waiting a year or two and buying that puppy... now i cant have either
Any pics?!?!
---

To view links or images in signatures your post count must be 10 or greater. You currently have 0 posts.


Zoey- Adopted Belgian Malinois on 4/29/12
Princess- WGSD 3/15/01-9/21/11 Forever would've been to short...
I would bet Zoey will be so focused on the sleeve, a whole pack of dogs could run by her. When I am playing tug with my Sting in the backyard, he couldn't care less about the neighbor's dogs or even if the UPS man is coming - he is totally focused on me. Also the photos you posted showed her on a leash with another dog. If she was loose with other dogs in the play area at the trainers , well, that would be like a dog park situation, and assuming Steve was there observing - then competition for his attention. For the treats - you may want to have some (freeze dried chicken liver treats will keep) when you pick her up from day care - she'll smell them - then slip her one right when you both get out the door. For the treats after training, be sure it is after she has obeyed your command, whether it is to drop the ball after a retrieve, or sit, and so on. Alternate during the training session with praise (voice, touch - a gentle pat on her side, if she likes that) and treats, so she doesn't expect them everytime. You want her to focus and work on pleasing you. My GSD Sting was named after my Dobe who died. I've attached her photo - click to enlarge. I am only going to say this once and please don't take it the wrong way - but Zoey may not be suitable for a pet home - I am guessing that it why she was given up. She may always need to be managed and that can be very hard for you in the long run. She may always have issues with other people and now other dogs. Steve wants to work her and train her, she wants to do that work, she would be happy. You also deserve to be happy. That said. You both have a nice weekend.
---
Sting Chance von Gaard AKC GSD 2/8/2006
Update: Day#2:

I picked Zoey up from K9 camp last night and Steve was nothing but happy with Zoey. She did tremendously well and she showed her goofy side to everyone. Steve captured a small video in which he had her in a room will a small wall in it, long story short he would go back and forth, call Zoey in each window and she would be bouncing back and forth over the wall. I'm glad they got to see the better side of Zoey instead of just the furious beast she portrayed the first visit.

I didn't get into to much detail with Steve on the training yet which I plan to over email but briefly he was very pleased. He had her outside in a sit with a neighboring dog that barks and lunges was on the other side of the fence. She was shaking but she stayed in a sit, focused on Steve which is AWESOME!

I can already see the changes in Zoey, I was walking out of the kennel and its a small hall to the door. Going in, a woman walked past and Zoey sneaked a lick on her hand and on the way out, a man was walking in and she sniffed him and licked him on the arm. Before all this training, my uncle and Grampy came over for supper one day and was on the couch, Zoey was walking around and my uncle called her over, only for her to jump on his lap and lick his face for a good minute, she sat next to my Grampy and got lots of rubs, and she loves my mothers fiance. I honestly don't see the human aggression looking at everything. This was just a quick write up while I had a second at work, I'll try and post a more in depth analysis soon.
---

To view links or images in signatures your post count must be 10 or greater. You currently have 0 posts.


Zoey- Adopted Belgian Malinois on 4/29/12
Princess- WGSD 3/15/01-9/21/11 Forever would've been to short...
Thanks for the update. Zoey has made amazing progress! Looking forward to reading how next week goes. Are you planning to take classes with her at some point?
---
Sting Chance von Gaard AKC GSD 2/8/2006
Zoeys been to k-9 camp twice since the last entry and has made some amazing progress so far. The last camp visit was the best experience yet, Zoey and I hop out the car to an open door and Steve and his employee shouting "ZOEYYYYY" They love her over there and she's getting used to them. They've been working with her getting used to the muzzle and being comfortable with it on, as have I at home and whenever we go for walks.
The best part is when I was walking in to pick her up, Steve was sitting at the desk just smiling. "Ugh, whats up dude?" and his response was "Zoey did amazing at camp today, we had her out in doggy day-camp most of the day (they also do a doggy daycamp there with about 15-20 other dogs) socializing her with the other dogs, she wore a muzzle and although she muzzle punched a couple of dogs, she did excellent!!!!" WOW, a complete 180 from when she first started there and now, I feel like my theory was correct and we're on the right road. Her biggest problem is when they put her in the kennel to calm down or after a walk or something, she poops, he says this was common with a lot of rescue dogs.
All and all, I'm happy thus far. I work with Zoey everyday on all of our basic commands (sit, down, roll over, pretty girl, paw, up, stay etc) and introducing her with new ones. This week we've been working on "focus" and she's catching on quick, just a little more work and she'll have it perfected. I plan on taking classes with her very soon, but I don't think shell need the beginner course (seems like a waste of money since she knows all commands) the thing we need to work on is focusing on me with other distractions around.
My biggest concern now is getting her used to other male humans. So far, she's bit my buddies father (rear of the leg), my buddy on the arm, my lil brothers friend (backpack ) and his other friend (just a ripped sweatshirt). Everyone who enters the house now needs a couple of treats so that she see's strangers as friends and not threats. This will be the hardest step I feel. On a side note, she loves my uncle, my nephew, brother in law, brother, mothers fiance, some of my brothers friends. It's just some certain people set her off.
PS heres Zoeys boyfriend, Steve's DS. He does this everytime Zoey walks in, he literally stayed in this exact position for the 10 minutes i was there.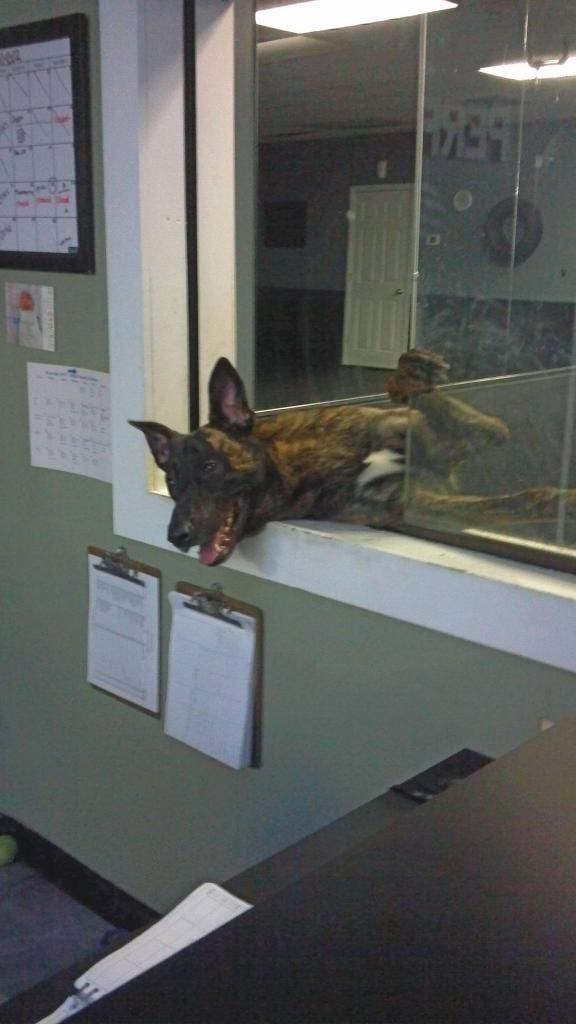 ---

To view links or images in signatures your post count must be 10 or greater. You currently have 0 posts.


Zoey- Adopted Belgian Malinois on 4/29/12
Princess- WGSD 3/15/01-9/21/11 Forever would've been to short...
---
Last edited by Nickyb; 11-21-2012 at

02:08 PM

.
Glad she's doing better, I've been waiting for an update. That pic is priceless.
---
Courtney M.
SG1
To view links or images in signatures your post count must be 10 or greater. You currently have 0 posts.
, BH 07/01/2013
Sounds like Zoey is doing awesome! I took a class not too long ago with Bear, it was meant for reactive dogs, but I took it to gain more focus with Bear. It was based on the book "Control Unleashed" by Patricia McConell.
They also taught other techniques in the class like Doggy Zen and the Relaxation Protocol. Here's a link to some of the techniques that you can work with Zoey at home if you like.
Articles - General Dog Training and Behavior - DOG WILLING Positive Dog Training Solutions
It really helped me with Bear and his lack of focus. I'm really glad that Zoey is doing so well and that you are putting in so much time and energy to getting her where she can definitely be!
---
Bear GSD 10/16/11
Elsa GSD 12/23/03 - 11/10/11
To view links or images in signatures your post count must be 10 or greater. You currently have 0 posts.

Wow, Zoey is really an A+ student! And of course, school is more fun with a boyfriend - what a cute picture. I can understand why she poops in her kennel - she is probably so excited and busy that she keeps putting it off. As she relaxes around other dogs, I think the potty situation will improve. I sure Steve could recommend at which class level you both should start. Well, Zoey likes half the human population (women) and she is slowly but surely with your help learning to like some of the other half (men).
---
Sting Chance von Gaard AKC GSD 2/8/2006
Thanks everyone for the comments! I'd also like to add that Zoey has been doing great around other men so far! My mother had a dinner for thanksgiving and she had two new guys there (my older brother and half sister boyfriend) and Zoey did awesome! The crazy thing was my half sister AND her boyfriend were petrified of Zoey when they first came in, and Zoey laid her sweet baby persona down and they left loving her!
Also my mothers fiance came in later on and (he loves dogs, actually brings his puppy to Steve as well) after a brief introduction, he had her doing tricks... IN GERMAN?!?!?! wtf didn't even know she knew that.. although when I tried the sayings she didn't know what I was talking about? Then again I don't know any German other than platz. I'll see what Steve says about this one lol.
So far so good, I'm hoping to socialize her more with my friends soon. It will be a bit harder now that its winter but would anyone happen to have any ideas how to just bring her around more men in general without being to close. I just don't want to set her up to fail, ya'know?
In the next year, I plan to move into a new place closer to all my friends and family. That being said, I'm hoping we can get to the point where all my buddies can just walk in without having to worry about the Zohan!! Were on that level with my best friend, he'll just waltz right in, pat Zoey on the head and they'll be fine.
Also, Zoey's going to camp again tomorrow so I should have another update soon. Hopefully I get a chance to talk to Steve about future training and what not.
Another thing I forgot to mention that I found very odd.... Zoey and I were playing in my bed when she mouthed my leg, I then took a soft pillow and hit her with it lightly. The force wouldn't have hurt an infant but she stopped, ears down, head down and walked away. I had to go pick her up off her bed and carry her back to get her to lay with us again. Then she snuggled mom but not dad
I don't know why but she got really scared, something we ought to look into.
---

To view links or images in signatures your post count must be 10 or greater. You currently have 0 posts.


Zoey- Adopted Belgian Malinois on 4/29/12
Princess- WGSD 3/15/01-9/21/11 Forever would've been to short...
---
Last edited by Nickyb; 11-28-2012 at

08:00 AM

.
Wonderful update - I wondered how Zoey did with all the company over Thanksgiving. For the German commands - ask your friend to teach you or record him - you could take a video of him doing it with Zoey - so you could both practice. Now, I wonder if she would also like to hear some French being as she is part Malinois? For the men - you need to go where the men are. You could try outside of gyms, financial districts, garages. If you can take her when school is starting or getting out, or a college campus - that would help to socialize her and not just with men. For the pillow incident - well, now you know - no hitting no matter how playful . You will need to use only your voice (use the German word - say sharply "Nein" pronounced like the number nine - means "No"). So when she mouths - say sharply "Nein, mein" (pronounced nine, mine) means "no, mine" -let your hand or leg to limp - she will let you go- then praise. It also helps if you can give her a favorite toy and say cheerfully "this is yours" as she mouths that. Also if she acts real hurt - don't act contrite in return. She knows she got carried away. Don't try to make up - or she won't get the idea that her actions were not acceptable.
---
Sting Chance von Gaard AKC GSD 2/8/2006