Here you go!
I chose blue flames-- because he is a quiet dog, but the flames are right beneath the surface, if needed!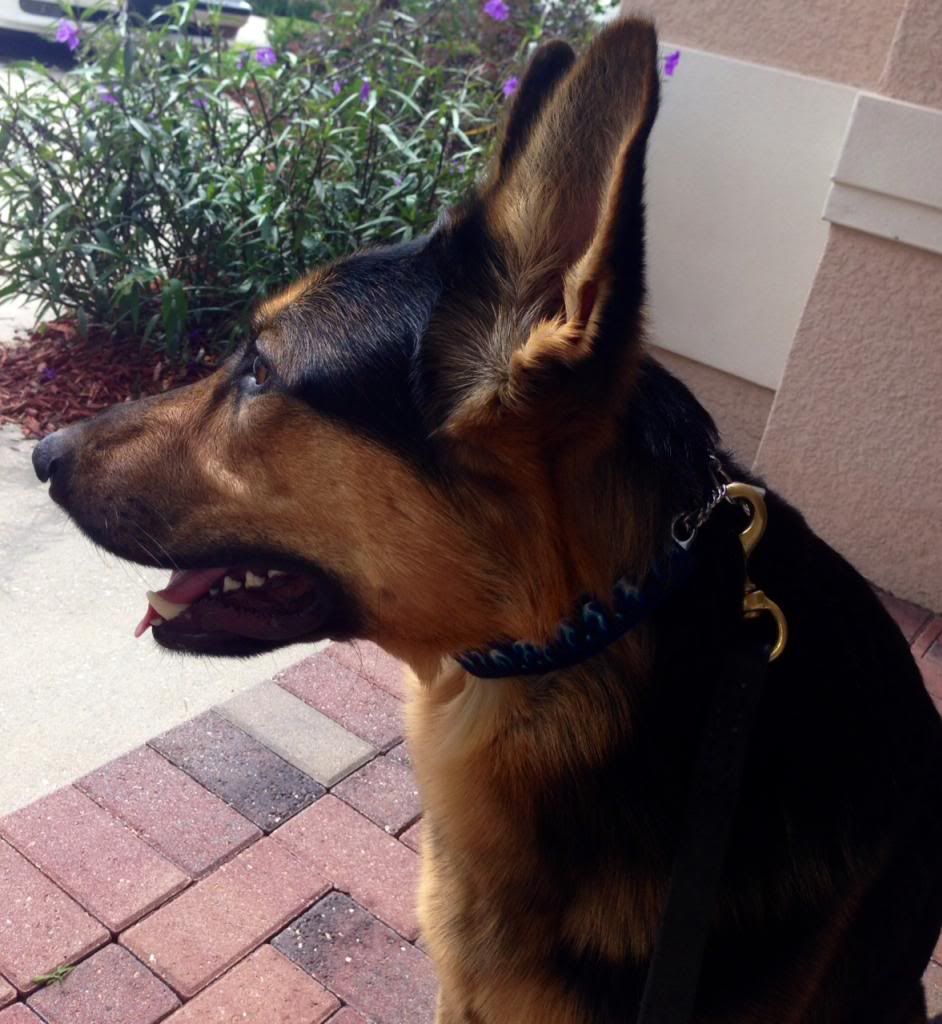 i really hate anti prong collar preachers. our dog never leaves the house without it.
I won't judge you, we find the prong to be a very effective tool. My adult daughter is basically one handed and has mild disability and although our dog is pretty well trained now, she uses one when she walks for the just in case moments - luckily they seldom arise. She's probably about 130lbs and the dog is 90lb, our dog is strong it's a matter of safety for the both of them.

I curious if you feel that the attitudes in the UK are more anti-prong the in the U.S.?
Why take crap like that from other folks.... lying down???

Seems they got the best of you...which is their intent....they won ....you lost.

Stand up for your convictions and quit taking crap from others....you know what is best for your dog. I receive crap from my vet and broker/breeder for feeding a raw diet...never once did it get under my skin. If those who oppose your methodologies see you "flinch" , it fuels their fire and they are most certain to keep hammering on you.....So proceed with the confidence which has allowed you to use a prong collar as a tool of your choosing.

I can somewhat appreciate your disgust for those who passed judgment on you for using a prong collar but.....at the end of the day...will it change your use of a prong collar? I doubt it, so big friggin' deal...let them go pound sand.


SuperG
I use a prong collar, so far no one has said anything to me which is nice but even so I don't care. I just smile and nod like "Oooh is that so?" and tell them "Thank you but I know what works for my dog." whenever someone feels it's necessary to "enlighten" me about what my dog needs. I'm not saying I won't listen to someone ever, if their advice is good and sound and I don't disagree with it I may try it.
Thank you everyone. In future i won't be bothered by it anymore!!. Sod them
---

To view links or images in signatures your post count must be 10 or greater. You currently have 0 posts.
Sergeant Charlie Vom DonGossen
To view links or images in signatures your post count must be 10 or greater. You currently have 0 posts.

Quote:
Yes the possible ban is just outrageous. The picture that went viral and caused all this is a really extreme case of animal cruelty where the collar was left on for a long time. The stupid people can't tell the difference between proper use and abuse :/.
The pictures you mention show abuse, print off some pictures of embedded flat collars and harnesses and the next time someone says anything, show them the pictures and ask if people using flat collars & harnesses are cruel too? Shouldnt they be banned as well ? or maybe we should focus on the real problem which is abuse?
Any tool has the potential to be misused/abused.
Example: just saw my SIL this past weekend with her GSD. He's 5 & she still has no control over him on a leash- her fault. He only has a flat collar & she jerks & yanks him all over. He hauls forward because she follows him. She cringes at the thought of a prong collar. Okaaay
---
Last edited by Courtney; 04-23-2014 at

07:15 PM

. Reason: Spelling
Crowned Member
Join Date: Jun 2012
Posts: 3,753
---
Kathy

URO3,UCD Aleshanee Windridge "Kayos" CD,TDX,RE,CGC,HIC,TC
PTE,AG2,AN,URO3,UCD Xtra!Xtra! V TeMar "Havoc" CDX,GN,RE,CGC,HIC,TC,BH
UACH,URO1 Tidmores Rising Star Lydia "Mayhem" CD,BN,AX,OAJ,NF,RE,HT,TC,CGC,


Bridge
Lucky, Wolf, Max