As a previous owner of a Chi/mix I know how crazy they can be. I had to always be on alert with her. Just never knew when she would go from zero to sixty. Eventually we had to rehome her to a adult only home with no other dogs. She's a great dog if there aren't children or other dogs around. I'm so sorry that you this woman was too ignorant to keep control of hers. Hope both of you recuperate swiftly.
How horrible for you and Cafall. I am so sorry this happened to you. Hope you both heal quickly, with no regression for Cafall. Poor baby.
---
Jan
Shelby 9-2-14
Natty Boh 6-27-12
Annie 1998 - 8-2-12 RIP
To view links or images in signatures your post count must be 10 or greater. You currently have 0 posts.

Ugh, what a nightmare. Sorry you had to deal with this. That could have been so much worse. Thank you for telling your story. I shared this with my wife. Don't be nice if your in this situation, basically.

So many people with dogs are like this. I don't get it.

Curious, did the cops check rabies tags? Glad they understood the situation correctly.

You may want to get that lip and cheek checked out just to be sure. Bacteria in a dog bite can be bad. Our pup simply grazed my finger and it was trying to turn infected on me and I cleaned it pretty good when it happened.

Oh, and don't let your apprehension feed your dog the next time you're out. He is likely fine. Put it behind you.
---

To view links or images in signatures your post count must be 10 or greater. You currently have 0 posts.
11/07/2013-
I had to read that twice.

my gawd there is a whole lot of stupid out there.
Ksotto, good on you for recognizing your dog's triggers. I was absolutely shocked at how incorrectly this lady read her dog's behavior, even after it had bitten me.
Stevenzachsmom, thank you for the well wishes. The top of Cafall's nose has some divots in it. Pretty sure those divots and subsequent scabs are going to earn him extra treats in his kong for the next while.
Sp00ks, the store manager was actually the one who asked about rabies. My heart nearly stopped when he did just bc I hadn't even thought of it yet. The chihuahua had its tag on but Cafall doesn't wear his so I had to have them call my vet to confirm. Thank goodness the vet's office answered or I thought that was going to send the lady into apoplectic fits. Never once did she apologize or make any move to assume any responsibility for the situation. Some people...
I will def be keeping a close eye on both Cafall's and my punctures and scratches. I work in a clinic and have plenty of access to coworkers with prescription pads should an infection pop up and need antibiotics.
For now, the lip is closing and shows no inflammation or redness. It's a bit sore but not hot. My scratches aren't too deep thankfully and don't show any infectious signs yet either. I'll just avoid laying on that side in bed tonight. Our vet reopens Monday morning and Cafall and I already have a 7:30am appt just to get him looked over officially and check for any signs of infection for him.
Jax, there sure is. Cafall and I just seem to keep running into them. Although, this is the Ozarks...
Good boy Cafall .
---
"I'd better go with you Huck, civilization can be dangerous."-------Tom Sawyer(Mark Twain)

Oh what a nightmare. I've seen situations like this before, and as a cashier, I used to try to step in and ask the next customer in line to back off while the current customer finished their transaction. Luckily it didn't happen a lot at our store, and we never had an issue quite that bad.
It's sad that I could take three larger dogs into the pet store and not have an issue, yet one lady with a freaking Chihuahua can cause that kind of trouble. I used to bring them in on my own, and never once had an issue - and only one of the dogs ever went to any kind of classes - I trained them otherwise.
I also walked them around the neighborhood on my own regularly. Since I didn't have a fenced yard at the time, I would have them on tie-outs at home, but to keep them mentally active, I walked them a couple times a day at least as well.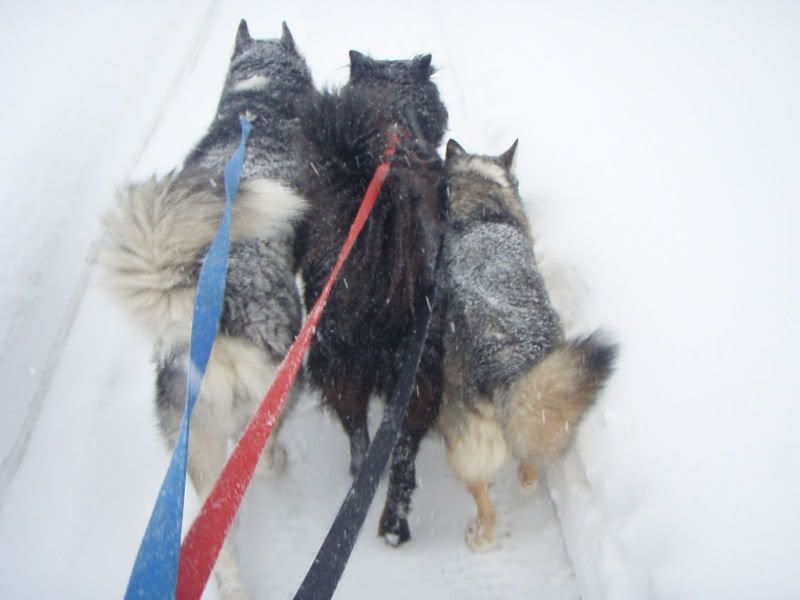 It didn't even take all that much work really to teach them the basics of what I expected, and yet, they were better behaved than many of the dogs I met in our area. For example, before playtime in the snow, I had them wait until I told them they could go ahead and play, and they would.
After I turned them loose in the snow, they had a total blast, and would just chill in the snow for as long as I would let them.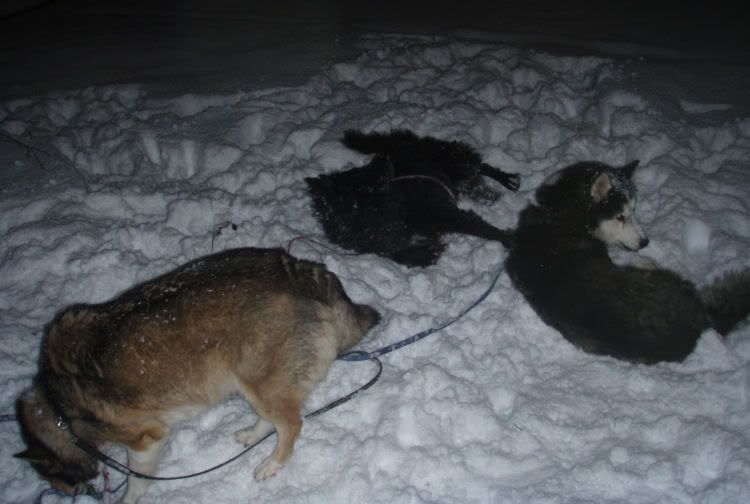 Hopefully you won't run into any more idiots like that. I wouldn't be too worried about your pup, it sounds to me like he did pretty much perfect at his job, and if he'd have wanted to he certainly could have hurt that little thing a whole lot.
---
My Dog: Krissie ~ Beagle Mix Extraordinaire 09/09
When I hear things like this, I am reminded of how certain breeds get a bad name: their crappy owners. I don't know how many times I have heard "that's just how little dogs are". No, not really. They are that way because of their owner or a past owner. My toy poodle is very fearful and I would NEVER let him down out of my arms if I took him out in public, because the result would be disastrous. He is an awesome dog but he was in a cage for the first 4 months of his life and he is afraid of everyone and everything that he doesn't know. You definitely have to know your dog and take precautions based on the individual dog. It sounds like you have that down, but the lady in the store just thought "oh, he is small, how much damage could he do."
how scarey and awful for YOU!
I have to say tho, your dog is a testament to your training
Kudos to you. He could have killed that little chi dog.
Honestly, I would have gone b a l l i s t i c on that woman.
Some people are just born stupid
Glad you and the pooch will be ok
---
Diane
Ozzie vom Kleinen Hain
Danger Danger vom Kleinen Hain aka Masi
Tranquillo's Kizzy
Jakoda's Kholee
"Angel" Jakoda's Bewitchen Sami CD OA OAJ OAC NGC OJC RS-O GS-N JS-O TT HIC CGC
"Angel" Steinwald's Four x Four CGC HIC TT
"Angel" Harmonyhill's Hy Jynx NA NAJ NAC NJC RS-N JS-N HIC
"Angel" Jakoda's Jagged Edge