Member
Join Date: Nov 2012
Posts: 138
Just saved a 4 month male
---
I rescued a 4 month old male GSD on Craigslist this morning. The lady couldn't wait to get rid of him and only for 100! Apparently the GSD was her ex's which went to prison. He was chained up all day in an apartment and he stunk like pee! Just picked him up this morning. He has raw skin spots on his neck from the chain choker which went straight to the garbage. He's black and brown and extremely friendly. My kids love him. I noticed his hind legs look weak. The way he ran in my yard once I brought him home looked weird. I assume its from lack of exercise. Well off to the vet early next week to make sure all is well with him. Ill post pics of him later.
That dog has reason to be thankful!! Good for you and for her to give him up.
Congrats on the new dog! I know you said you'll post pics later, but we are a demanding forum, and like pics NOW ... LOL ...

Hope all goes well at the vet ...
---
Marionís Zoo-Kyleigh, Raylan-cat, Echo-TAG,
Congratulations, good on you for giving him a proper home. Have you thought of any names for him?
Member
Join Date: Nov 2012
Posts: 138
Thanks guys and I guess you can say were both lucky we found each other. Just spoke to his previous owner and hes actually 5 months not 4. Unfortunately she doesn't have his papers so his history to me is really at a zero. Anyways Im sure he will do fine. He is very friendly and very playful as well. I have him in a crate until I have him housebroken which we started working on already.
Also if you guys have any tips or things I should look for or work on let me know since your own GSD owners. I had dogs all my life and my wife but never a GSD. Im assuming he was purchased from a pet store. All the paper work for him was his previous owners ex boyfriend who is in prison supposedly.
Anyways here are some pics of him.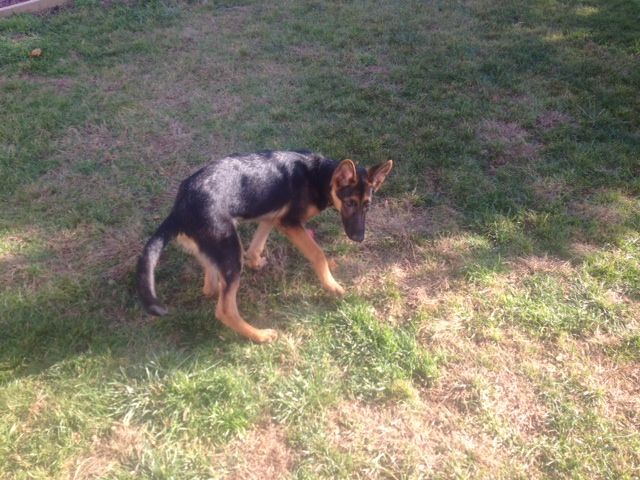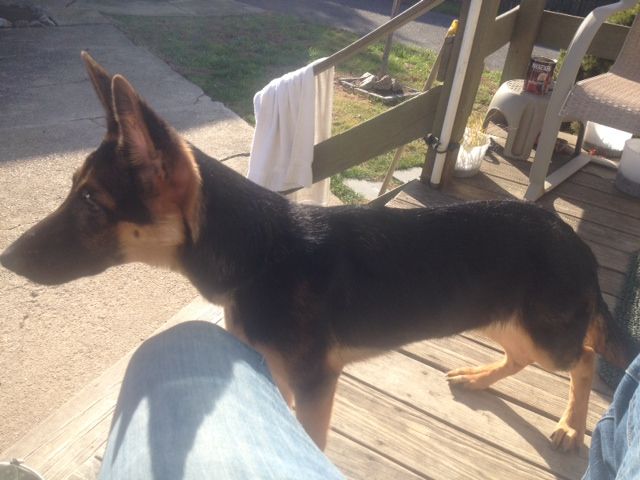 WOW ... demand and you receive!!! I can't see the pics at work, but I'll be sure to check them out this evening at home.

I'm really crappy about posting links in here ... so, here's my suggestion ... go to the link marked FORUMS and scroll down to the puppy part ... there is a TON of info on there about puppies - lots of stickies ... especially the teething / biting part. You'll want those memorized right quick!!!

Have fun!
---
Marionís Zoo-Kyleigh, Raylan-cat, Echo-TAG,
Member
Join Date: Nov 2012
Posts: 138
Oops I guess I should of posted this in the puppy section. Hopefully one of the moderators will move it. Ill definitely check out that section.
He lacks muscle and looks down in his pasterns. Sounds like a poor diet and no exercise is the culprit so I would suspect that's why his rear seems weak to you. He's a cutie!
What Jax says! Otherwise, he's adorable!
---
Marionís Zoo-Kyleigh, Raylan-cat, Echo-TAG,
Member
Join Date: Nov 2012
Posts: 138
He will get plenty of exercise and a good protein rich diet. He's been chasing my kids around in the back yard. I can't believe how friendly he is given what his situation was. I know it's way too early but what's the best way to prevent hip problems?