LOL...Nice focus!


His legs are looking great!
Member
Join Date: Nov 2012
Posts: 138
My wife kept saying that he looked like he put more weight so I weighed him and he's exactly 50.2lbs in a matter of two weeks. So 8lbs in two weeks? If anything I'm feeding him less. Two cups of dry in the am and 2 cups in the pm. I feed him a very good food Blue. Should I feed him less or is it normal at 6 months to start packing on the pounds?
Member
Join Date: Nov 2012
Posts: 138
Jack as of yesterday.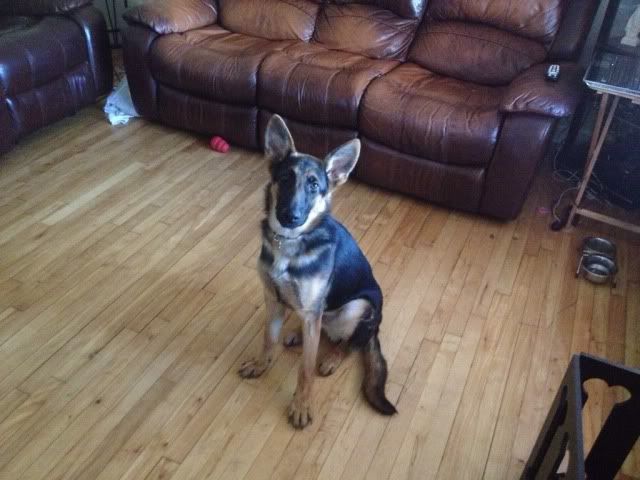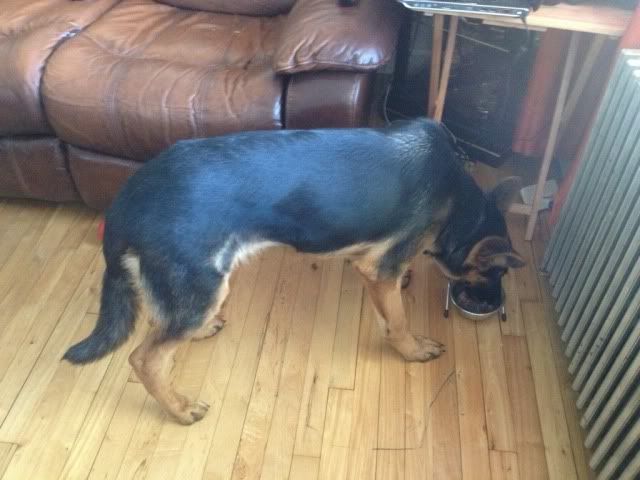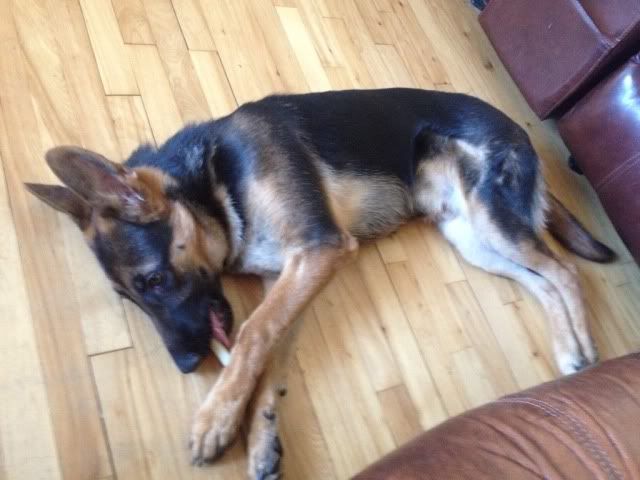 Lol he keeps growing! He's such a great dog and is friendly with everyone. Now when he sees people outside our fence he barks at them continuously till they leave but it's more of a hey come play with me bark. I'd like to think he's happy and is doing well.
No that's not Jacks dish. He was drinking George's water our Maltese mix rescue.
Glad to hear he is doing so well.....Lucky lucky boy that you brought him home!

Lee
---
Csabre Sch1, Hexe Sch2, SG Bengal, Lynx, Komet, Kira HGH & Kougar v Wolfstraum ~ Ziberia IPO1 ~ ATB Basha, Kougar & Kyra, Fenja, Sch3s, Cito, Sch2, Danger RH & Alice Sch1s ~Kelsey
wolfstraum.net

he's so handsome and looking great
---
Diane
Ozzie vom Kleinen Hain
Danger Danger vom Kleinen Hain aka Masi
Tranquillo's Kizzy
Jakoda's Kholee
"Angel" Jakoda's Bewitchen Sami CD OA OAJ OAC NGC OJC RS-O GS-N JS-O TT HIC CGC
"Angel" Steinwald's Four x Four CGC HIC TT
"Angel" Harmonyhill's Hy Jynx NA NAJ NAC NJC RS-N JS-N HIC
"Angel" Jakoda's Jagged Edge
Member
Join Date: Nov 2012
Posts: 138
Thanks he's definitely a handsome one with a great temperament. Whenever were at Petco everyone stops to compliment him and I mean everyone. If he was human I'd guarantee you he would definitely get stuck up!
Member
Join Date: Nov 2012
Posts: 138
As of today Jack is almost 7-8 months. When we brought him home he was supposedly around 4 or 5 months. He weighs 64.50 lbs of lean muscle. He's 24" to the top of the shoulders. Maybe he's underweight who knows? All I know is that he grew like a monster since Thanksgiving when we got him.
Only picture I have home standing still. Very hard to get him to stand still lol.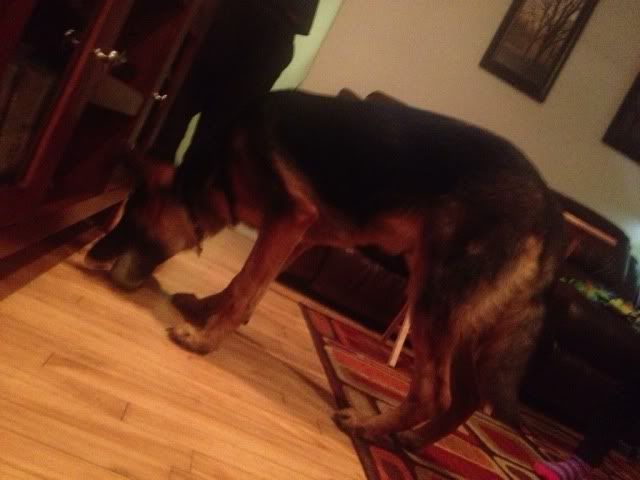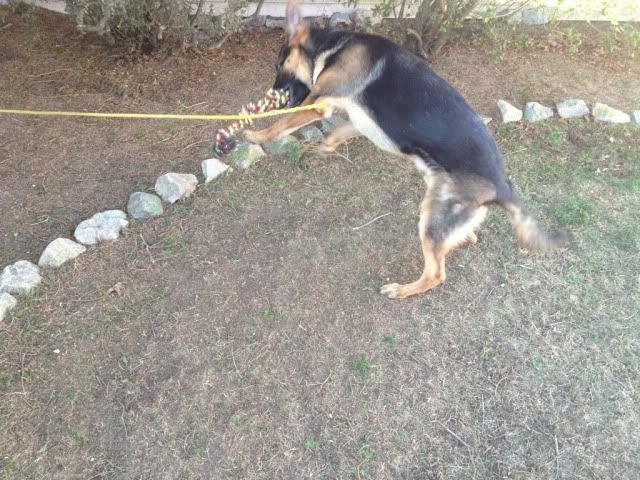 We also brought home a 1 year old GSD/Chow mix male named Shep. He's great with people, kids, dogs and cats so had to get him. Did a meet and greet yesterday at the shelter and they instantly became pals. Brought him home today did another greet in neutral territory and Jack again loved him.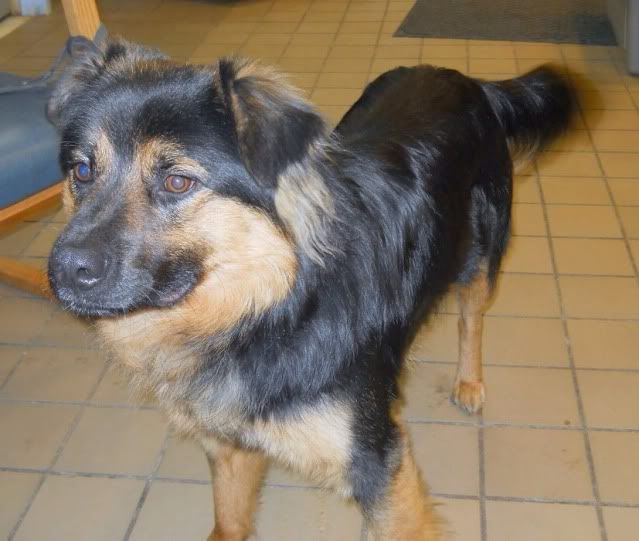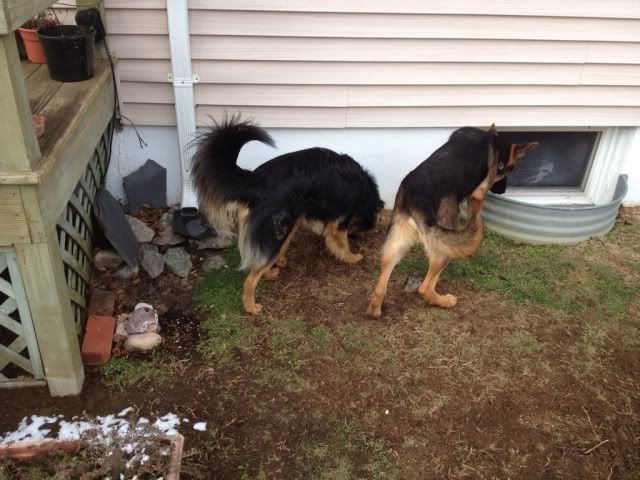 Both of them chilling together.
So far Jack is definitely the dominant one of the two. Trainer told me to not let Jack do the poster thing over Shep which he does all the time regardless. Shep is extremely laid back but when outside he actually runs a lot faster then Jack my GSD which surprised me. Both drank out of the same bowl, shared the outside toys and ate dinner fine except Jack trying to finish Sheps food lol. I put a stop to that quickly lol.
In all I think Jack is doing great and I know he loves being with us by all the licking that he gives each one of us in the family.
---

To view links or images in signatures your post count must be 10 or greater. You currently have 0 posts.

Jack got HUGE!!
and he looks wonderful! I love your new one sooooooo cute!!!
Congrats! They look like they will be lifelong buddies
---
Diane
Ozzie vom Kleinen Hain
Danger Danger vom Kleinen Hain aka Masi
Tranquillo's Kizzy
Jakoda's Kholee
"Angel" Jakoda's Bewitchen Sami CD OA OAJ OAC NGC OJC RS-O GS-N JS-O TT HIC CGC
"Angel" Steinwald's Four x Four CGC HIC TT
"Angel" Harmonyhill's Hy Jynx NA NAJ NAC NJC RS-N JS-N HIC
"Angel" Jakoda's Jagged Edge