New Grand Champion
---
Woohoo! Showing at NACA this weekend and Molly goes Select on Friday and today she goes BOS to finish her GRAND CHAMPIONSHIP!!! Also Molly's Dad, Codie to BOB and Group 3rd on Friday.
We present GrCh.Sunflower's PrettyInPink Frost.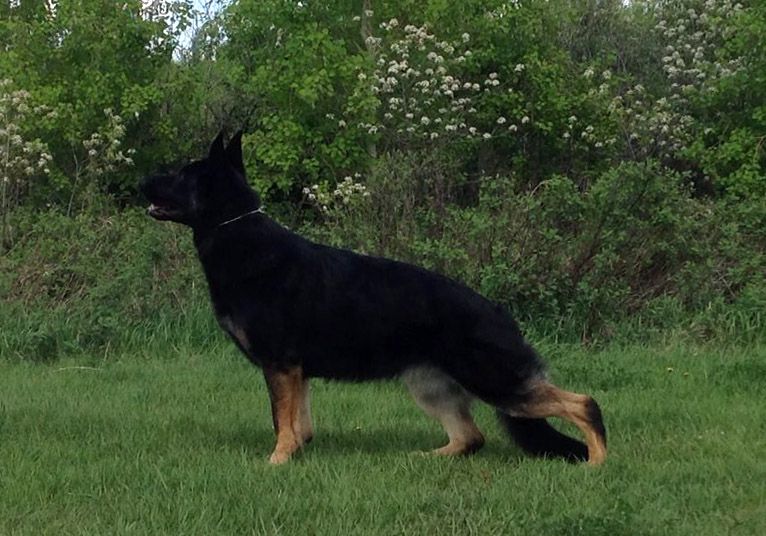 krisk
---
"So that others may live"

Hannah vom Steffenhaus, BH, Wilderness SAR
Eisenhower v.d Polizei "Ike" Wilderness SAR, CGC
B'Lena z. Treuenhanden
Nixon vom Banach, RATN
Phoster, FEMA USAR(Labrador)
Ch. Pennywise Sticky Wicket(Dandie Dinmont Terrier)
Congratulations!!! That grand championship is not easy to get!
Sent from
Petguide.com App
---
~ Diane ~

SCARLET ..... Lauremi's Almost Wasn't
CARLY ......... Ch. Lauremi's No Reservations (AKC GCh pointed, HIC)
RUSSELL ..... Lauremi's Paix
and absent friends... SAGE ~ Lauremi's Whim Z v Jakmar ~ AKC major ptd, HIC ~ 2010-2015
Molly's got it going on !!!

Nice


SuperG
"I like Daffy" Moderator
Join Date: Jun 2003
Location: New Douglas, IL ( near St. Louis)
Posts: 3,279
Beautiful dog. Congratulations on her Grand Championship.
---
Daphne and the Gang at Andaka
Where Beauty and Brains Come Together

To view links or images in signatures your post count must be 10 or greater. You currently have 0 posts.

Home of Ch Doll; U-CDx Jag CDX GN RE NAP NJP OA AXJ(ch ptd); and Ch. Fisher (Mr. Evil)
At the Bridge: Ch Kahla CD; Ch Keno UD HSAs OA; Ch Kizzy HSAs RE; Ch Tag CD RAE2; Ch Pharra; Bee PT; Ch Natty; Ch Red the Dachshund
Congratulations Molly. Wow she is a beautiful girl.
---
Daisy 11/26/99-7/25/12
Miss Chevy Cruz - 1/25/2013-1/29/15
Thunder -1/25/13 -7/25/15
Lucky-GSD -Rescue -2/16/03 - 03-21-16
Charlie- GSD-Rescue - 7-4-12