Hip Xrays of a bully mutt
---
I made a thread in the introductions sorta explaining the deal
Not a GSD owner, but...
But basically my dog has 4-5 bad days a week and 3ish good days a week. He has been in Ichon for a month now(I know it could still be too soon to see any results) and also takes Novox(as sparingly as possible) and around 225mg of tramadol a day(depending) He is in a lot of pain and has a hard time getting up. I'm at that awful crossroads of should I put him out of his misery because overall it is affecting his quality of life, or do the several good days he has a week mean anything? :/
Since he was diagnosed I'v looked at a lot of xrays and I'm just glad to say he has hip sockets
The part that I'm mostly concerned with is on his left side it is curved? Idk how to explain it, see for yourself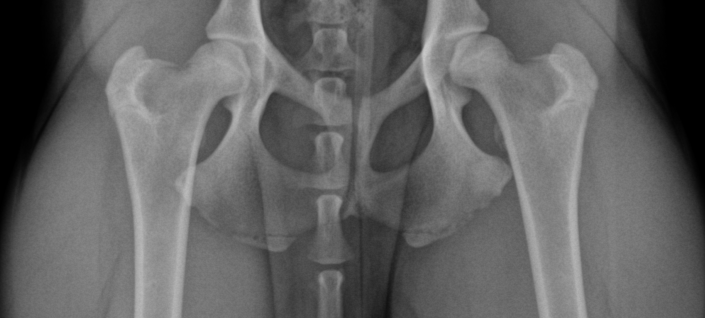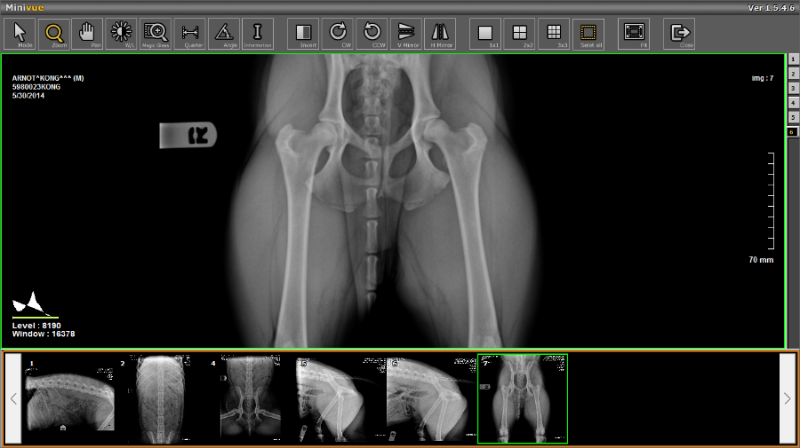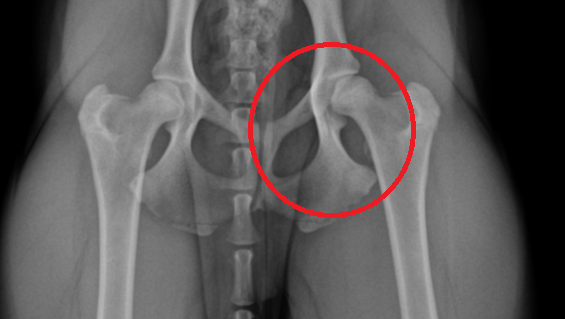 Thank you for taking the time to look
I am not sure if the Orthodog group on Yahoo still is active, but that' a good place to check into for information.
Me, I'm a big fan of the FHO as a procedure on a dog with bad hips. A lot of times an ortho surgeon won't recommend it - unless you are in some places, where they flip what you will hear here - places like Perdue will say that the FHO is the gold standard, THR is salvage.
I like it for a lot of reasons but especially the recovery period is so much easier on everyone.
Bonus - FHO should be considerably cheaper than a THR.
Board certified ortho vets are always nice to have. The vet who did my dog's hip is not, but does ortho surgeries - hips, knees - all the time so is used to doing them. The number and quality are important. Do they do enough that they know what to do if something is weird in there, do they know what recovery is supposed to look like, then how do they do on infection control (less of a worry for FHO but still there for bone surgery), and will they let you talk to someone who has had one for their dog (I've done that for my vet before), among other things.
I think I read your vet is getting tired of you and I would find a new vet that doesn't mind a pet owner wanting to work in partnership with them. My vet office practically has those exact words in their mission statement hanging in the lobby. Start talking to people - lots of people because what makes one happy with their vet would send someone else into fits, google, talk to groomers, trainers, rescue people, and then ask if you can talk to someone at the vet offices you come up with.
https://online.acvs.org/acvsssa/rfls...VENDOR_TY=VETS
has a way to look for a board certified surgeon.
Having said that I have no idea about that hip xray, and would want to make sure his elbows, shoulder and spine looked okay before moving forward so that I knew what I was going to be impacting in other places. Plus his age, general health, blood work would all play a part in planning. Good luck!
---
To view links or images in signatures your post count must be 10 or greater. You currently have 0 posts.
To view links or images in signatures your post count must be 10 or greater. You currently have 0 posts.
To view links or images in signatures your post count must be 10 or greater. You currently have 0 posts.
Bump

I know there are a few good readers of x-rays on here. I don't think Kelsey has a lot of faith in the current specialist and is searching for another.
In the meantime, does anyone concur that the hip x rays indicate bad HD?
Have you thought about sending in the X-rays to OFA? They will at least give you a grade to the amount of HD.
Personally don't think they are that bad but the remodeling is there.

There are so many different kinds of supplements on the market just have to find the correct ones for your dog.
---
~Trish~

SG Emir (Errow) van Klipgaarden SchH 3, AWD 1, AD, KKL 1, ONYX, CGC

V Ziberia (Panther) v alten Wingertshaus IPO 1, AD, FDX, CGC
Don't know anything about reading X-rays, but I've seen worse on this forum.

I've been using glucosamine pills, fish oil, adequan and zeel for my young dog with HD for over a year now, and only save the pain killers and inflammation reducers when we really need to, which was 6 months ago.
---
Dexter Bartolomeo -GSD (approx 3 1/2 years)
Fluffy Cornelius - Maltipoo rescue (approx 8yrs)
Squeezette Antoinette- Shih Tzu (17 yrs)
Thank you all for the replies. I'm having a hard time getting my comments threw moderation, and several comments back never got posted. Any who I've opted out of surgery, so pain management is what we will be doing. He's been on Ichon injections for 7 weeks now (5 weeks were for loading period) and takes glycoflex 3(been on that for 4 months)as well.

I know the ball and socket itself isn't as nearly as bad as some xrays I've seen, however it's not his sockets I'm concerned with. It's the area in the red circle. His pelvis is shapped weird yes? He's in a lot more pain than he should be. And the sups have shown little to no improvement.

The ortho he goes to won't give me answers with out further physical examination. Which is a little dumb since he's been there 3 times in the last 2 months for HD.

So I came here to see if someone could give some insight to the area in red so in the mean time I can either find a new ortho or tell my current ortho what seems to be wrong.
I read the ofa website I believe he needs to be 24 months to have them read or I would of gone ahead and sent them in.

Thanks y'all!
Banned
Join Date: Mar 2013
Posts: 1,673
what did the vet say about the hips and shape of pelvis?
i guess i am confused as to what we are missing if you have an ortho specialist on board who hasnt said anything about the shape of pelvis??
Quote:
what did the vet say about the hips and shape of pelvis?
i guess i am confused as to what we are missing if you have an ortho specialist on board who hasnt said anything about the shape of pelvis??
I'm honestly not sure if he noticed it when he read the xrays the first time. I didn't notice it until right before I posted here for the first time.
He said something along the lines of this "he has hip dysplasia going on, and I'm seeing arthritic changes, bring him in in 6 months for blood work and new xrays" That was the second time in 2 weeks he had xrays, first time he had his back checked out and then when the pain and lameness was still there I took him back and they did his hips. They were pretty busy that day so I'm assuming that had something to do with it. So when I took him back in the other 2 times for HD related problems the ortho wasn't there, and the vet I saw didn't have time to look. I live in a small area and am having a hard time finding another ortho. He wants to do a reevaluation on him, which I think is a waste of time/money when the current xrays show what's going on. I know in the future he will need new ones but these are still current. And I haven't gotten answers for these ones from him yet. Making an appointment there is almost a full time job, very busy office, most of the time no one even answers the phone. I tried to see if I could just come in for a consult but they said no. I guess I'm just looking for something concrete in the mean time. I'm reaaaaally tired of the guessing game they are playing. Idk why it's so hard to read an image and pass on the info.
Also when I asked him to "rate" it, he said he would need to take a look again....
It's very frustrating.

Here's a photo of him standing(he's turned a bit, I need to get a straight ahead shot so you can see it better) He's high in the rear and getting higher as the days go by. I know he has a lot of tension/pressure in his rear end. I have more xrays if anyone is interested.