Well, given her obsession with hedgehogs, when her dad and I saw this today at the store, we knew we had to get it for her. Meet "Harold":
It was love at first sight. She played with him nonstop for an hour, until I made her take a potty break. She wanted to take him outside with her, but I told her that Harold is an indoors hedgehog only. She wasn't too happy about that! haha! So she did the obligatory squat outside and then came running back in for more playtime!
Jerry pretty much destroys everything that isn't hard rubber.
Here he is with his moose. It lost its legs in just a day or two.
His Kong Wubba. Small ball on top was chewed off and tails pulled off in three days.
Kong ball and old soccer ball.
Blue and yellow squeak toy that is supposed to be very tough, but he's chewed holes in it already.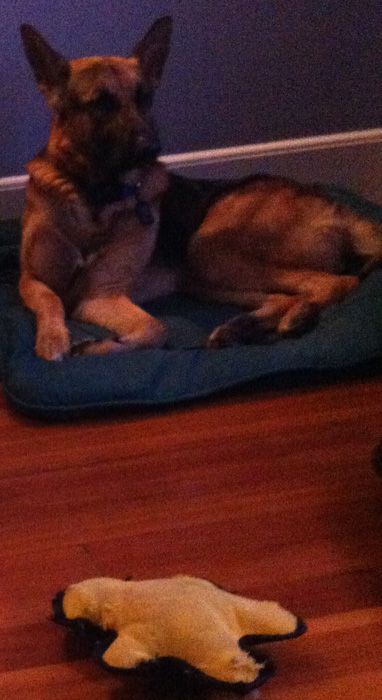 He also has a Kong frisbee (he destroyed a plastic frisbee in just a few chomps) and a rope toy with two balls attached (balls were chewed off in minutes). I'm trying to find something soft he can play with in the house that he can't destroy in less than a week. I don't really want him bouncing his Kong ball all over the house.
---

To view links or images in signatures your post count must be 10 or greater. You currently have 0 posts.
Jerry, CGC - born 12/8/2009, adopted 7/7/2012
i bought this super freaky chicken thing yesterday.
Odita loves to shake,chew and tear it.
and she discovered the source of squeaking (it is located in chicken's butt
),concentrated her efforts on that spot and at second day
poor chicken had lost his voice...
really weak spot of that toy.
This by far is her favorite toy.
I made it for her one day and at times I actually have to take it away from her just to get some peace and quiet! It's hard to see but there are rocks on the inside and I've added some scent with vent holes.
---
Maggie's Daddy
"And I will execute great vengeance on them with furious rebukes; and they shall know that I am... a German Shepherd" - Modified version of Ezekiel 25:17
This is a short video I made with Kane and Teddy.
Its silly, but cute
---
~ Jess ~

"Kane" 2-12-09
To view links or images in signatures your post count must be 10 or greater. You currently have 0 posts.



"I believe in integrity. Dogs have it. Humans are sometimes lacking it."
Cesar Milan
Quote:
The #1 toy, the one Gunner loves the best is his jolly ball. He loves this dang thing!
This was his first one that lasted nearly 3 years. It was replaced after I got a good look at it.
What a great idea for a thread
That ball was my Riley's (dearly departed GSD) all time favorite. Nothing else came close. I need to track one down for the puppy.
---
Last edited by FrankieC; 09-20-2012 at

05:00 PM

.
My buddy with another one he loved... for about 15 minutes lol
Sigh..
This is Sasha at 4 months. Now she is 8 months and this toy is nearly done


Sent from my iPhone using PG Free
Jonas and his pink bunny LOL He really loves anything with stuffing and a squeaker.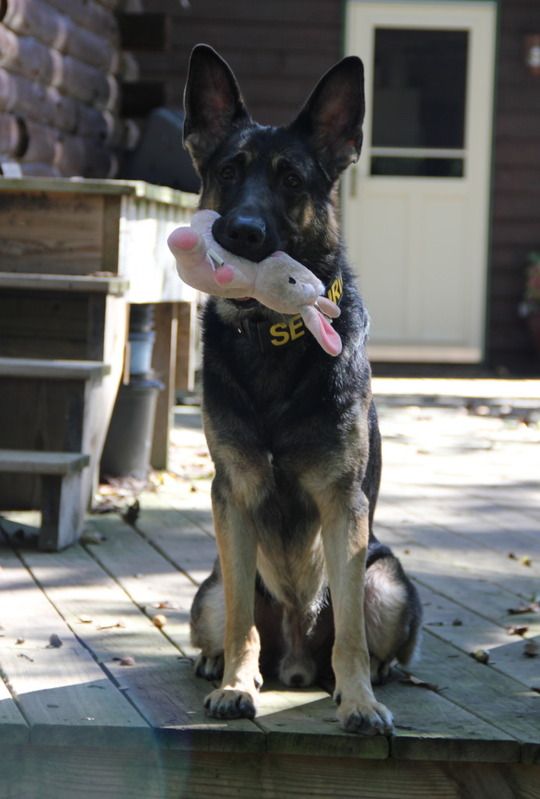 Flirt pole
Flirt pole. By far our puppies' favorite toy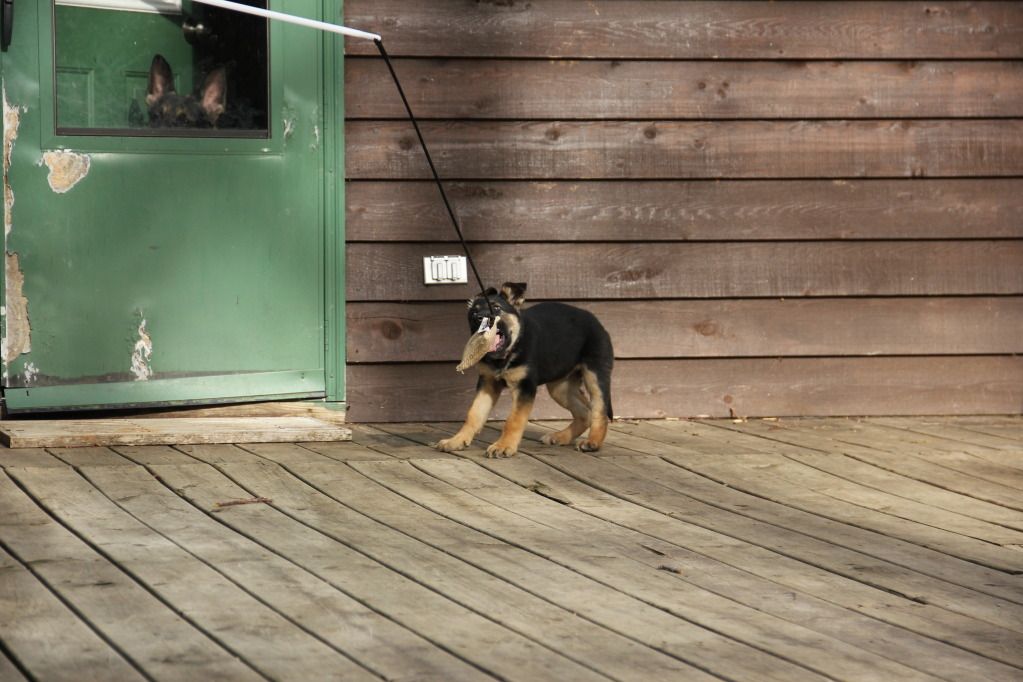 Not a good beach toy... :P
---
Last edited by ristakrat; 09-20-2012 at

05:32 PM

.