Master Member
Join Date: Jun 2011
Posts: 591
they're all adorable!! who knew german shepherds could be such big babies
Baxter sleeps in all sorts of weird positions, but he does the "curved paw" a lot! He goes back and forth between that, and the total sprawl! Here's two pictures...one of him the other night sprawled across the whole couch on his back (smooshing me, of course), with the hook paw...and the other is him pretending he's one of the cats and trying to lay on the back of the couch.
---
Evan


To view links or images in signatures your post count must be 10 or greater. You currently have 0 posts.
- aka "Basher" GSD 9/27/10
Boomer & Star - Kittens of Doom
Master Member
Join Date: Jun 2011
Posts: 591
hahaha he's adorable! wolf tries to sleep on the back of the couch like the cats too!
Member
Join Date: Jun 2011
Location: Cozad Nebraska
Posts: 70
Both of mine do it. When I got Jesse (first GSD) I thought something was wrong with his foot. It doesn't look very comfortable but they both do it all the time. Its funny to see that other shepherds do this too.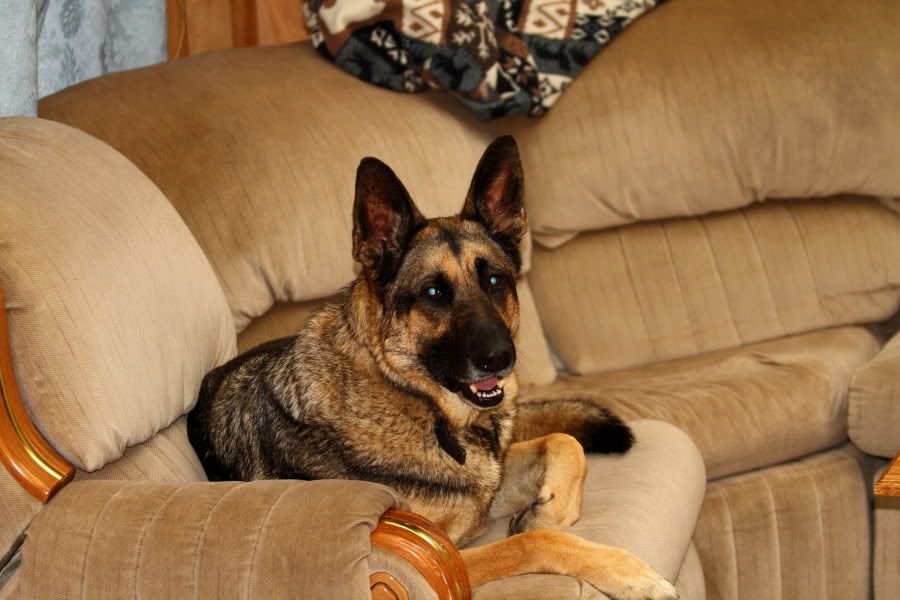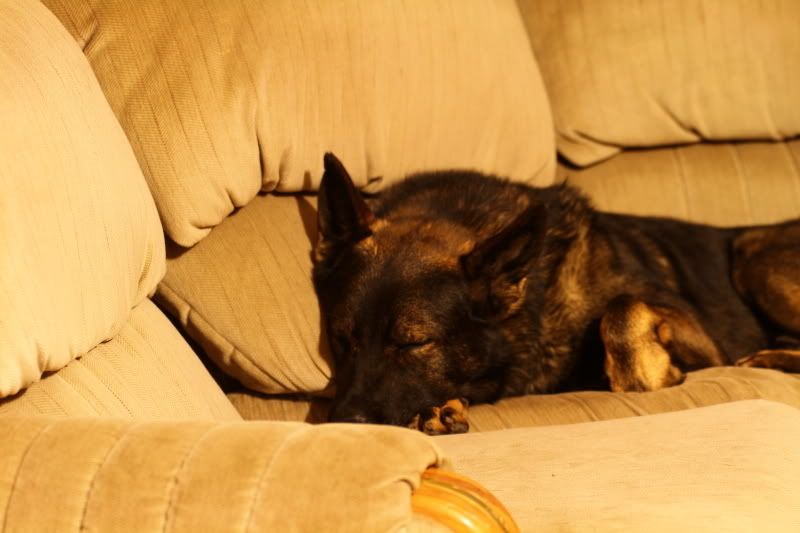 Banned
Join Date: Jul 2010
Location: MassaCHEWsetts
Posts: 5,222
Too funny! Cheyenne does this too! It looks so uncomfortable, so I always straighten it out...and just just tucks it in again! lol
---
-Jessica

Cheyenne von der Price-Sable GSD-12/20/10-CGC
Faegan vom Johnson-Haus "Panzer"-Black GSD-12/31/11-S.T.A.R. Puppy
Master Member
Join Date: Jun 2011
Posts: 591
hahahaha i LOVE the curved paw pics!!! i always straighten it for him, but he curls it right back up hahaha. too cute! must be a shepherd thing, i've never seen another dog do it.
love him <3
---
"And they call it...puppy looooovvveeee"
Member
Join Date: Jan 2012
Location: Dayton OH
Posts: 58
Removed oversized image
i didnt realize Izzy did this either.. Now im always going to be looking for it
---
-Brandi-


Joey-Pomeranian-10/20/2009
Isabella- GSD- 12/14/11
Lacy and Miss Kitty- feline friends
---
Last edited by Lauri & The Gang; 03-13-2012 at

10:13 PM

.