Banned
Join Date: Jan 2009
Posts: 3,614
Total focus on the hotdogs and cheese I'm handing out.
My Dobe worked security for me when I did overnight hours at a boarding facility, haha:
My husky as a pup..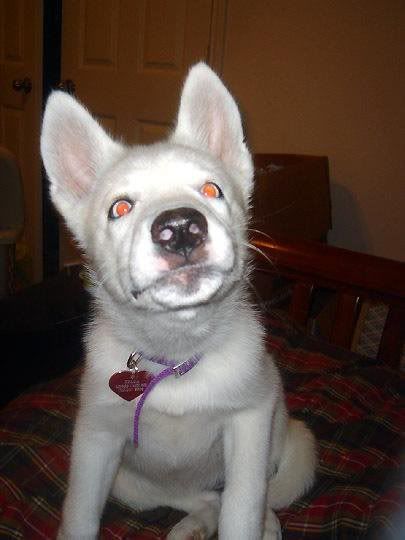 This one always gives me a good chuckle
No laser eyes captured of my GSD yet
---
"If you don't train them, don't blame them"
This one always gives me a good chuckle


Click this bar to view the full image.
Great picture! It looks like the Doberman is chuckling too:
"Do not mock lazer dog or this will happen!"

Senior Member
Join Date: Oct 2011
Location: Inglewood, New Zealand
Posts: 354
Quote: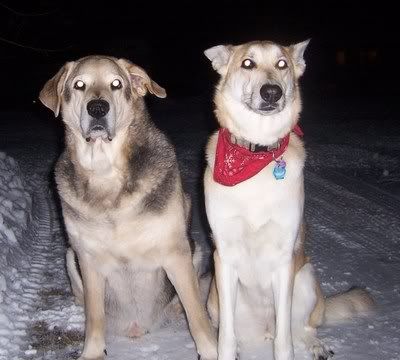 I have a million more. Anyone know how to prevent it or fix it?
A dog's retina reflect light much better than a human's do. It's the direct flash that does it. You can use a flash diffuser on your camera that you can buy, tape some tissue paper over the flash to "mute" the flash, or use a paper or plastic plate to reflect the flash from your camera onto a ceiling.
Outside the best bet is the tissue over the flash, or try and use a separate light source from a different angle like a wide-beam flashlight or spot.
I got advice from a cameraman...
---
Ignorance is Fixable

Contrary to popular thought, life does not hinge around big decisions at crisis points, but small everyday decisions that lead almost inexorably to crisis. Virtue lies in not being lazy when choosing, even in a small way.
heres mine not a shepherd but hubbys weim seems like he always has lazer shots
I got a few and was reminded of this thread.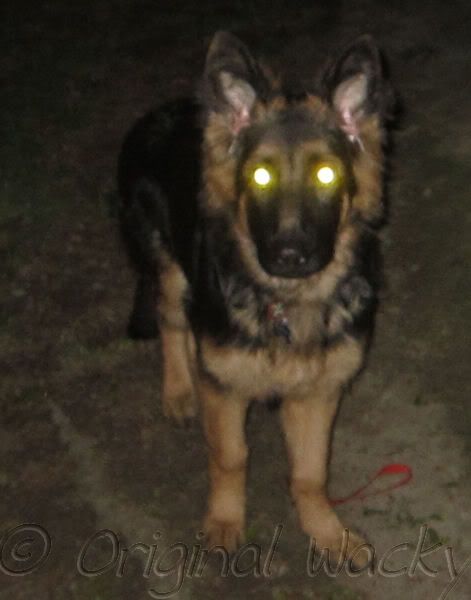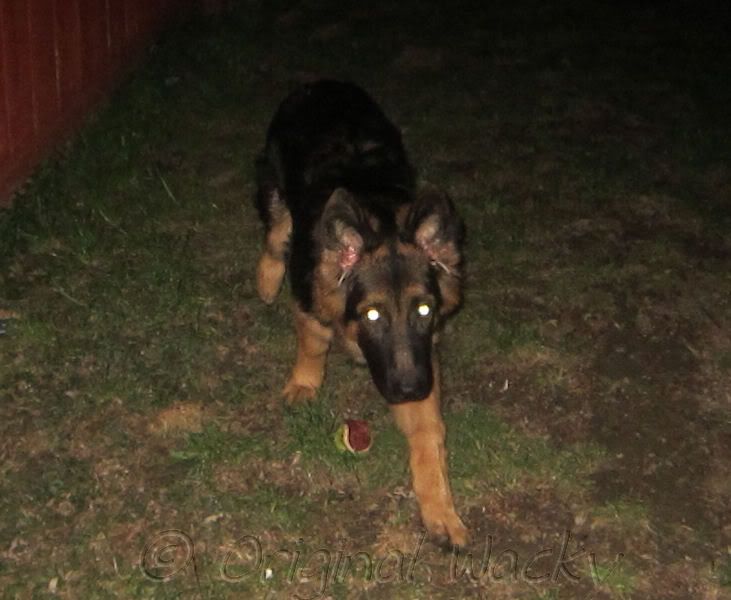 ---
My Dog: Krissie ~ Beagle Mix Extraordinaire 09/09
got all 3 of mine!
freakin' Jedis..
---
"If you don't train them, don't blame them"
If you're a Stargate fan, it will be immediately apparent that we had a foothold situation here the other day.
I've been working on perfecting my technique for correcting "flash eye," since automatic red eye correction doesn't work. Obviously if you have the serious Goa'uld eye going on, nothing can fix it, but here's an example of what you can fix.
---
Paula
Shasta - GSD (4/30/10)
Thor - GSD (3/12/12)
RIP Duchess - Shetland Sheepdog (12/25/88 - 2/14/04)