Quote:
Yes. Every item I own has GSD fur on it.
same here!
---
Layla

Bella - GSD mix (3/21/10)
Harley - GSD (2/5/10)
Baron - GSD (10/13)
Senior Member
Join Date: Apr 2011
Location: Va Beach, VA
Posts: 278
I will take some pics of the items today. My friend is saving up gsd fur from brushings and going to felt it lmao I asked what she is going to do with it and she said maybe make a coat for her dog that is a breed with no double coat that gets cold lol
Elite Member
Join Date: Mar 2009
Location: Milton, Georgia
Posts: 1,996
I get gifts all the time with GSDs on them. Usually I give them to my daughter since she just loves all the GSD stuff and I'm not big on walking around with a picture of my dog on my body. I do have some GSD socks that I wear all the time. I love the one shirt that said GSD anything else is just a dog. I'd get that, but since I think it might offend some clients I'll probably skip it.
I wouldn't mind a few vinyl decals for my car but can't seem to get that canine specialts site to work, is the link correct?
Annette
I have:
A black GSD magnet picture frame on my fridge like this but black GSDs
I have this sign in the front of my house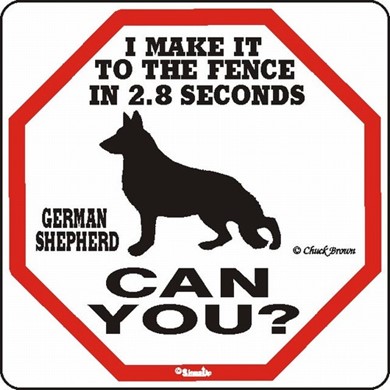 I have a GSD decal sticker on my car
I have a GSD air freshener hanging from my rearview mirror
---
Lauren

Sinister ~ black male GSD 3.11.09
Draven ~ male Dalmatian 6.30.13
---
Stacey

Zeke (Blackthorn's Nemo, CGC) GSD~6/8/10
Tesla (Blackthorn's Tesla) GSD~2/5/13
Crowned Member
Join Date: Mar 2007
Location: Grand Rapids, MI
Posts: 19,496
I have tons of EliteK9 shirts and some club shirts. My keychain is a tiny leather bitesleeve. I have a GSD tattooed on my left foot and the same thing on my address labels.
I have a couple GSD items... yes, I took these pictures just for this thread. LOL
Socks (with real German Shepherd hair attached! LOL)
Postcards from Germany
Car magnet (had one on my car but someone stole it so leaving this one inside!)
GSD figurine found at an antiques market, marked Germany on the bottom... little plastic toy from Meijer, LOL.
GSD figurine from Hobby Lobby
Found this white GSD at an antiques market in Kentucky
GSD plate found at an antiques market in Tennessee
I collect stamps, love animal themed ones so I was thrilled when I found this one!
I also have a GSD silhouette on our truck and an EliteK9 t-shirt.
---
To view links or images in signatures your post count must be 10 or greater. You currently have 0 posts.
I have a mouse pad and unless I suffer from a serious head injury, that's where it ends. Like Emoore, I'll just wear the dog hair.
---
Paula
Shasta - GSD (4/30/10)
Thor - GSD (3/12/12)
RIP Duchess - Shetland Sheepdog (12/25/88 - 2/14/04)

Quote:
I have a few car magnets and key chains. I have a GSD coffee mug but I don't actually use it.
This is the GSD mat I have out front.
And this one is in my kitchen.
One car decal.
And this is a little bag a friend sent me.
I absolutely love the picture of your dog staring at the GSD on the bag!
LaRen, where did you get the GSD air freshener?
Sigurd's mom, you definitely have the most GSD stuff so far. Lots of cool stuff. I love the socks!
---
*US Army Mom*


To view links or images in signatures your post count must be 10 or greater. You currently have 0 posts.

I'm wondering if caninespecialt's site is down, their facebook page hasn't had much activity either. The link I posted with images has one of my truck that I posted here awhile back.
I have those socks, overpaid for them in Mackinaw city when I was there this summer.
I have this in my laundry room, it is available online from
Kohl's
.
Reminds me of Kacie!
---
Last edited by onyx'girl; 09-21-2011 at

07:09 PM

.