I am so sorry. Cody will be waiting at the bridge for you . You truly gave him love and happiness.
Maggi
Deepest sympathies for your loss. Very happy for Cody that he got to have you in his life.
---
My Dog: Krissie ~ Beagle Mix Extraordinaire 09/09
Cody..... you will be missed
---
"A House Is Not A Home Without A German Shepherd"
What a beautiful boy!

So sorry for your loss. As hard as it is, it's the best thing we can do for them!

RIP Cody.
---
Alyssa
-Zira (01/09/11)
-Pakros von Jagenstadt "Duke" (01/06/10) -CGC
-Storm vom EnZ (05/16/12)

Banned
Join Date: Aug 2009
Location: California, US
Posts: 5,928
Quote:
He's not a GSD, he is my darling Golden Retriever who was an abuse/neglect victim, came through the rescue I foster for, and stole my heart.
Unfortunately the pain from his bilateral dysplasia and spondylosis have gotten the upper hand and despite attempts at various treatments and pain meds, his temperament has deteriorated along with his physical condition
So goodbye sweet darling boy, my "heart dog," my living example of the immense capacity dogs have to forgive human failings and find joy after pain and terror. You deserved better than what life gave you, better than what your original owners did to you. May you run pain free and with joy in my dreams.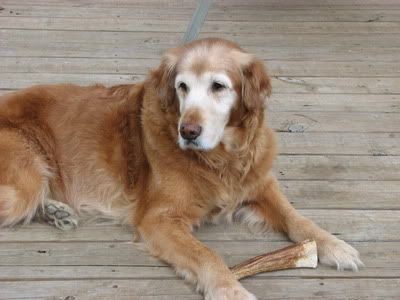 What a beautiful dog! And a very lucky one in the last part of his life at least!
RIP, Cody!
And our great sympathy to you!!!!!!!!!!!!
Knighted Member
Join Date: Apr 2004
Location: Iowa
Posts: 2,087
I am sorry for your loss of Cody. He was a lovely dog.
So very sorry for your loss.
---
Carolina Johnson

To view links or images in signatures your post count must be 10 or greater. You currently have 0 posts.

I am so sorry. May Cody rest in peace.
---
Mom to
Chases Wolfgang Heinrich Von Ryan aka Wolfie born 12/20/09
Waiting for us at the bridge is Chases Chieftain aka Chiefy Left this earth and left a hole in our hearts July 2000
Thank you for rescuing Cody and giving him the home he deserved.

Its never easy saying good bye, so very sorry for your loss.
---
Tom
Zach / Zoey Nov 13 2010
*RIP Kayla waiting for me at the bridge.
so sorry for you and cody
---
I know all to well the pain of having to put them down. My Molly was a rescue, she was the product of a divorce, the husband didn't want her but kept her just so the wife couldn't have her and kept her caged for 18 months. My daughter was dating this guy's roommate and she saw Molly. She told him if he didn't give her the dog she was going to tell me and he'd be in big trouble as I volunteer on the animal abuse website. So she said "take the dam dog or I"ll shoot her" Course once she got the dog she brought her home to me. I'm not even going to get into the condition she was in when I got her. But I took her in, cleaned her up and got her healthy and fell in love with her. I taught her what it meant to be a dog, she had no idea what toys were, didn't know how to play, she was a pathetic sight. But over time she came out of her shell and was the best girl ever. I had her a short five years then took her for a routine checkup and found she had lymphoma. She lived five weeks after that. I promised her that the last thing she saw would be my face and the hardest thing I had to do was take her to be put to sleep but I stayed with her to the end. She will be gone a year on the 25th of this month and I still miss her. So I know how you feel. But it will get better. We never get over loosing them but we learn to live without them.

Your Cody is with my Molly probably playing together as we grieve for them but with time the pain will lessen but never entirely go away