Great website....will pass it onto my brother....he has a 4x4 business in Tamworth....sells suspension and does specialised conversions of 4X4 vehicles. I could definitely put one of your vans on my wishlist.....travel the outback in style and comfort.....luxury!!!!
Senior Member
Join Date: Nov 2012
Posts: 292
No wonder I liked the look of your GSD there Sparra....
I got some new pictures today of the large German Working dog line, of "Zulu" his Sire and "Bindi" his Grandmother... (Both have long complicated Registration name besides). The Sire of my pup here in Australia, looks a lot alike, just a little heavier coat. Glamour Coat they call it here, not a long hair, not bushy around the base of the ears, just a plusher coat...
Anyway, Sparra, he has that same look, "really good" yea that look...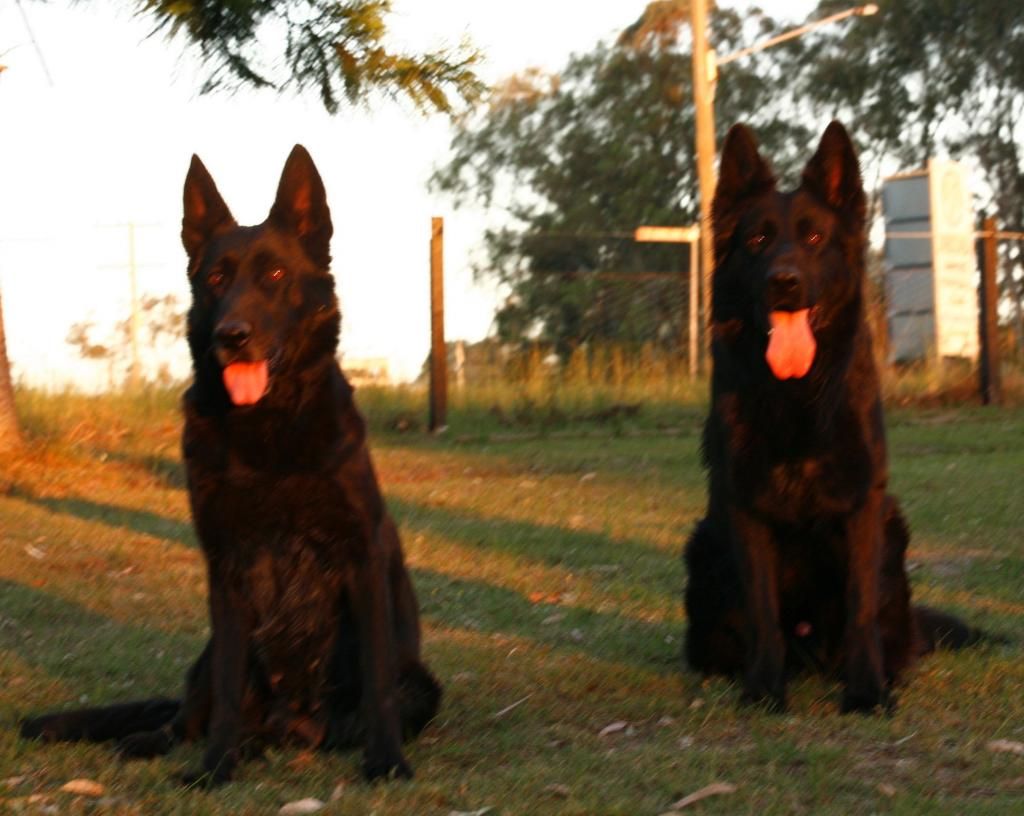 My Pup is a four week old floppy ear black fuzzball with the tonge hangin out.. He does have a few white hairs chest spot like his dad in the picture, and appears to have the Glamour coat... Hope he is big and carries that "look"...
Crowned Member
Join Date: Feb 2011
Location: ontario -
Posts: 12,650
the quality that you are looking for is intrinsic , inherent in the dog and can not be subverted or corrupted by strangers greeting the dog as a youngster -- because generally people do not once the dog starts getting bigger and no longer puppyish .

All the dogs I have , and now my partner is crime or is it crime-prevention Mike Clay , prepared for police service or personal protection , are allowed to receive the attention from strangers who admire the dog , want to ask questions etc. Never , does the dog seek out attention . The dog and then carries on.
Now then , the one thing we don't do is to make the dog inhibited in contact . The dog may not be corrected by the interested person should the dog be a bit rambunctious . They are told ahead of time .
---
Last edited by carmspack; 12-04-2012 at

02:21 AM

.
Elite Member
Join Date: Jun 2012
Posts: 1,466
Hi Lone Ranger!
Sent you a private message... This is where I would go/contact, if I need a decent PPD dog and advice.
Kat
Senior Member
Join Date: Nov 2012
Posts: 292
I would like to thank all of you... I am convinced..
I will raise him like I did Dakota, and let him socialize with people as a puppy...
I was only looking to see if there was a way to improve the development towards a more personal Dog..
I am convinced, Thank You all...
Banned
Join Date: Jan 2012
Posts: 1,291
ranger be great if you could make the effort to type in the;

"long complicated Registration name "

and if possible a link to the pdb - genetics will have a good say (but not necessarily final) in the type of work the dog may/may not do.
Senior Member
Join Date: Nov 2012
Posts: 292
From talking with 28 Breeders and a half dozen Trainers, here in Australia a lot of people go for genotype and not knowing more, my priority was phenotype, looking for the larger boned European Working Dog type of GSD..
Looking at the Gene pool for tempermant, in my view was still just the luck of the draw, maybe 50/50 like in horses. It is a help, but I had no reference point and bought this Dog before I found this Forum...
I went for him from his attack mode stance, here in stalking mode, ready to pounce...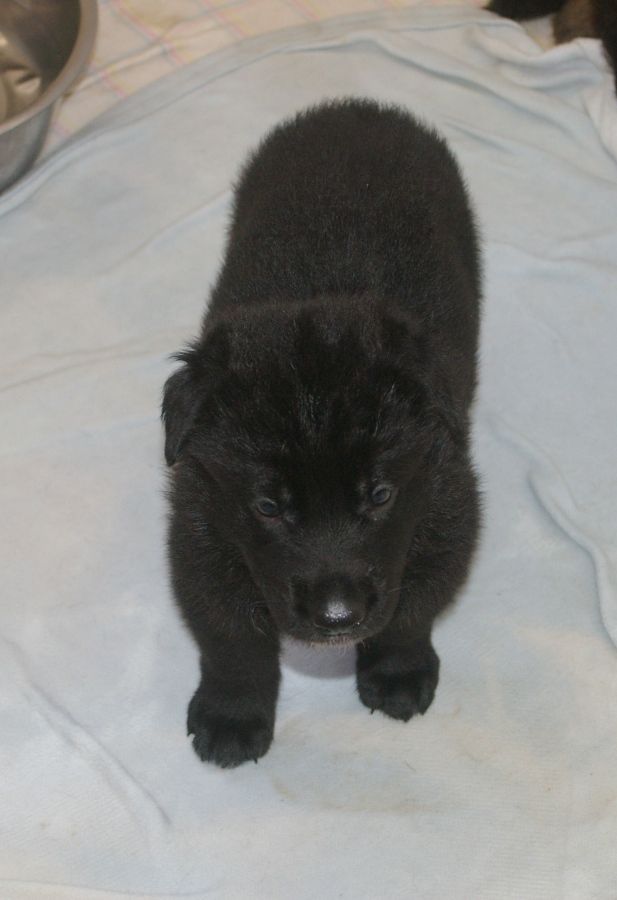 Alright here is a cut and paste copy, 5 generations back, I can only put it in this format, it is in PDF and I cannot even put a link to photobucket with it. Here are all the GSDs in his line back 5 Generations, see if you can make anything out of it.... Dog and Bitch lines, all I could do...
EX (AUST) Turnberry
Stands Alone
ANKC/N161920
Andacht Britany
Turnberry Super
Impose
Troy von der
Noriswand
SZ/2040827
Turnberry Smart
Cookie
Andacht Mariah
SG Kim vom Kaibach
SZ/1901148
SchH3 FH
V2 Natz von der
Römerau
SZ/1806910
SchH2
V Gilla vom Kaibach
SZ/1819670
Andacht Letsgo
Krakin
SCHH1
EX (AUS) AUST. CH.
Lesko vom
Wildsteiger Land
SZ/1900372
Venesthorn Foxy
Dazzler AZ
Maraya Ebony Jade
Maraya black falcon
AUST/4100046085
SARITON
CARERRA
AUST/1323377
Jaimon Druze
AUST/1170677
Manisar Hyacinth
AUST/1099519
Osenbruck Ebonie
AUST/1338219
Bluemax Greek Flyer
AUST/1029869
BLUEMAX ZIGGY
Maraya Sharna
Sampenny Silver
Shadow
AUST. GRAND
CHAMPION Crossfire
Claim To Fame 'A' 'Z'
Bscl.1
N/1223804
Sampenny Cher
Schwarzstihl Mariah
SARITON
CARERRA
AUST/1323377
Schwarzstihl Shaka
SCHH3
VA10 Orbit von
Tronje
SZ/2037762
SchH3
VA8 Neptun von Bad-
Boll
SZ/1959513
SCHH3
V2 Yassko von der
Roten Matter
SZ/1869422
SchH1
V26 Eibe von Bad-
Boll
SZ/1891841
SCHH3
VA4 VA1(N) Natz
Pallendon Reggae
VH3
V3 Mike vom
Estherlager
NHSB/2347723
SchH1
V Babette von Tronje
SZ/1959640
vom Steigerhof
SZ/1841632
BHP3
VA6 Bertha's Oline
SZ/1959638
VZH IPO 1
V (NL) Essie vom
Estherlager
NHSB/2064451
VH2
V Haswin von Haus
Hanne
SZ/1959601
SchH3
VA Lupo vom
Klosterbogen
SZ/1799709
VH1
V Kelly von der
Herderskring
SZ/9014240
SG Ute vom
Endebruch
SZ/1836828
SCHH3, IPO3, FH
VA3 Hoss vom
Hasenborn
SZ/1753395
SchH1
V Hera vom Nassauer
Berg
SZ/1772856
SchH3
VA1 (N) Hagadahls
Arex
SchH3/FH
V Wobo vom
Lärchenhain
SZ/1824926
SchH3
V Chico von der
Lohner Heide
SZ/1751110
SchH1
VA4 (NL) Joga vom
Nieuwlandshof
SZ/1824916
BSCL.1
Cornelia vom
Fiemereck
SZ/2008846
SchH1
V, FIN SIEGERIN-94
Winecke's Vanta
N/30562/93
SCHH3
V Janko von der
Wienerau
SZ/1738053
Winecke's Bibbi
SZ/9108771
SchH2
Sabrinana vom
Fiemereck
SZ/1896576
SCHH3
VA1 Kimon van Dan
Alhedy's Hoeve
SZ/1788156
SCHH3
VA4 Mark vom Haus
Beck
SZ/1669141
IPO1
V Candy van Dan
Alhedy's Hoeve
SZ/9003736
SchH3/IP2
V Häsel vom
Fiemereck
SZ/1797958
SCHH3, FH
2X VA1 Uran vom
Wildsteiger Land
SZ/1526684
SchH3
V Zasta vom
Fiemereck
SZ/1696021
Banned
Join Date: Jan 2012
Posts: 1,291
you know this ped has a lot of straight up show dogs? did you even contact actual working dog breeders in the 28? australia would not actually hav 28 legit working dog breeders, prolly more like 10 max and about 5 that are not just off-shoots of someone else's kennel. this info is easy to find out just look at the breeders in australia that compete in shuts, definately not 28 breeders more like the 5 i mentioned.

not judging yr pup btw.
Your pup is very cute!!!
Don't recognize any names in his pedigree so doesn't look like he is related to my bloke but yes......the blacks are very striking (though I am probably biased
)
Good luck with your pup and your business.....have a great time in Yellowstone.....don't get eaten by a wolf or anything silly.....
Quote:
Hi Lone Ranger!
Sent you a private message... This is where I would go/contact, if I need a decent PPD dog and advice.
Kat
I would be interested to know what you found??