Member
Join Date: Jan 2004
Location: Orange County CA
Posts: 186
Dagger
---
Well I found a new puppy and here he is. I named him Dagger. He is 12 weeks and a pretty good boy right now, I know it is just the calm before the storm though! He has only been with me 3 days and each day he gets a bit more active and puppyish!
Do you think his face is going to lighten up? I like darker faces and he has the darkest face of his litter but I was looking at pictures on here and they tend to lighten as they get older.
[IMG]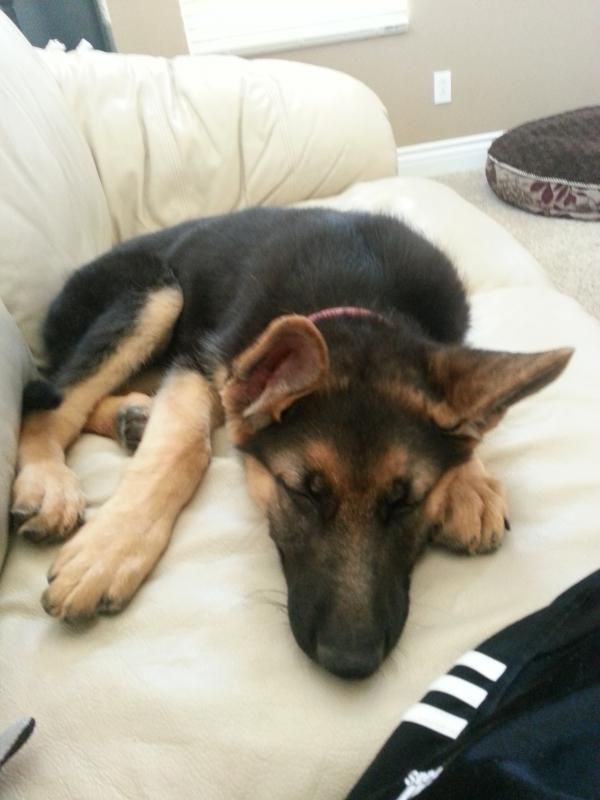 [/IMG]
[IMG]
[/IMG]
Member
Join Date: Jan 2004
Location: Orange County CA
Posts: 186
He is cute as a bug!!! Congrats!
---
Hondo Von Dopplet L Bauernhof "Hondo"- GSD
Lilie's Tug McGraw "Tug" - Golden Retriever
Maggie - Mini Dachshund (Rescue)
Lonestar Pivo - Texas Blue Lacy
Ashe - Barn Cat
Katie / APHA
He is so adorable! How is the other pup doing?
His face may lighten, what did the sire and dam look like? Generally he will resemble his parents.
Member
Join Date: Jan 2004
Location: Orange County CA
Posts: 186
Athena's Mom.......... The other pup is in a new home now. Sadly he was not going to work out for what I wanted to do. He had many fear issues and did not cope well with being out in public. He is with a new family that had an older dog and did not want him to go and do all the stuff I did. He is happy, they keep in touch with me and he is doing well. I was selective on who got him and made sure he was going to a home that would be comfortable with him. They were soo happy to get a trained puppy! That is why I got a new one. Also not having had puppies for a LOOOONG time I didn't know what they looked like but the other puppy I was told he was 12 weeks but they didn't really KNOW and this one the people were the breeders so they knew exactly when and he is 12 weeks. The other guy was WAY older! This guy is just a little guy and is not at the stage the other guy was! So I am hoping that with no baggage that the other one came with, this guy will be better for my purposes. Although NOW he is afraid! I hope it is just a phase!