New Member
Join Date: May 2014
Posts: 3
Meet 10 wk old Loki
---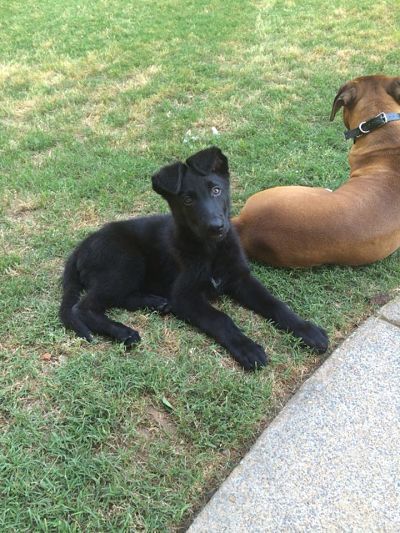 Oh those ears are stinkin' CUTE!
What a doll.
Awww.. He's got that "I'm a black lab look" going on!
---
Leesa~

Chaos v. Wildhaus, SchH2, OB3 (HOT) Forever in my heart ~ Bismark v. Wildhaus, SchH1 (HOT) ~ Kougar v. Wolfstraum, IPO 1, CGC (HOT)... Oberon v. Wildhaus, BH ~ starting to grow up..
To view links or images in signatures your post count must be 10 or greater. You currently have 0 posts.
New Member
Join Date: May 2014
Posts: 3
He does have that look now, but make no mistake, he is 100% a GSD! I'll get another pic up soon since his left ear is now up consistently.

Thanks for the compliments!
---
Eden
Jaxx~ 11/13/12
To view links or images in signatures your post count must be 10 or greater. You currently have 0 posts.

"The most affectionate creature in the world is a wet dog"~ Unknown