New Addition
---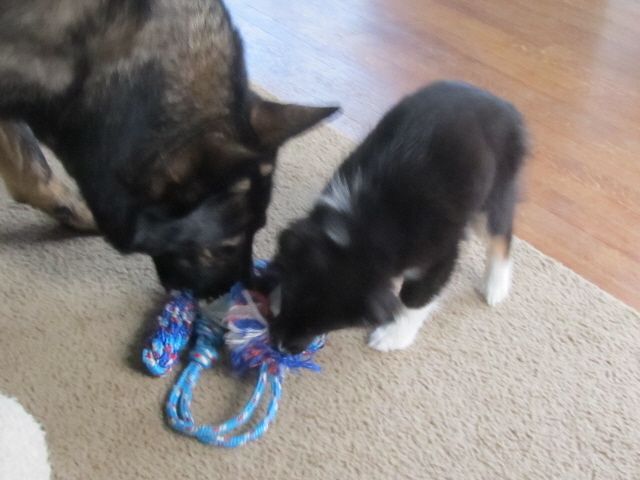 Meet Kizzy, Masi's new little sista,,no not a GSD, Masi likes being the only GSD at the moment and so do I..Kizzy is a mini aussie came in last nite, she weighs probably all of 8lbs,,hope the lard butt doesn't squish her
---
Diane
Ozzie vom Kleinen Hain
Danger Danger vom Kleinen Hain aka Masi
Tranquillo's Kizzy
Jakoda's Kholee
"Angel" Jakoda's Bewitchen Sami CD OA OAJ OAC NGC OJC RS-O GS-N JS-O TT HIC CGC
"Angel" Steinwald's Four x Four CGC HIC TT
"Angel" Harmonyhill's Hy Jynx NA NAJ NAC NJC RS-N JS-N HIC
"Angel" Jakoda's Jagged Edge
Elite Member
Join Date: Jun 2012
Posts: 1,466
Kizzy!!!! (GREAT name!)
Lol! She's going be great for Masi ...
And YOU!
What a doll!
Kat
Congrats!
Love the markings!
Keep us posted with more pics of the little darling!
Moms
I know two people that recently got Minis, where did she come from?
My GSD pup was only 5.7 when I brought her home and did not get squished!
The Administrator from the Great White North, eh?
Join Date: Jun 2006
Location: Northern British Columbia
Posts: 16,270
Ha! Had no idea you were getting a new troublemaker! Congrats, she is precious!
---
Lucia


To view links or images in signatures your post count must be 10 or greater. You currently have 0 posts.


Keeta BH, OB1, TR1, AD
Rottweiler/Hairy Dog mix?? 2004-2015
thanks..Falon she came from a breeder in Iowa, I did a ground transport she is nsdr reg'd, her parents are out of Prodigy mini aussies.
---
Diane
Ozzie vom Kleinen Hain
Danger Danger vom Kleinen Hain aka Masi
Tranquillo's Kizzy
Jakoda's Kholee
"Angel" Jakoda's Bewitchen Sami CD OA OAJ OAC NGC OJC RS-O GS-N JS-O TT HIC CGC
"Angel" Steinwald's Four x Four CGC HIC TT
"Angel" Harmonyhill's Hy Jynx NA NAJ NAC NJC RS-N JS-N HIC
"Angel" Jakoda's Jagged Edge
Very Cute. Can't wait to see her in person. Maybe Remi and can be buddies?
Congrats on your new baby! Love the name
---
Jane~
Kept by
To view links or images in signatures your post count must be 10 or greater. You currently have 0 posts.


To view links or images in signatures your post count must be 10 or greater. You currently have 0 posts.
and
To view links or images in signatures your post count must be 10 or greater. You currently have 0 posts.

Kacie
To view links or images in signatures your post count must be 10 or greater. You currently have 0 posts.
7.21.05-5.01.15