Nyx 13 weeks
---
We spent a three day weekend at a Todd Dunlap seminar. I learned a lot and had a great deal of fun and left it thinking...hmmmm....Mondio.... but we shall see. She got a lot of compliments on her focus, drive, structure, etc. I heard a lot of "For a GSD puppy she's really good and bitey already - usually they are slower to catch on." (Malinois people
- Nyx was one of only 3 GSD puppies in the group)
She came in raring to go
Open wide!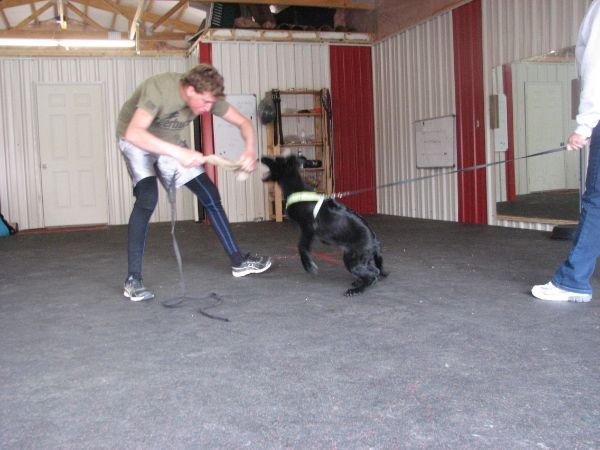 The clatter stick really fired her up!
He got down on the floor a lot to encourage her grip - I think you can see here that he enjoyed her
---
Lisa
&
Abby - the wonder labby ~ Huxley- aka General Disarray ~ Nyx - my "Wild Child"
She's beautiful!
I love these black pups!!
---
Lauren

Sinister ~ black male GSD 3.11.09
Draven ~ male Dalmatian 6.30.13
Good girl Nyx!!
---
Leesa~

Chaos v. Wildhaus, SchH2, OB3 (HOT) Forever in my heart ~ Bismark v. Wildhaus, SchH1 (HOT) ~ Kougar v. Wolfstraum, IPO 1, CGC (HOT)... Oberon v. Wildhaus, BH ~ starting to grow up..
To view links or images in signatures your post count must be 10 or greater. You currently have 0 posts.
she looks so focused! GL with her!
---
2.3.14 - Varick
Ha! She came with her game face on! Lovely pup