We have ears! ...Almost!
---
Amazing how much ears can change their overall appearance, he's starting to look like a handsome little shepherd now.. 13 1/2 weeks now I believe. Great little guy, but an absolute piranha of an animal.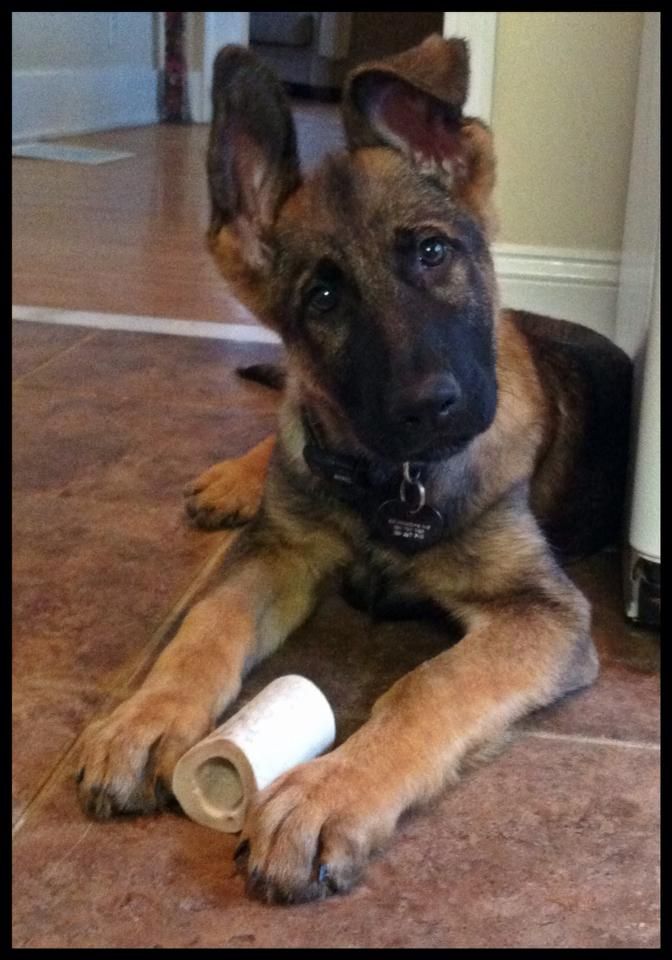 The same little monster at 8 weeks:
---
Kelli Black &
Bianka "Shade" v. Littlehaus (2/2/11)
Wodanaz "Odin" BH, CD, RE, TT, CGC, TDI, OFA H/E (2/13/09)

"Utility is the true criterion of beauty."
- Captain Max von Stephanitz
What a handsome boy! I never got any ear flopping as cute as that. They look sooooo different I agree.
Sent from
Petguide.com Free App
---
Bailey & Chase
----------------
Rommel - 2 y/o GSD

To view links or images in signatures your post count must be 10 or greater. You currently have 0 posts.

Tell me about a piranha, my 19 week old chewed up my cell phone yesterday, a few weeks until he gets his adult teeth.
---
Caleb Vom Adelhertz (Cutter) 6/18/05-1/26/14
To view links or images in signatures your post count must be 10 or greater. You currently have 0 posts.


Rebell vom Osangute-Land D.O.B. 10/15/13
Beautiful puppy, that ear is just too cute, it's almost there- Enjoy! Bob