Opposite Ends of the Spectrum
---
It has been interesting starting training with the puppy. Doyle is pretty new still, he has prey and defense drives to play around with. Being a puppy there is a lot more that I can mold here. Everything is just play now with the decoy. Getting him used to the people who come to club, getting to know the trainer. Everything is so completely different than working with Leia lol.
Took pictures of the last training session. It's kind of amusing to compare the pictures lol.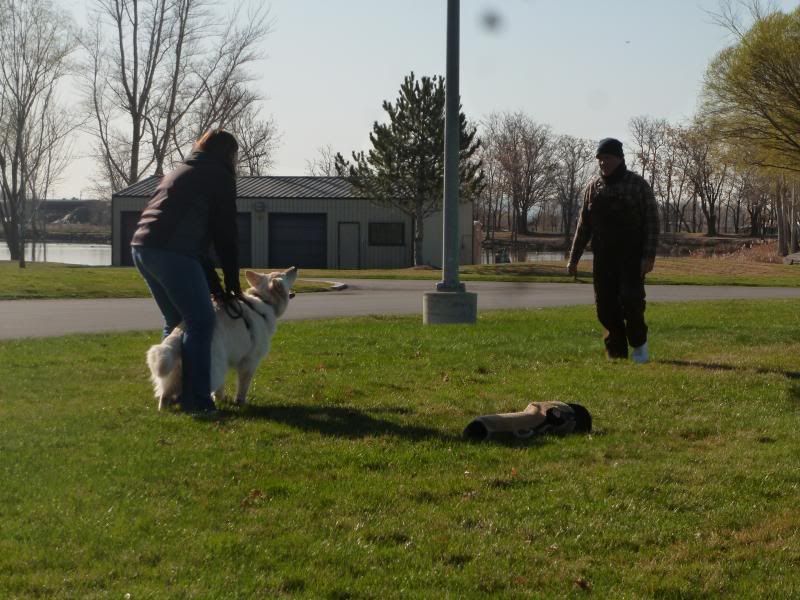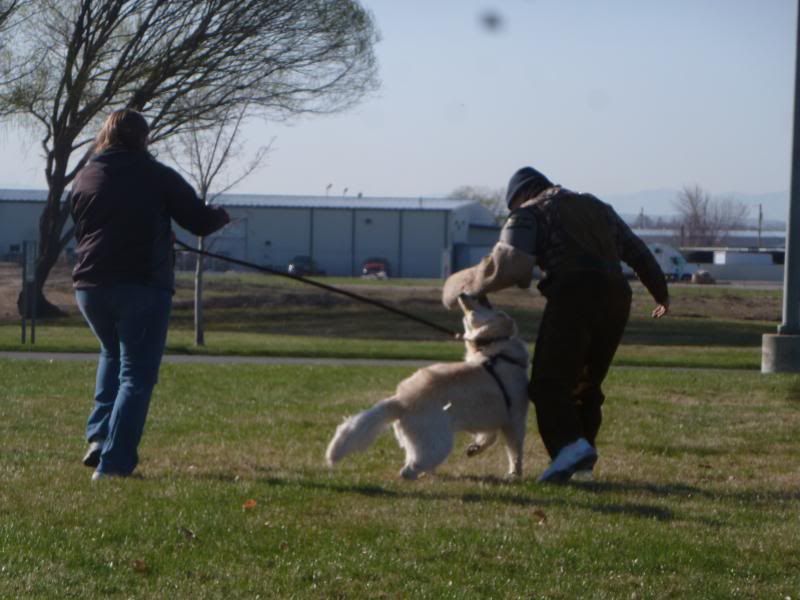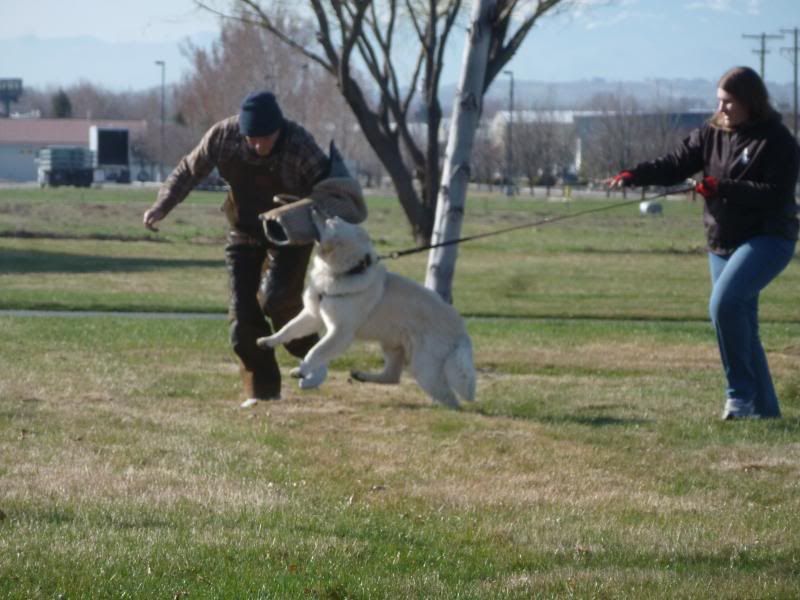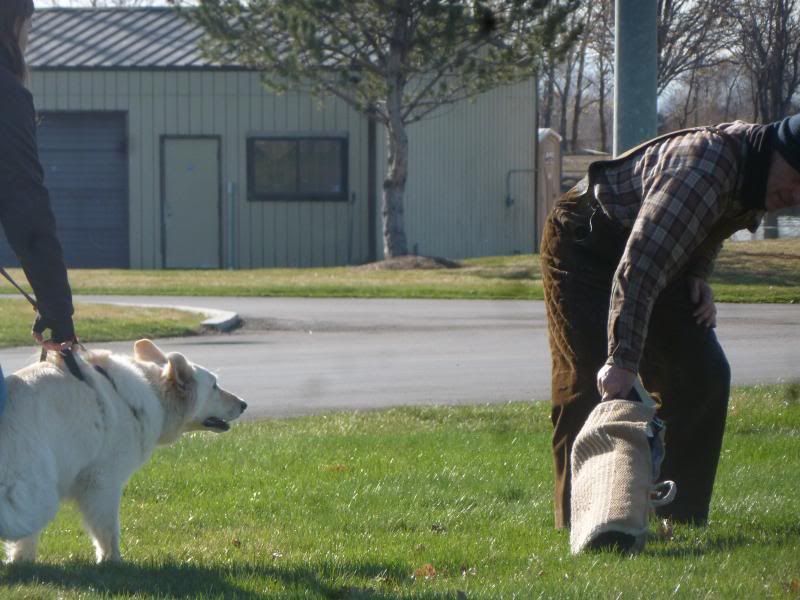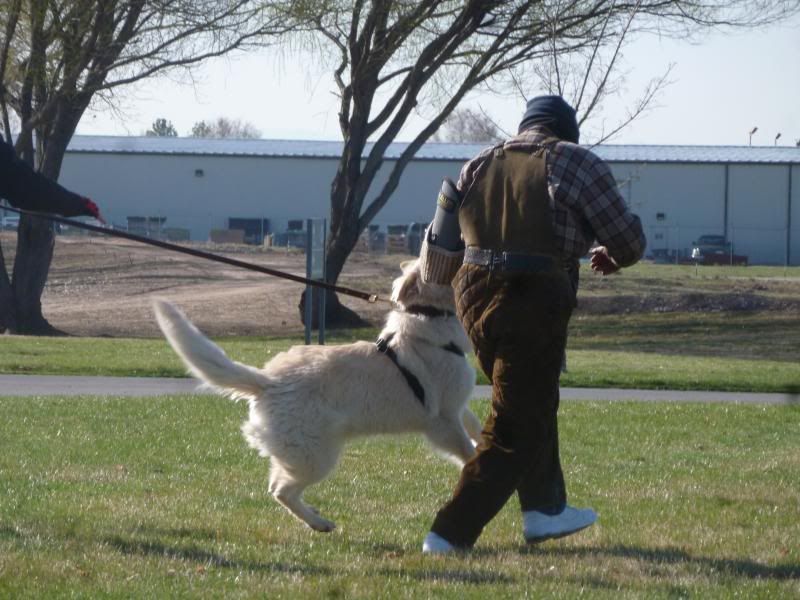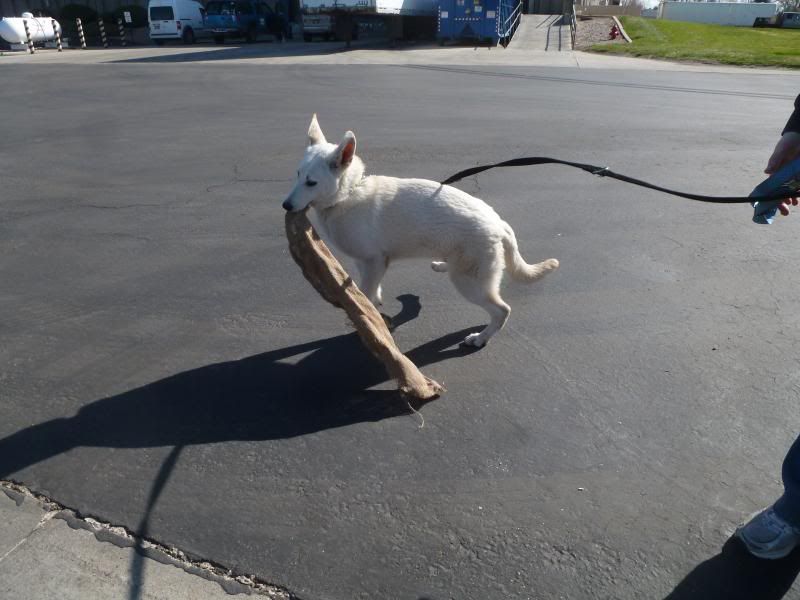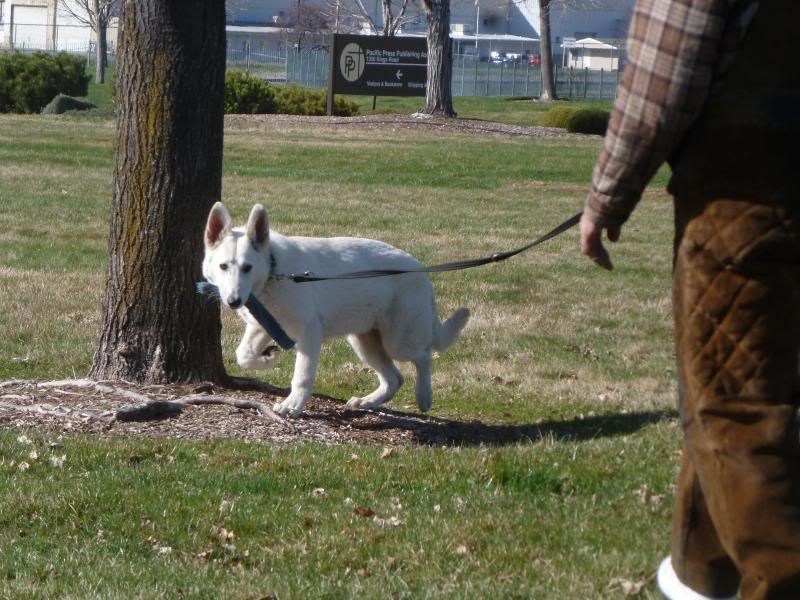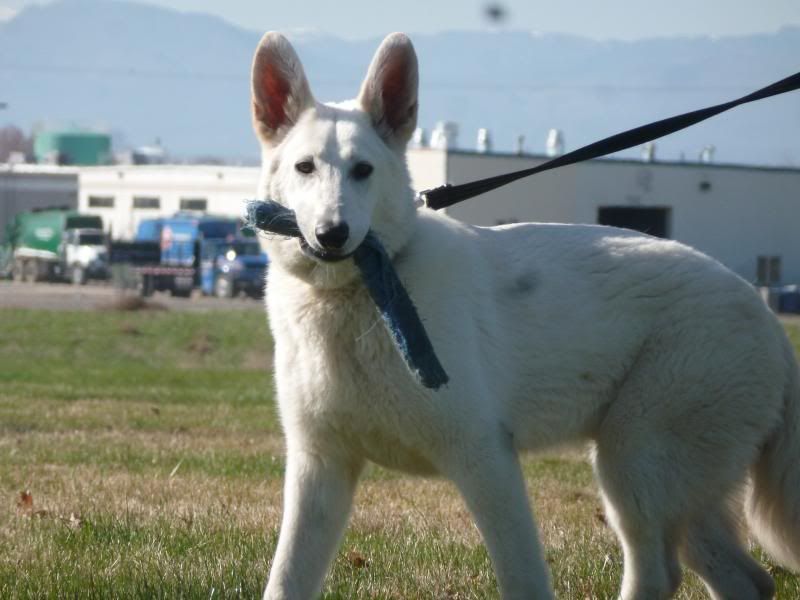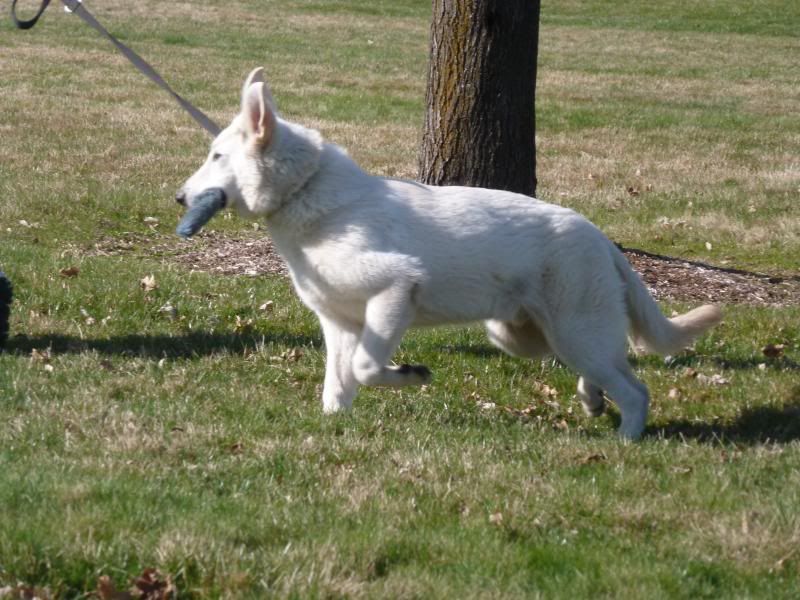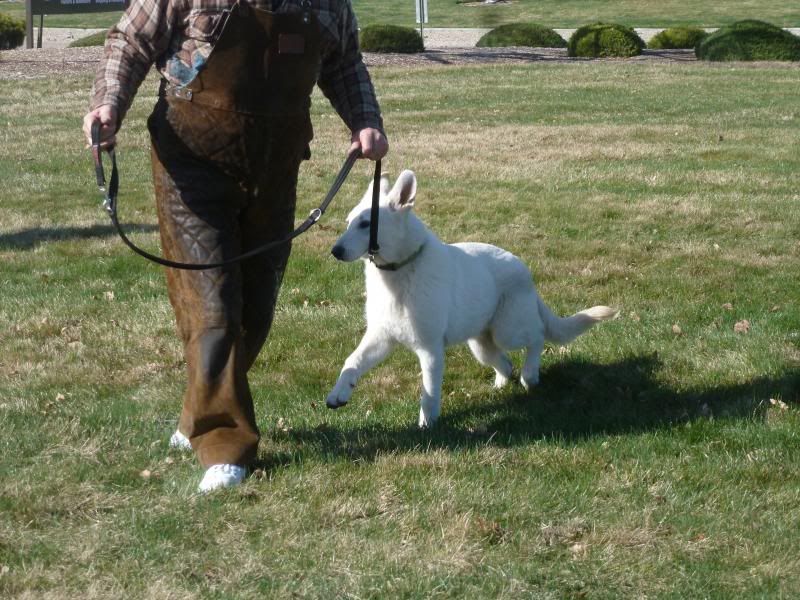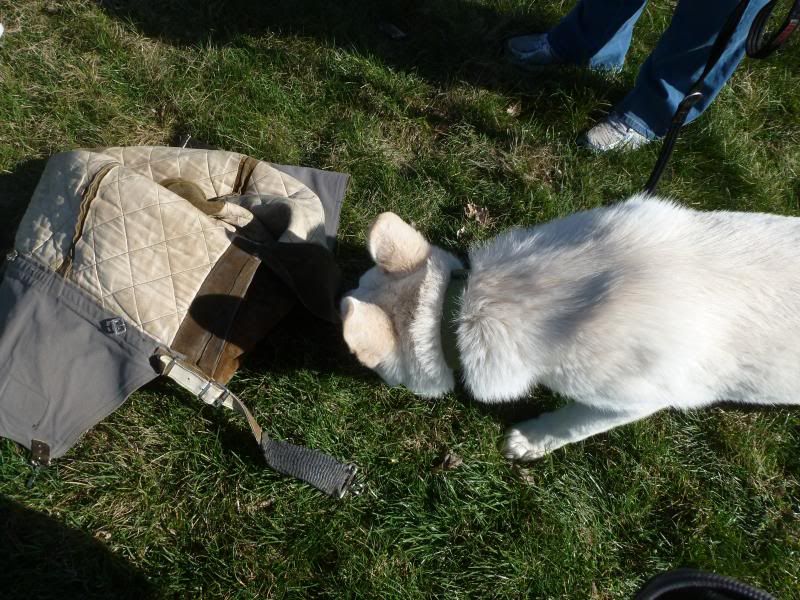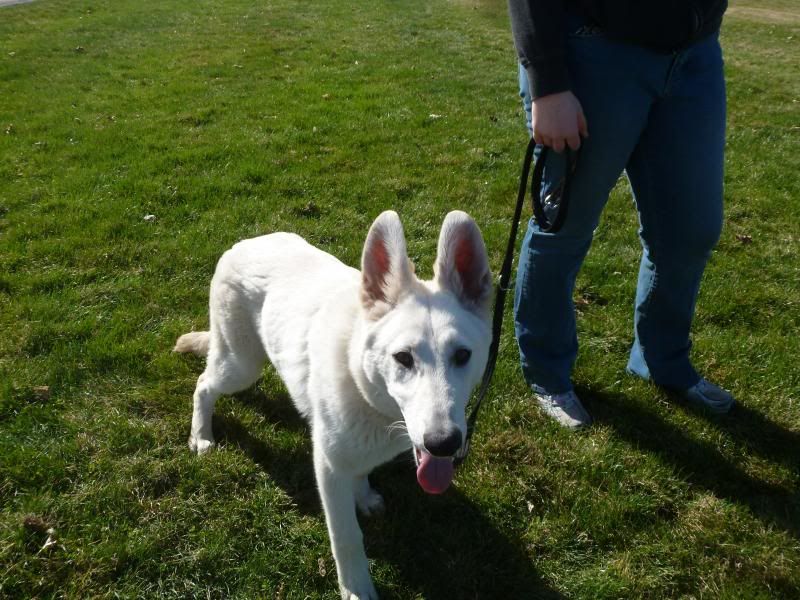 I really am learning so many things with both of them.
I just have to say.....
I've been following your posts, I really enjoy reading the stories of your dogs and their progress. We often hear that 'a good dog, is a good dog' but that doesn't often apply in 'the real' world, especially for white dogs!
I've also been so impressed with the trainer (decoy/helper too?) that takes the time to bring out the best in the dogs too. Sounds like one of those worth his weight in gold kind-a trainers.
Great positive information and beautiful dogs to boot.
Congrats on doing so well with them!!
Thank you!
I am really proud of my dogs and what they have accomplished. The trainer is basically that plus decoy/helper in one lol. He has 30+ years of experience in sport, actual law enforcement and military dogs. He's worked with all kinds of breeds, had champion dogs in his time. He always teases me about my white dogs.
He is really pretty laid back and easy going too. I love watching him work with every dog because he switches his style to adapt to whatever that particular dog needs, and when they really got it or are doing well, he gets even happier about it.
We both have no doubt if I ever dropped Leia's leash that she would in fact go for him, but he laughs it off and just goes on about how happy she is. She did this cute little jump into me with a goofy grin on her face that day before running to the end of the leash again to be sure the "bad man" was gone lol. The training did so much for her confidence and our bond. I am excited to see where Doyle and I can go. He showed interest in the sleeve that my roommate's GSD had been using on our way back out.
The decoy never wants to rush a dog. He sets things that day for what they will do, tries to push forward when he can. And he takes mistakes and turns them into opportunity. There is a man who has been working with this decoy for a few years with his Doberman, and the other day when they were going from the back of his truck (which is where they do a bite or two), he forgot the knot at the end of the leash had been broken away. His dobie slipped from his grip and was heading toward the decoy. When he turned around and saw the dobie coming without his owner and caught a small glimpse of hesitation since the situation was new, he promptly turned the bite pillow toward him and it reminded the dog what was next! Oh his confidence and his bites, everything since that day have just been spectacular. He can do sendaways now when he hadn't really had the courage to be too far from his master's truck.
I love it! Doyle looks like my girl's identical twin.
---
"Outside of a dog, a book is man's best friend. Inside of a dog it's too dark to read."-- Groucho Marx

Sigmund GSD- 2011
Elsa GSD- 2013
The whites can look rather similar lol.
When was your girl born? Doyle is an August 2013 puppy.
We adopted her about two weeks ago and was told she was nine months old. I guess that would make her a June 2013 pup? I gave her my birthday (5/31) so we could remember it and it was close enough. Lol
---
"Outside of a dog, a book is man's best friend. Inside of a dog it's too dark to read."-- Groucho Marx

Sigmund GSD- 2011
Elsa GSD- 2013
Here's another. They're Instagrammed so the colors are a little more vibrant than in real life. But yeah, they all look a little similar! Lol
---
"Outside of a dog, a book is man's best friend. Inside of a dog it's too dark to read."-- Groucho Marx

Sigmund GSD- 2011
Elsa GSD- 2013
They really do! She is beautiful.
I got Doyle when he was about five months old. I'm always curious since I know he has some siblings out there! I think he was in a litter of 8 I want to say.
Sent from
Petguide.com Free App
I wonder that as well. I wish I knew where my dogs came from, not only for health reasons but also just to know those little facts about their history. My male was an adult when we adopted him and the only thing the previous owners had said was that he was part wolf. I don't think he is, though. Regardless, they took good care of him because he was well mannered and healthy when we got him. But little girl is a mystery! Who knows. Lol.
---
"Outside of a dog, a book is man's best friend. Inside of a dog it's too dark to read."-- Groucho Marx

Sigmund GSD- 2011
Elsa GSD- 2013
People love saying that shepherds are part wolf in some way lol! People have asked me about Leia, but most can tell what Doyle is.
After my first shepherd, I have been certain to know the background of my dogs, if only for the better chance of avoiding hip dysplasia again. It is kind of fun in ways too when its a mystery!
My golden has many half siblings in my area. I've met a few. They all have similar features and personalities. It's kind of fun to know your dog has family and what they do lol.