Group pictures are hard
---
Hiking up this really cool hillside/butte thing. Really hoping to get some cool shots of me with all my fur kids. Really hoping...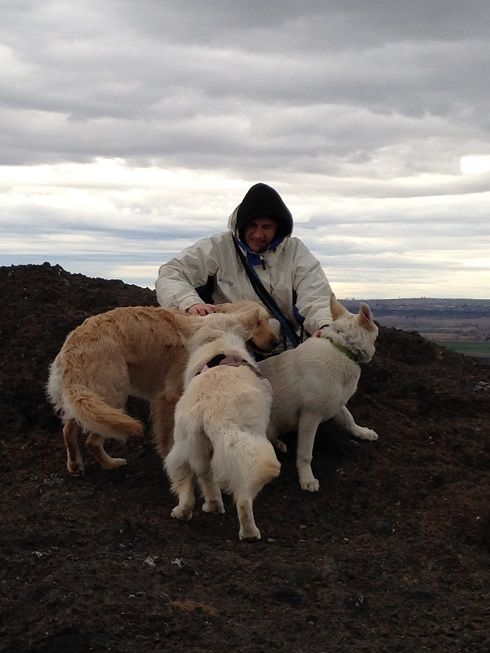 First you need all the dogs in the same spot. Puppy doesn't like sitting and facing away. Try to sit puppy so he is in front, looks the opposite way you want.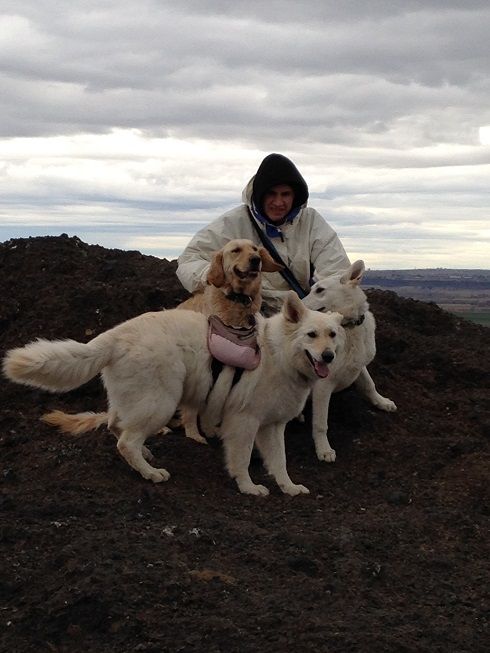 Puppy looks to best friend dog for help. Friend dog is used to pictures. Females always have to steal the show...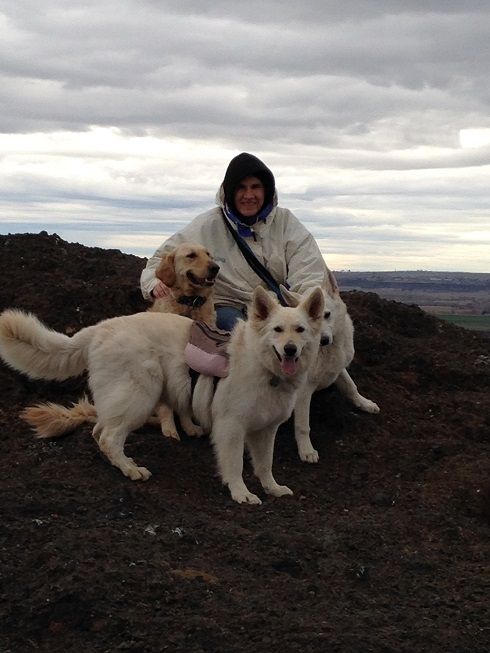 Puppy is hidden. Other two are posing well...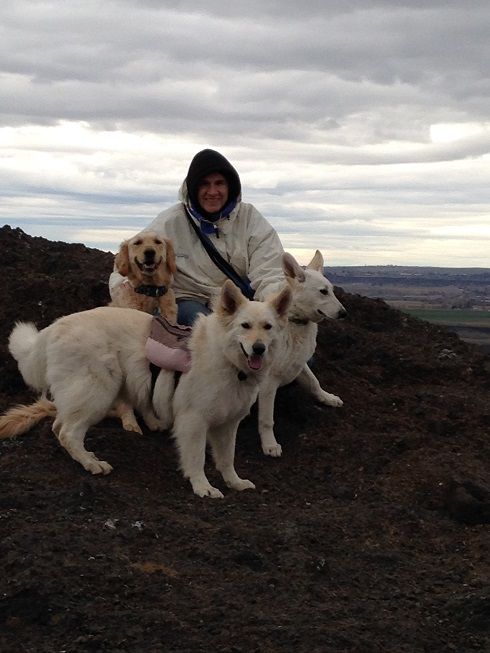 More puppy sulking...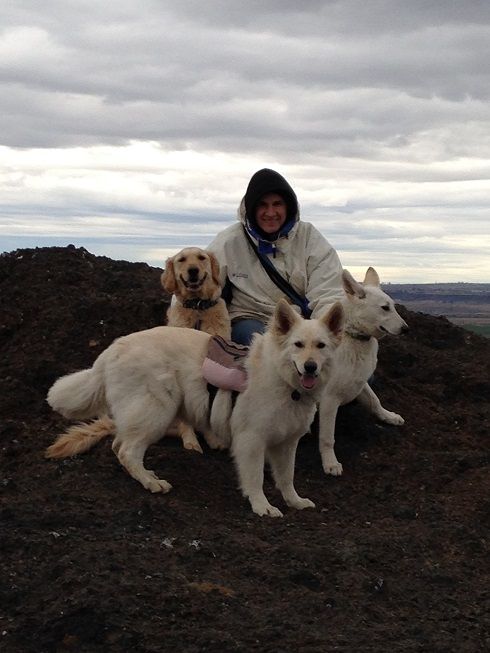 Well that's what we get lol.
The idea was a good one. Getting the dogs to agree is another story...
Should have known better. They won't even really stay together if I'm far enough to catch them all in the same frame...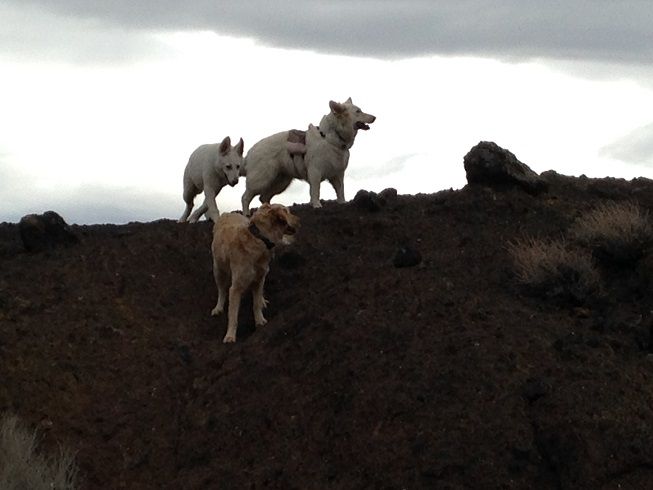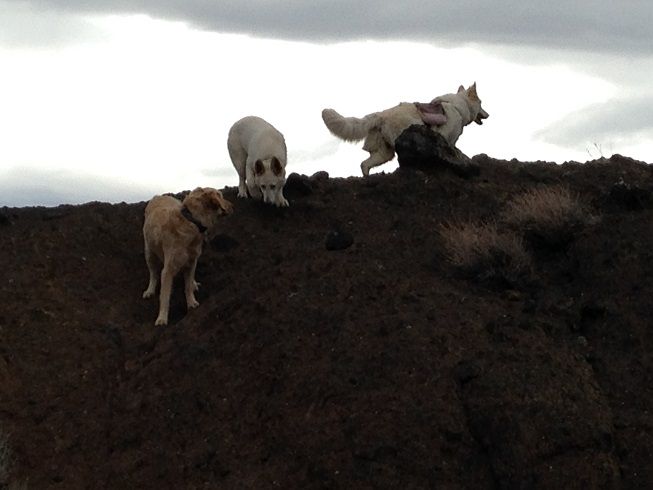 And as for in front of me?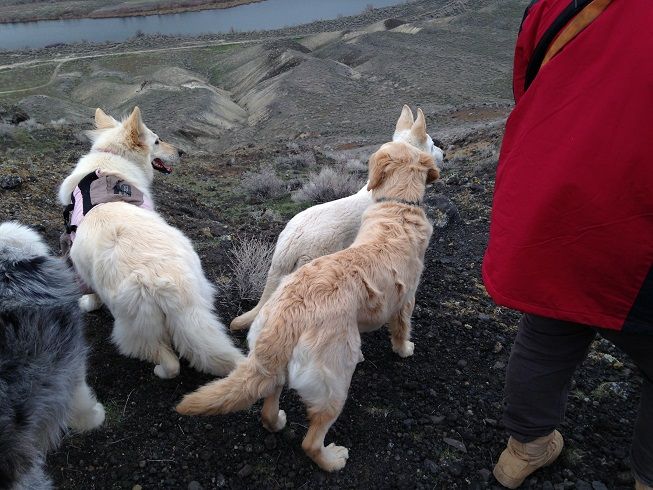 I just can't win.
Oh my goodness! Your pups are simply gawjeous!

I know it's difficult to get group shots, but those in-the-moment pictures turn out pretty darn cool!!!
Thank you!
I was trying to get some pictures of them near the edges of the hill so you can see how far up we are lol.
It was the puppy's first taste of rock climbing. My older two are used to climbing around on crazy places with me. It took a little coaxing, but once I was down the six foot drop, he came close enough I could help him down. Even if he was unsure and nervous about it. Lava rock is pretty unstable lol. Scraped my fingers a little, but I was proud of him! He'll follow me and my dogs everywhere. Little dude is fearless!
Sure looks cold there
I love the look on your Retriever's face when facing the camera - is a really big smile
---

if your GSD is eating and eating and eating and losing weight - please consider testing for EPI.


To view links or images in signatures your post count must be 10 or greater. You currently have 0 posts.

It was windy more than cold that day lol. It's been in the 40-50s recently, actually up over 60 today, so it feels downright tropical! Downfall is that we have wind and rain making it a bit chilly overall lol. Up there the wind was really strong.
And that is Myles.
My mom gave him the nickname Myles, Myles full of smiles. He always has that happy look on his face.
Yes, Myles is all smiles! I was so hooked on your shep I didn't even notice. All beautiful!

How do you manage 3 pups off leash?!?
Leia is pretty flashy.
She was blocking the boys too because she's a diva like that lol.
It actually isn't really hard at all! Myles and Leia both have very good recalls and normally stay around me when we are out hiking. Doyle has picked it up from the two of them, and if he doesn't know where I am, he sticks close to Myles and Leia. I'm also used to hiking with all kinds of dogs, since my roommate has 4 others and we often have boarding dogs that we take out. The recall is important, but when you have a group there's kind of a pack mentality that seems to spring up.
Also helps both my shepherds were kind of clingy too. Leia has to be sure I am coming and when we get near the car, oh you do not get to even think of leaving her behind lol. Not that I ever have, but she's VERY certain it won't happen. Doyle is similar. He figured out what car is mine and he will start climbing the tailgate til I load them up.
Doyle is huge now!! And he still has that little tippy ear, woohoo
---
"Trent" Qodiak vom HausReid - German Shepherd Dog
"Trash" Bite Risk vom Feuergarten - German Shepherd Dog
"Siege" Zala IPO1 - Belgian Malinois
"Legion" Havoc vom Winter Storm - Belgian Malinois
I love the story the pictures tell, sometimes it's the ones that don't turn out perfectly that have more value to them
---
Shanna

My Pack:

Jasmine - Female Miniature Poodle - born Aug 15, 2010
Loker Delgado Von Stalworth - Male GSD - born Jan 26, 2012
Koda & Zazu - 7 year old male cats
Alex - Male Cocker Spaniel (rescue) - RIP Cuddlebug 2007-2010
To view links or images in signatures your post count must be 10 or greater. You currently have 0 posts.