New Addition to the Family: Meet Stella!
---
Well my sister-in-law decided that she didn't have enough time to spend with her, so this new girl is officially ours. I might have had a hand in talking her into it. LOL! (For those who didn't see my previous thread, she was found wandering on the side of the road in January.)
Everyone... meet Stella!
---
Last edited by MissLilyBean; 02-14-2014 at

02:02 PM

. Reason: spelling
I love her name!!!!

Congrats on the adorable new addition!
---
Lauren

Sinister ~ black male GSD 3.11.09
Draven ~ male Dalmatian 6.30.13
pretty girl, congrats.
---

To view links or images in signatures your post count must be 10 or greater. You currently have 0 posts.
11/07/2013-
Gorgeous girl, can't believe she was left to wander!

Congrats on your addition!
---
Danielle, owner of...
Fraggle Rock Collars & ...
Fraggle Vom Richcreek CGC CA
Red Dog's Reconnaissance Man CGC CL1-R CL1-H CL1-F CL1-S USJ
General Patton Vom Winter Storm
Thanks everyone! She's such a cutie. I can't wait to get started on her training.
Definitely a great name. She is such a cutie! grats
---
GSD/Dinozzo (A.K.A. SG Jocose vom Mittelwest); Cats: R.I.P. Xena & Zora; Ferrets/Falkor, Draco, Drogon
Had to add another from a calmer moment. LOL. Can't get over those eyes! So piercing!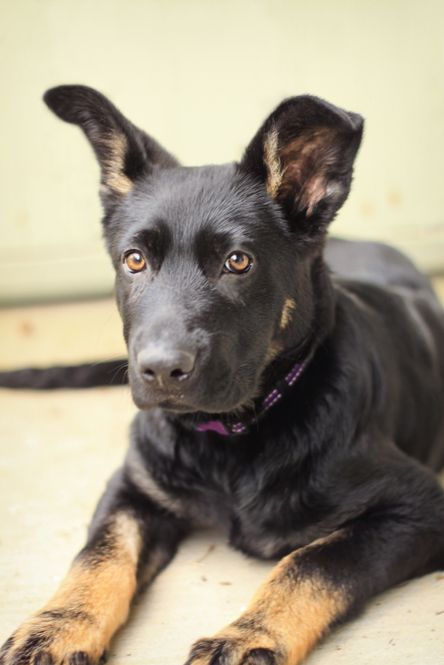 I was hoping you would get her
Congratulations on the beautiful girl Stella!!
---
"A House Is Not A Home Without A German Shepherd"
Quote:
I was hoping you would get her
Congratulations on the beautiful girl Stella!!
Thanks Loneforce. I was hoping the same. Even thinking it from the day she found her. I forgot about it for a while until I had to keep her during Winter Storm Leon. My SIL works dispatch for the county and had to pull a 24-hour shift, so Stella stayed here.
---
Sweet Pea ~ 11 yr old female Cocker Spaniel 1.7.03
Stella ~ 5 mth old bicolor female GSD (?) c. 11.1.13