New Puppy!
---
I've had him for almost a week now and have just been slightly busy/lazy to share lol.
He should be about 6 months old now and outside of not letting me sleep there a few nights last week because I couldn't really get him exercised (thank you insane work hours and short days), he's been doing pretty good. He is a bold little guy and I am already pretty much in love with him.
Here is Doyle!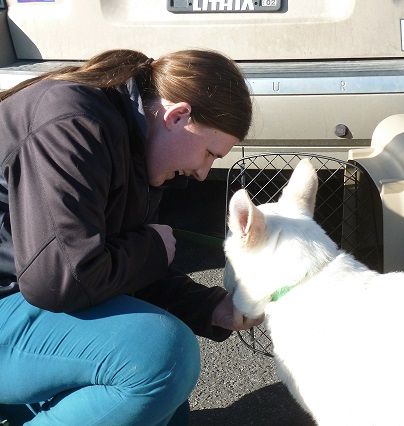 Just off of the plane!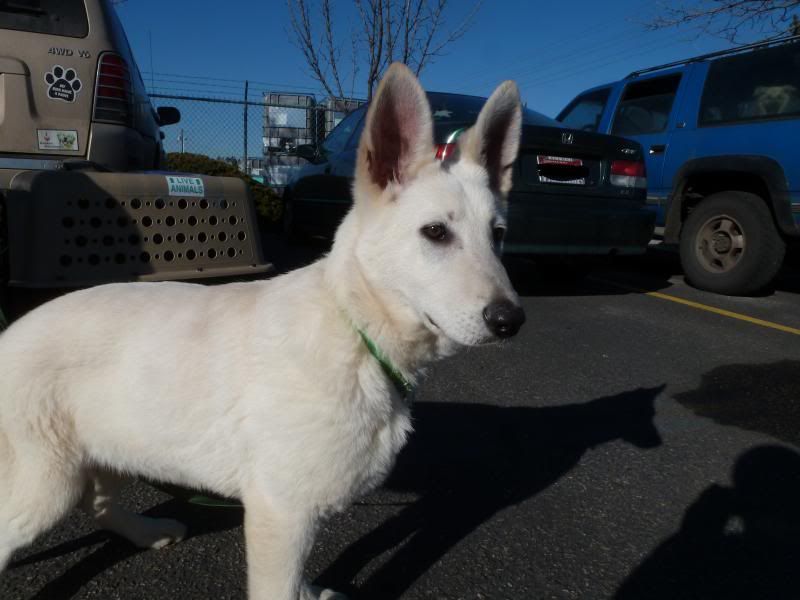 Surveying his surroundings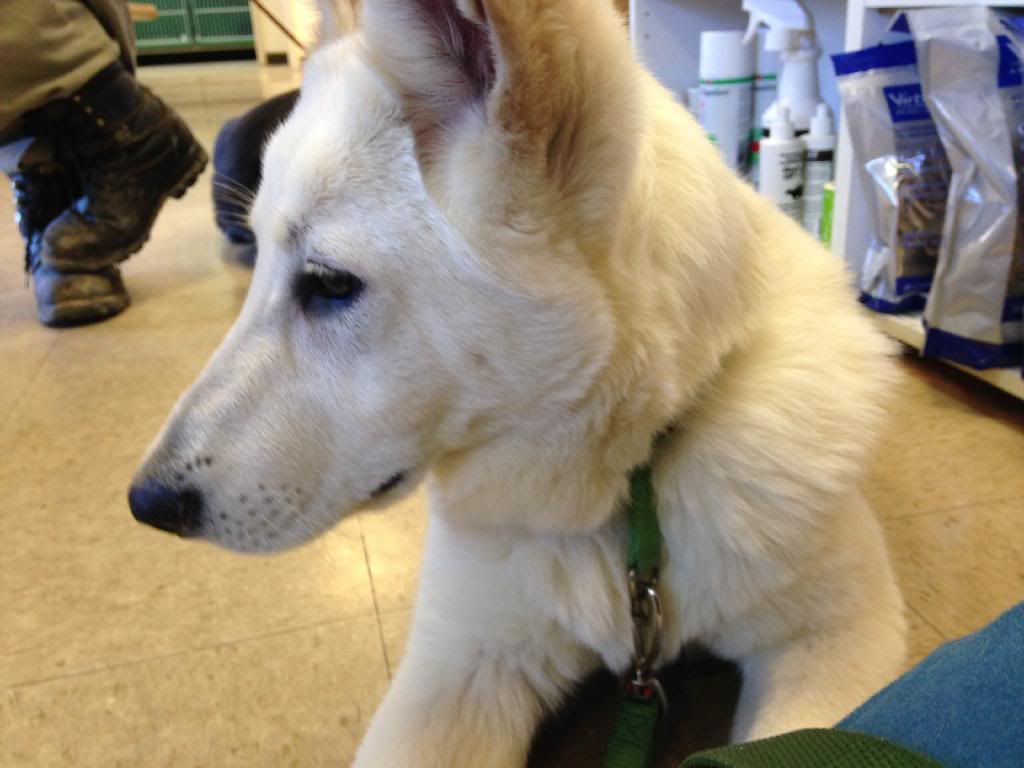 Chilling at one of the clinics I work at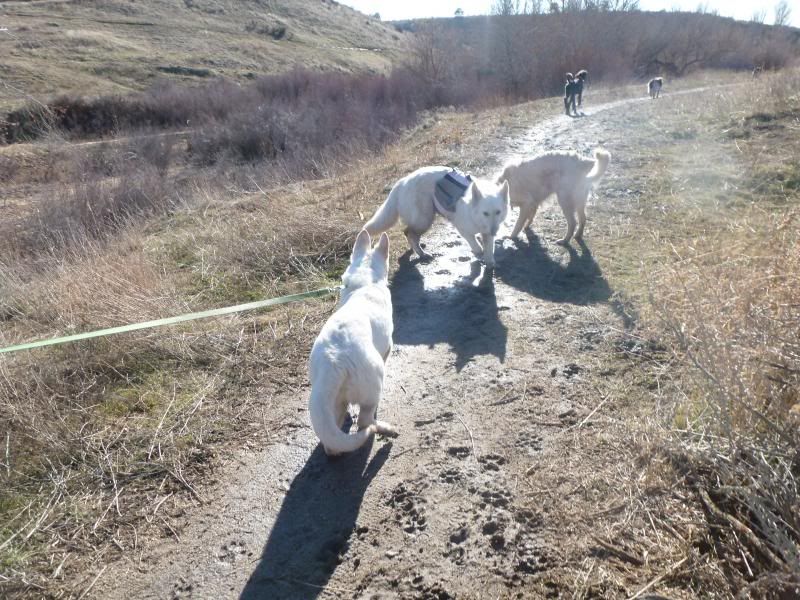 First hike with all our dogs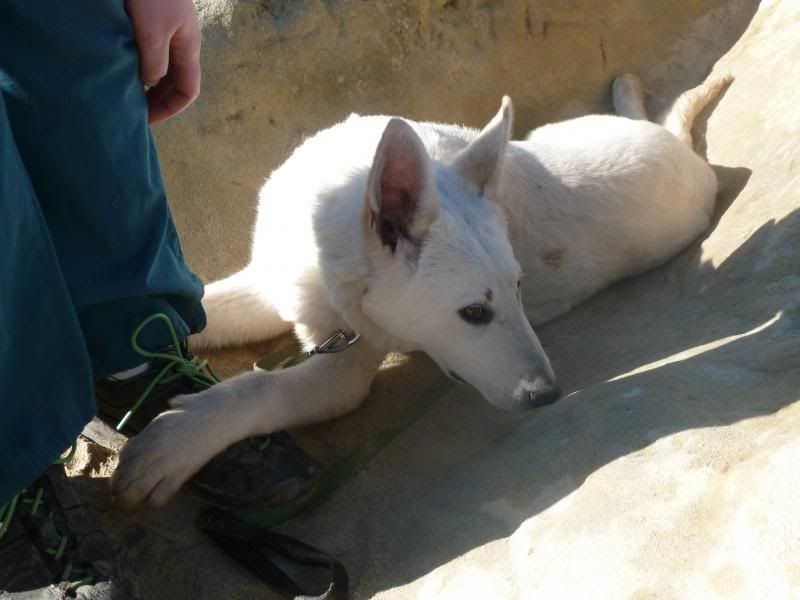 He rather liked having paws on my feet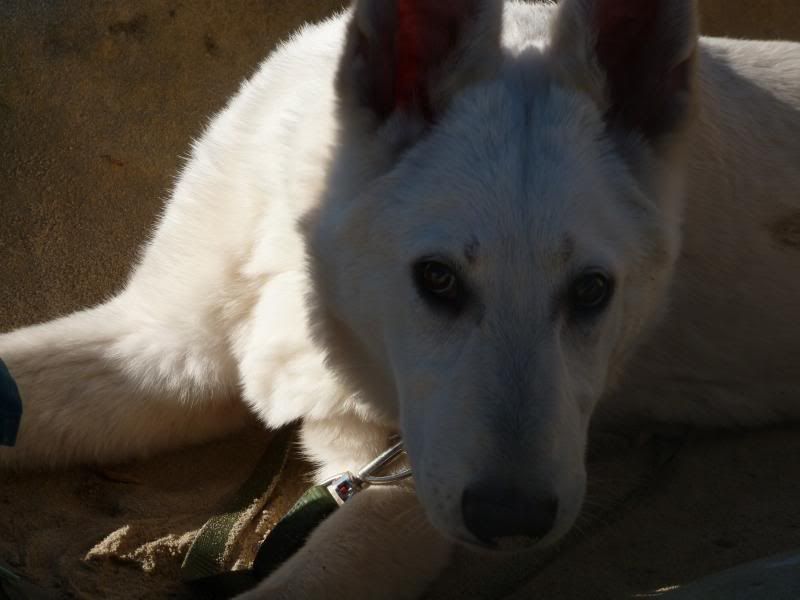 Dat face.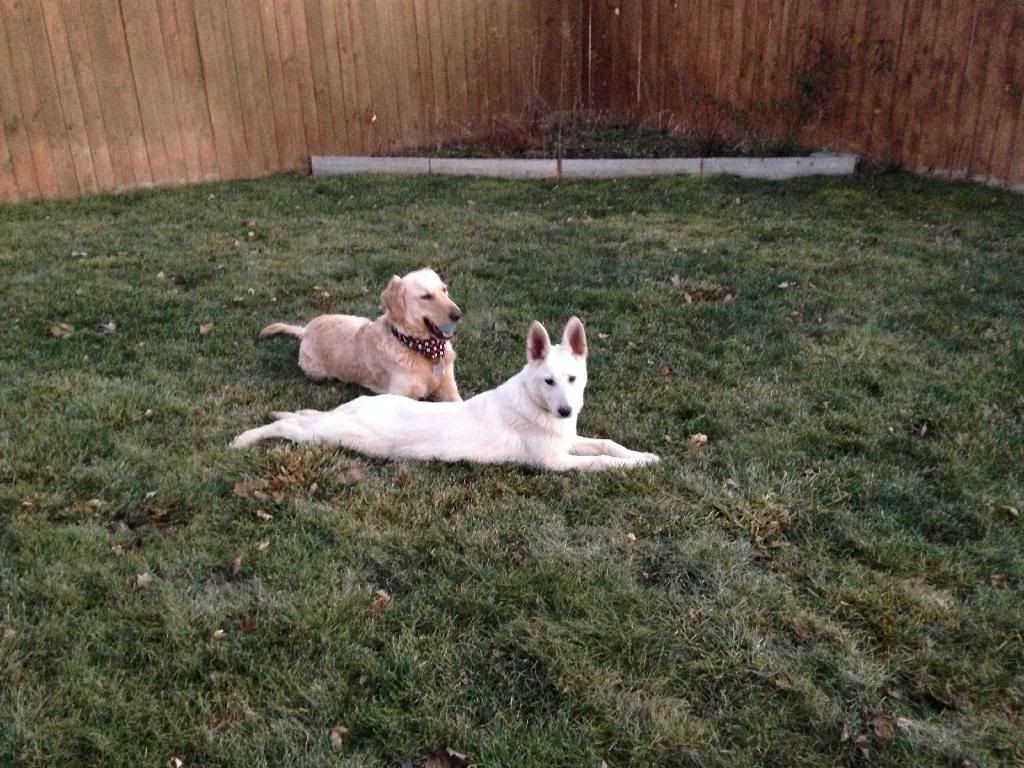 Hanging at my parent's house
He enjoys laying like this...
First group hike! (We do weekly dog friendly hikes with people)
It was really cold that morning too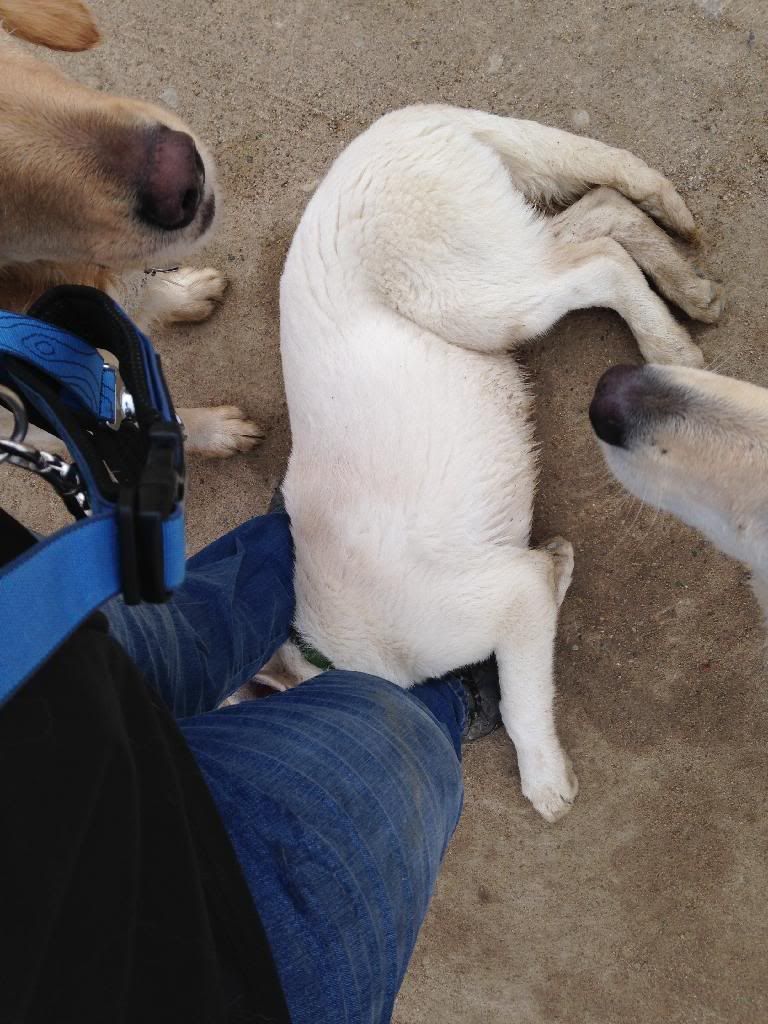 This was his idea...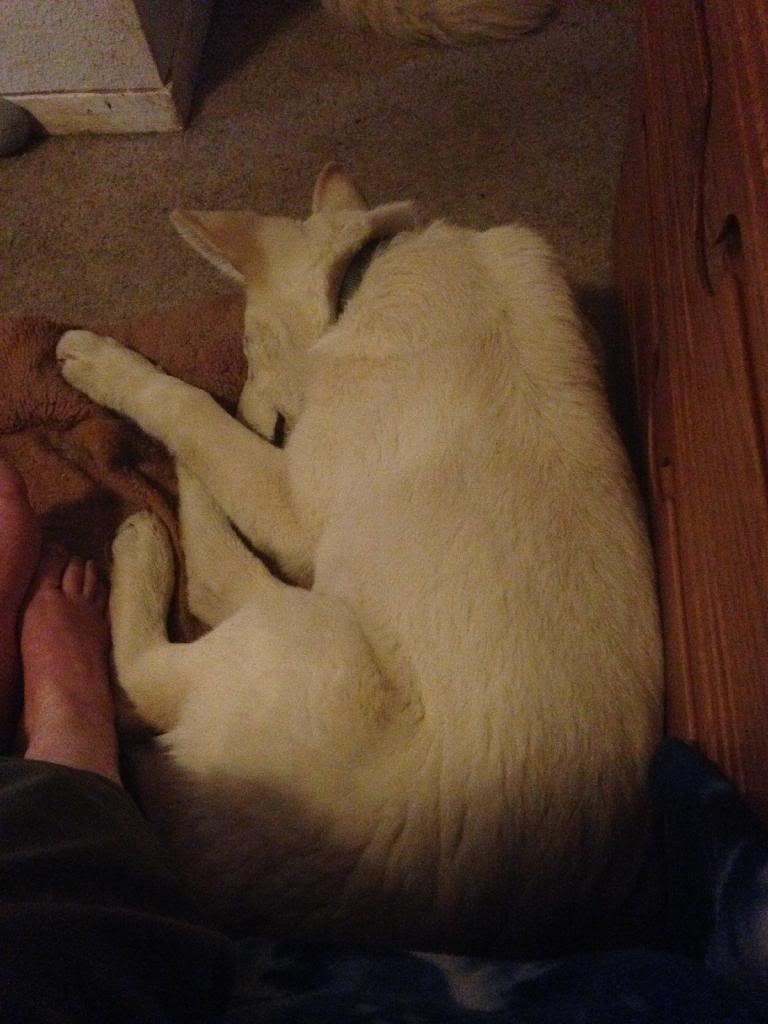 Sleeeeeeeeeeeeeeepy puppy.
Which was nice since for about three nights, sleep wasn't something we had much of lol! He's a rather calm little dude. Doesn't like to be away from me or my older two dogs. He's pretty friendly with other dogs, calm/curious about strangers. And he gets to start playing with the decoy this week.
---
"So that others may live"

Hannah vom Steffenhaus, BH, Wilderness SAR
Eisenhower v.d Polizei "Ike" Wilderness SAR, CGC
B'Lena z. Treuenhanden
Nixon vom Banach, RATN
Phoster, FEMA USAR(Labrador)
Ch. Pennywise Sticky Wicket(Dandie Dinmont Terrier)
Looks like a nice calm boy..
---

To view links or images in signatures your post count must be 10 or greater. You currently have 0 posts.
At the Bridge, running free..

Brando GSD 2/14/94 -6/17/03 RIP
Julietta GSD 4/4/03 -11/23/13 RIP

Rest in peace my babies.
Surefire Shepherds.
I had been wanting to get a short coated male from her since I got my rather fluffy female from her and a kennel here locally that co-owned her. Leia has proved to be quite a wonderful dog, and capable of more than I expected when I got her, so I have some high hopes for this little guy.
And you would wonder about the calm part if you'd just seen him a few minutes ago in here! He was flopping around, wanting to take toys from the other dogs, to flop half on me and half on the bed lol. Myles and Leia are pretty patient with him. <3
Master Member
Join Date: Feb 2013
Posts: 950
Can you tell me more about Surefire? They are near me sort of. How calm are their dogs? What surprised you about your female? Thanks in advance.
Your new boy is gorgeous!
Sent from
Petguide.com Free App
---
To view links or images in signatures your post count must be 10 or greater. You currently have 0 posts.
Both the dogs that I have are pretty calm. That isn't to say that they cannot go hiking long distances with me, but they are pretty mellow in the house. What surprised me about Leia is the fact that once she got her job (she is kind of a default PPD at this point) she suddenly thrived in a way I never imagined. I've been interested in protection sports, and she flunked her instinct test hardcore, but we changed tactics a little and this defense drive that is a bit off the charts came out. She is a hard worker, stoic. Her trot is beautiful to see, she can go for miles!
I have high hopes for Doyle. People already remark about how calm and observant he is. I work in two clinics and he is always watching. New things that come his way, may cause him to wuff/back up a little, but he is quick to move forward and investigate. Well socialized, friendly. I cannot think of many 6 month old shepherd puppies that would sleep all day long in a busy vet clinic with dogs/cats making noise all day long!
Thank you for the compliment too! I really love how he and Leia look. I am a touch vain about my girl.
I had a wonderful experience with the breeder, and technically I bought Leia from someone closer who has worked with the owner of Surefire. So I have been updating her for about 2 years now on Leia, even if I didn't get her from Surefire directly. She's always thrilled for updates, informs me of history when I had questions, etc. Definitely a breeder I would recommend highly.
Handsome pup, congrats
---

To view links or images in signatures your post count must be 10 or greater. You currently have 0 posts.
Harper born 7/23/13 came home with me 9/14/13
I'm glad to see the rec for Surefire. I've been on her website several times looking at the older pups/adults she has for sale and wondered what they were like. When I'm ready for another pooch I'll have to head over for a visit.
---
Rumi vom Haus Barrett 8/24/2010 BRAT, HCT, CGC
Dakota GSD rescue 7/1/00 - 9/15/11 CGC, RA, CD
To view links or images in signatures your post count must be 10 or greater. You currently have 0 posts.

Gunnar GSD/greyhound rescue 1995-2005
Kodi GSD/husky rescue 1991-2004
Cleo, pug and Happy, mutt from childhood
What a beautiful puppy!
---
GSD/Dinozzo (A.K.A. SG Jocose vom Mittelwest); Cats: R.I.P. Xena & Zora; Ferrets/Falkor, Draco, Drogon