one last phone pic from the weekend, Elena and Karma
---
Karma will be one at the end of January, so 10 months old
Elena will be seven in the beginning of January: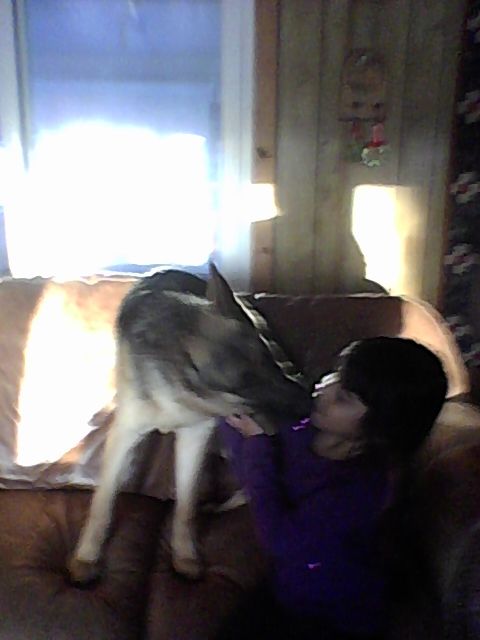 I have another where both girls are hugging eachother on the one end of the couch while the puppy is a blur on the other end. They are smiling like crazy though. They love the critters.
Thanks for looking.
---
Jenna, RN CGC & Babs, CD RA CGC HIC
Heidi, RA CGC
SG3 Odessa, SchH1, Kkl1, AD
Ninja, RN CGC & Milla, RN CGC
Joy, Star Puppy, RN CGC
Dolly CGC & Bear CGC
Hepzibah
---
Last edited by selzer; 12-03-2013 at

10:51 PM

.
Although blurry I can see this is a good girl giving kisses to her friend
Thanks, yeah, getting that little monster still enought to shoot a good picture is a real trip.
---
Jenna, RN CGC & Babs, CD RA CGC HIC
Heidi, RA CGC
SG3 Odessa, SchH1, Kkl1, AD
Ninja, RN CGC & Milla, RN CGC
Joy, Star Puppy, RN CGC
Dolly CGC & Bear CGC
Hepzibah