Member
Join Date: Jun 2012
Posts: 77
Nzo's blog
---
I'm Nzo. This is me.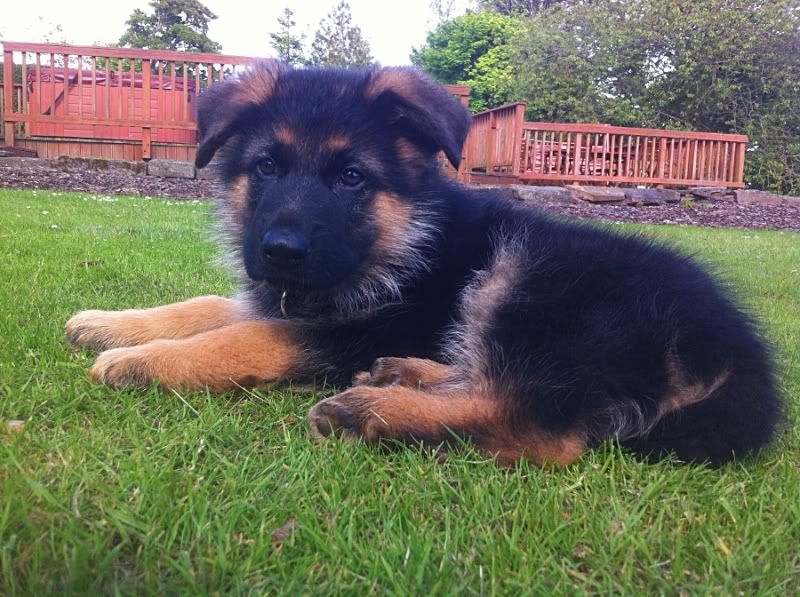 I live in a country called The House with 2 giants and a donkey. I'm much more smarter than the donkey because sometimes we go to another country called The Garden where its big and green and if I wait long enough one of the giants lifts me up and takes me there….well it's a really really long way, but guess what? ….the donkey walks all the way! Doh! Does he not realise if he just waited a giant would pick him up and take him there too!
This is The Garden and I think you can see The House from here too but I can't see it.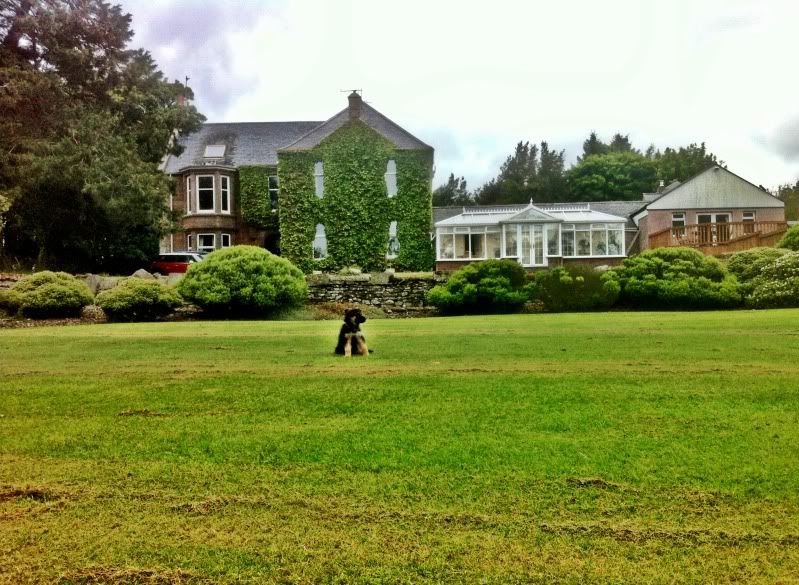 Once we arrive at The Garden the donkey is normally really tired by his long walk but I have been practicing hippotising him to get any toy I want.
First I walks up to him, really bold like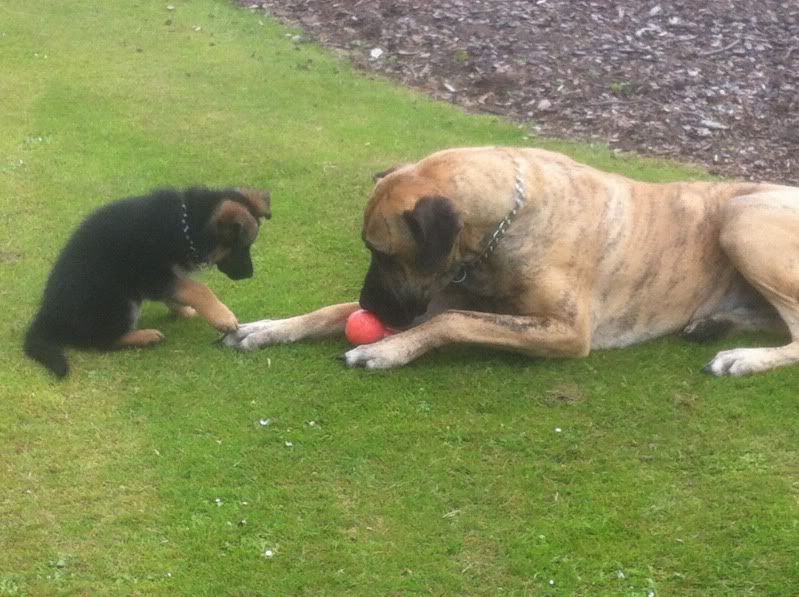 then I gives him the evil eye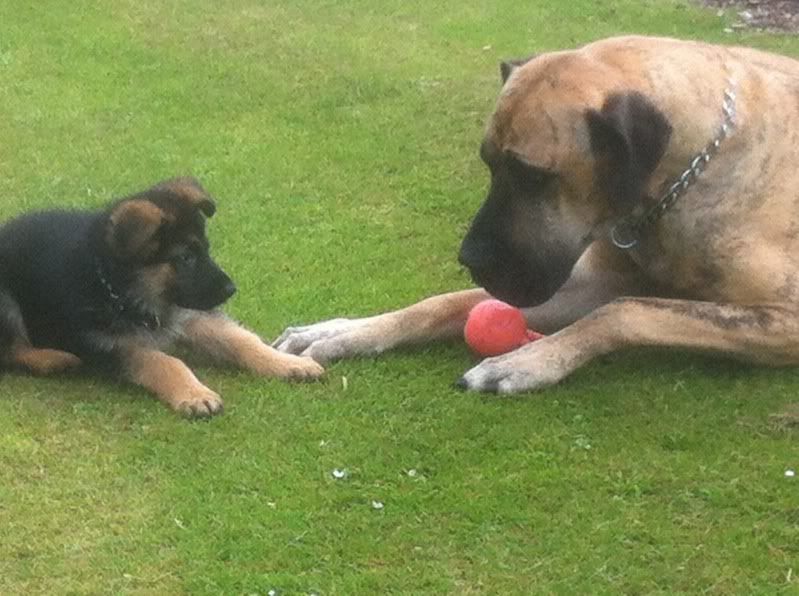 then hey presto! He's asleep and I sneaks in to get the toy….How clever is me?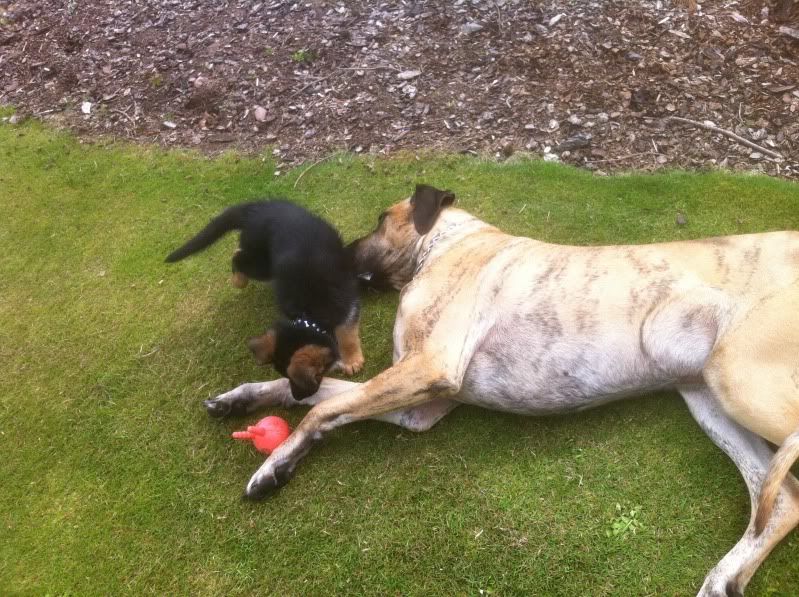 In fact I'm even so clever that I manage to hippotise the donkey and me together sometimes!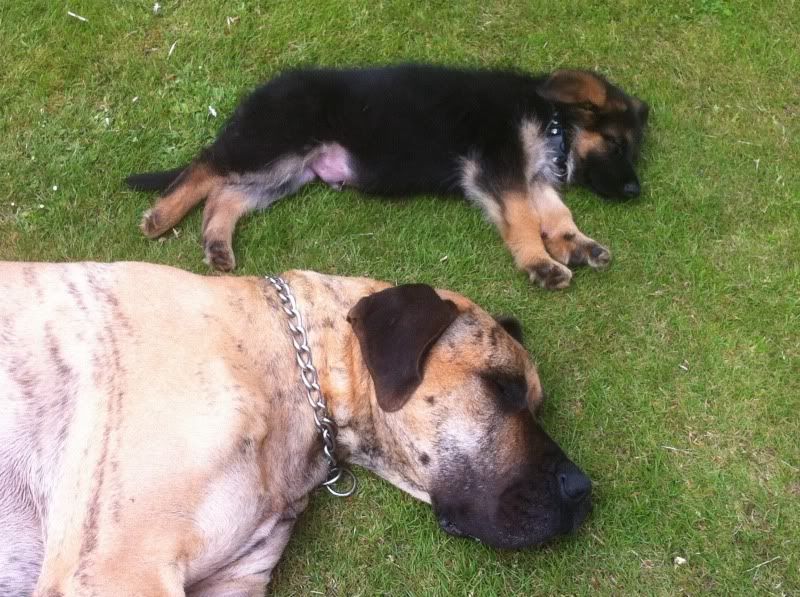 Sometimes we even go to another country called The Woods. Its somewhere between the House and The Garden and I think we go there because the donkey's legs get tired with the walk because he often stands on three legs when we get there. I've worked out if I walk in a circle sniffing the ground looking busy the giants get really excited and shout funny words to me like "toilet". I don't know what that means but it seems an easy way to keep them amused. Sometimes I even wee when they say it due to the excitement.
In fact I'm so clever a giant said that I have learned to do a sit thing? Not sure what it is but these giants are easily pleased. He held a treat just above my nose and as I followed it up before I knew it the ground wooshed up to meet my bottom and he said "Sit" and gave me the treat. Huh…don't know what to make of that but he seemed pleased by it. So I did it again just to keep him happy and woosh up came the ground again. I looked around but didn't see it moving. Good thing they don't do that with the donkey otherwise the ground would have to woosh up a really long way to meet his bottom!
One of the giants said I've been here for a week now which I know is nearly as long as a year so I think I've settled into something. I'll be back to tell you how I'm doing but I think I'm going to like it here once I train these humans up a bit – they are a bit slow you understand, not nearly as clever as me, but they try so hard. At least they seem to have learned my name already, hopefully they can learn lots of other things too.
Nzo
Lol! Too cute. Love the last pic.
---

To view links or images in signatures your post count must be 10 or greater. You currently have 0 posts.
Lisa
To view links or images in signatures your post count must be 10 or greater. You currently have 0 posts.

Mommy of:
Jacob/ black GSD/ DOB 4-22-12
To view links or images in signatures your post count must be 10 or greater. You currently have 0 posts.


To view links or images in signatures your post count must be 10 or greater. You currently have 0 posts.

Absolutely gorgeous, thanks for sharing the pictures and the story with us.
---
karen, mom to:
ace-gsd (bi-color) 6/14/2010
mandy-yellow lab 1/31/2009
dixie-shep/lab 2/21/2013

baby-terrier mix (waiting at the bridge)
Member
Join Date: Feb 2012
Location: sw missouri
Posts: 174
great story and LOVED the pics!
Looking at the house and garden... I was was wondering if the "giants" would be interested in another "giant"?
I enjoyed the blog.
Nice pup AND donkey.
how stinkin cute is that last picture? beautiful puppy and can i come live at your house? great pictures, thanks for sharing
Loved the blog. He is adorable! Cute donkey too.
YAY!! Another member who writes stories and shares pictures. I could read these all day
---
-Cassie
Shenzi the GSD
Scruffy the woofing terror

To view links or images in signatures your post count must be 10 or greater. You currently have 0 posts.
Zira "To the well-organized mind, death is but the next great adventure." -J.K Rowling
Member
Join Date: Jun 2012
Posts: 77
Its me Nzo again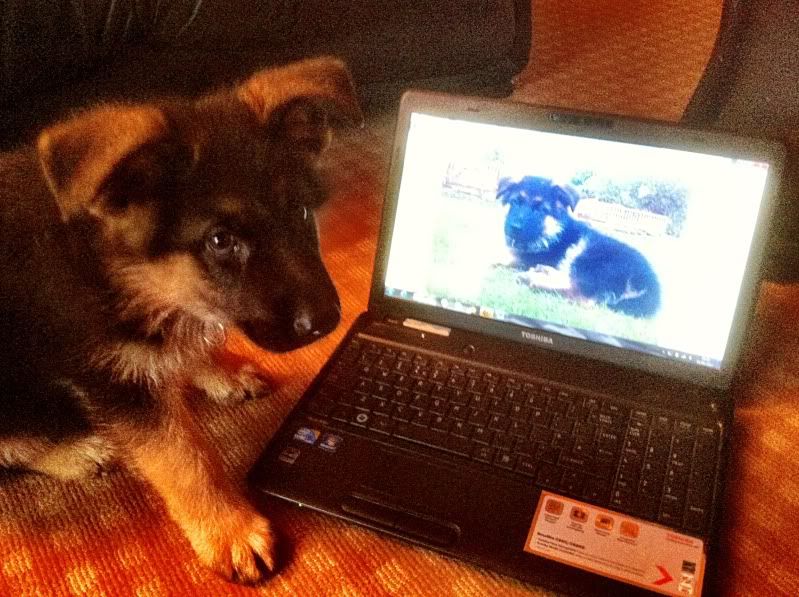 I think I've been here for ever now. One of the giants said its been more than a week so I know that's about right.
I've been doing more magic and now I can shrink things! I've started to shrink the giants and the donkey because I used to be a lot less tall when I measured myself against the donkey's leg. I wonder how far I can shrink them? Yesterday I practiced magic and shrinked an aeroplane!
It used to look like this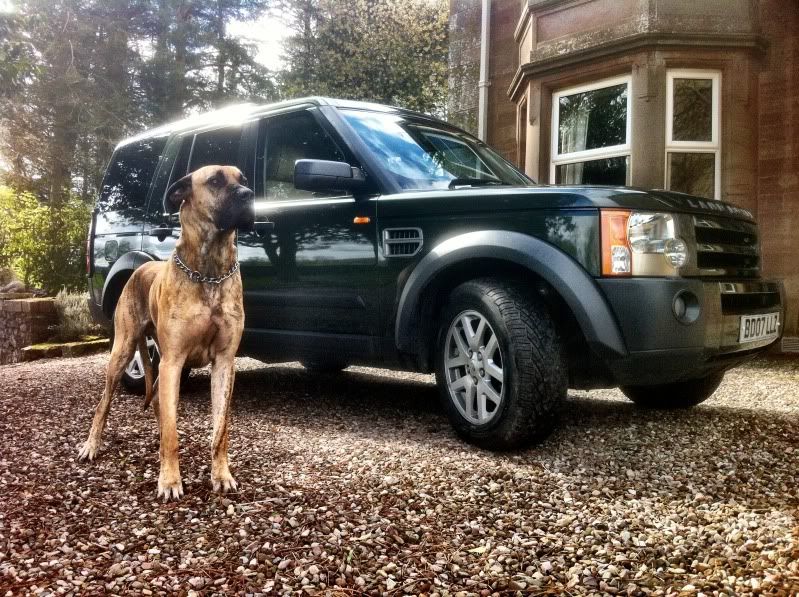 Now it looks like this and I don't even think the donkey noticed!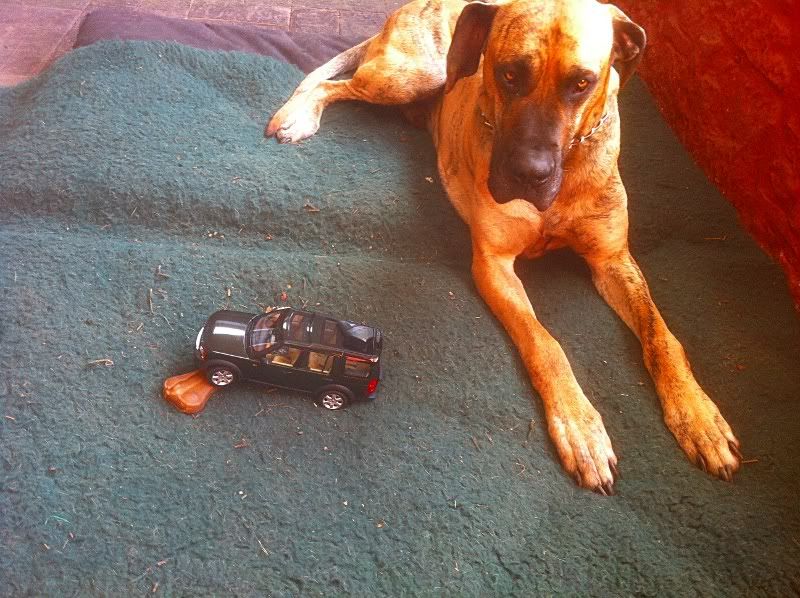 I'll need to keep practicing my new magic.
I need to eat lots and lots all the time to be able to do magic so I've trained one of the giants to put food in a blue thing for me at least a million times a day and then I has lots of fun taking it out again and hiding it so I gets more and more. I've found the bestest hiding place…..in my tummy! The giant never thinks to look for it there. I don't know where it goes next because once its in there I cant find it either? Maybe I did another magic on it and disappeared it from my tummy! Before I arrived the donkey only managed to train them to do the food thing two times a day! Huh told you he was stoopid. I wonder if I could disappear him too?
Before
After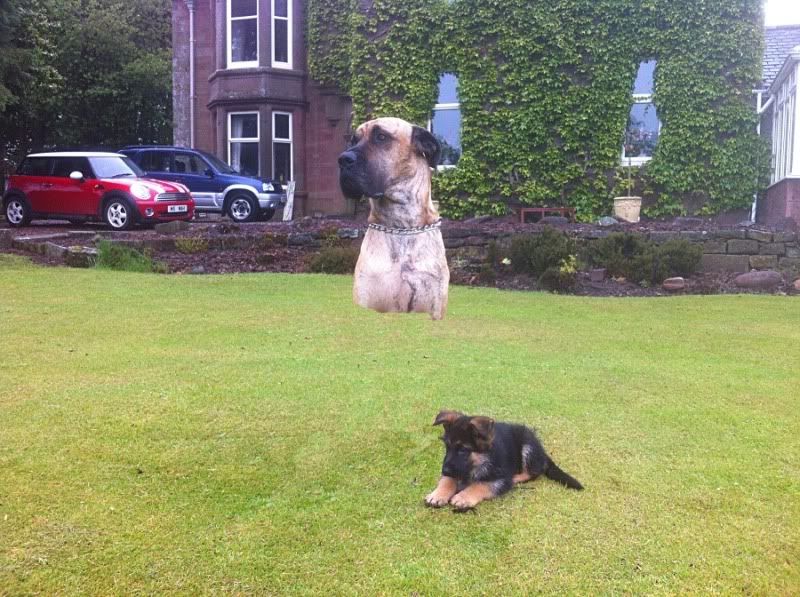 Last time I told you the giants had learned my name. Well you wont believe this but I think they have names too! The big giant is called "Master" and the other giant is called "Her". Master seems to be the leader of the pack and hands out yummy biscuits to me and the donkey sometimes like when we do the sit thing which i'm teaching the donkey to do too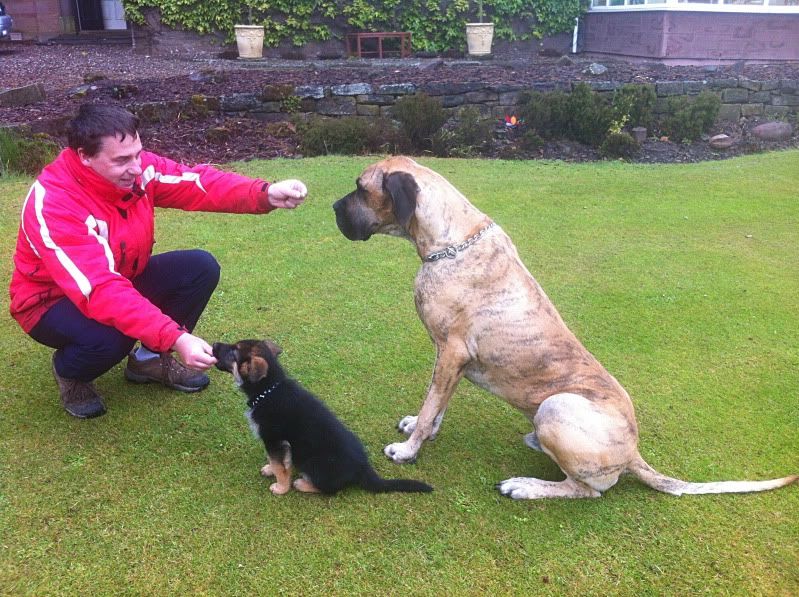 but its confusing because Master doesn't seem to give Her a biscuit even if she does the sit thing, and I think she does that a lot!
I don't think the donkey has a name. The giants keep shouting "PJ" at him so I think they want him to put his pyjamas on and go to bed, but he never does…maybe he is deaf as well!
I heard the giants talking about training classes. At least they understand how much they have to learn. I might go with them to keep them right. At least with me being so clevers they might look a bit good.
Giants are funny things, they repeat the same words a lot. I guess they aren't very bright so they have to keep repeating things before they remember them. Not like me, I remember over hundreds of words already like that "sit" thing and the "good boy" one – I likes that one a lot because I always gets something yummy to eat with that one. They must forget the word "no" a lot because they seem to be saying it all the time. I wonder what "No" means?
Nzo
Nzo I love your magic! Your certainly growing into a fine young man
---
-Cassie
Shenzi the GSD
Scruffy the woofing terror

To view links or images in signatures your post count must be 10 or greater. You currently have 0 posts.
Zira "To the well-organized mind, death is but the next great adventure." -J.K Rowling