Member
Join Date: Jun 2012
Posts: 77
Nzo here
Iíve been spending a lot of time recently training the giants, especially Master. Iíve trained him now to walk beside me, really close, and not to fall behind me. He likes to say the work ďHeelĒ while we do this. I think its to remind him not to fall over his own feet, or mine as he does sometimes. Hes getting quite good at giving me a treat when we do this, although sometimes he forgets! I guess he needs more training.
Iíve also been training him to kick my ball around the garden for me. Sometimes it takes him so long to decide where to kick it that I get bored so I sit down. That always seems to make up his mind for him and before I know it the ball is on its way.
This is me and my ball....oh and the donkey sneaked into my picture!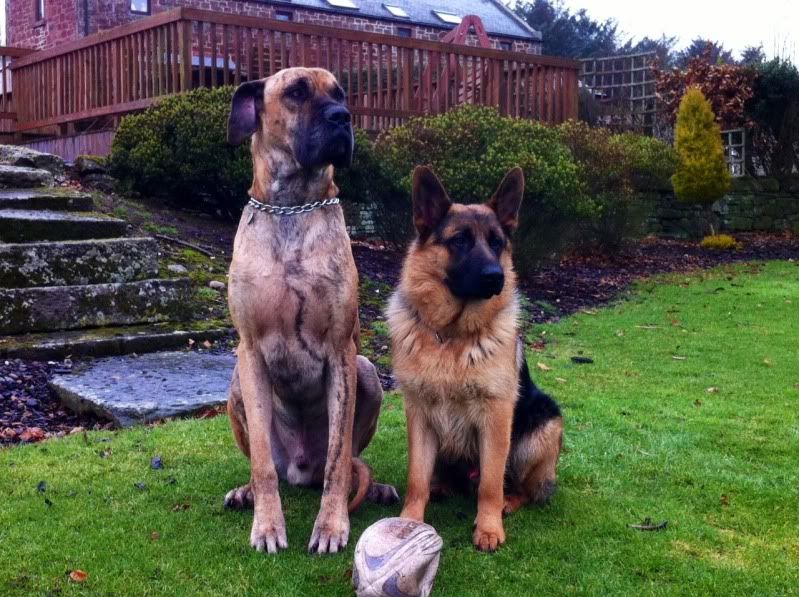 I found a really good new toy this week. Master bought Her a skooshy water thing to make me stop jumping up when we go outside, but I noticed Her leaving it on a shelf next to my basketÖ.so when she wasnít looking I pushed it off with my nose and took it outside to skoosh water at the donkey. I couldnít quite make it skoosh but I gave it a good nibble instead.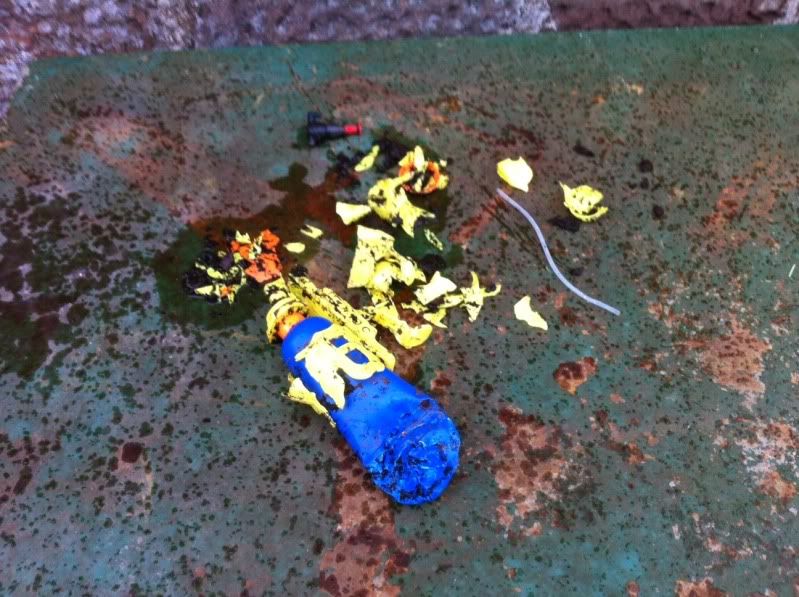 Master has got Her a new skooshy water thing so I might get another chance to skoosh water at the donkey!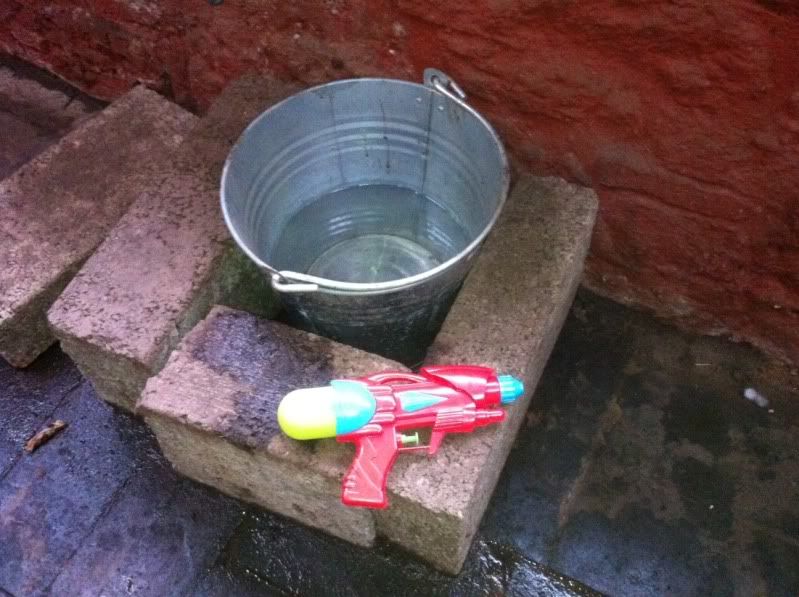 The donkey got a new bed this week. It was all big and soft and comfy. I didnít get a new bed, I just had to stick with the old flat one that I have. Still I managed to make the donkeyís bed look just like mine really quickly and it only took a few nibbles in the right places. I think the donkey was really pleased cos he likes his bed to look just like mine!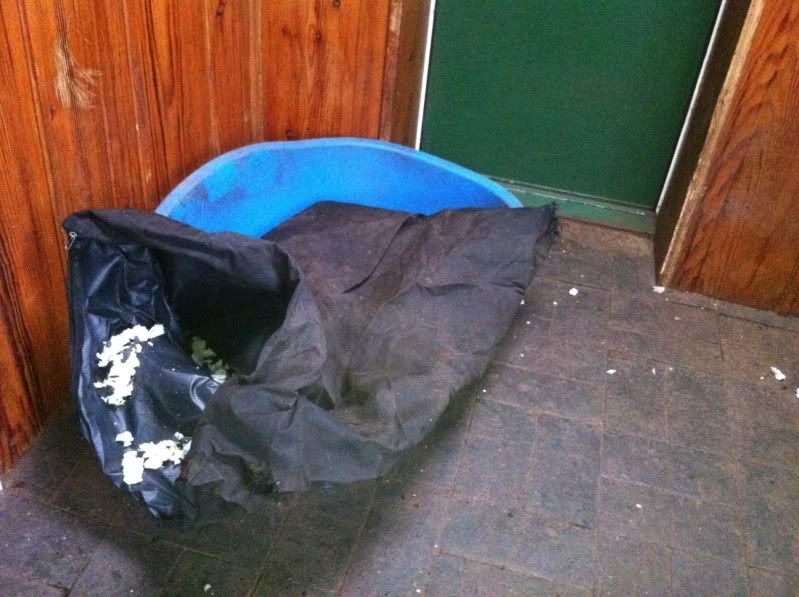 Unfortunately this made Her get a spoily sport thing out to undo all my hard nibbling.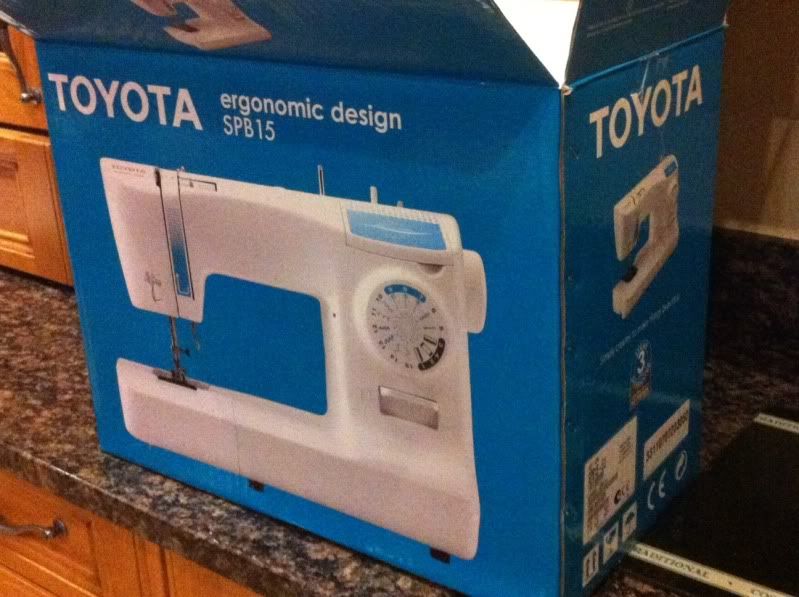 I heard Her say ďnext time weíll see how he likes eating his way out of the bedĒ but I donít really know what she means?
Nzo
Nzo is so handsome!!
---
SG S-Hunter vom Geistwasser CA CGN TT ATD (Airport Wildlife Control K9)
Zenna vom Geistwasser NTD


To view links or images in signatures your post count must be 10 or greater. You currently have 0 posts.

Knighted Member
Join Date: Jul 2012
Location: Ohio
Posts: 2,683
Nzo, you make me LOL!!
What a HANDSOME young man you've become!! You've done a fine job at shrinking the donkey!
---
Wrath of Grim z Dragon
"Mr. Grim"- Threaten my handler. I dare you.
Nzo...you make my day complete. I love your updates. I wish I had such a fun life.
---
Scarlett WGSD 2/07 CGC TDI(retired)
Paige Husky/GSD mix 2/95-12/08

If you are going through hades, keep going!
Nzo's grown to be very handsome
Nzo you have have certainly had a fun and busy winter. Your haggeis hunting story was very cool. Obviously your magicking is working very well.
---
Daisy 11/26/99-7/25/12
Miss Chevy Cruz - 1/25/2013-1/29/15
Thunder -1/25/13 -7/25/15
Lucky-GSD -Rescue -2/16/03 - 03-21-16
Charlie- GSD-Rescue - 7-4-12
Member
Join Date: Jun 2012
Posts: 77
Nzo here
Iíve not been blogging recently cos Iíve been really busy nibbling my beds and Iíve been in the dog house so could not do my blog before today. Its not my fault my beds are really fun to nibble. After I nibbled the second one in a week, Master told Her to buy something to spray onto my bed cos he said it would make me stop.
Iím not really sure what it was but it was Sooooooo Yummyyyyyyy so maybe it was cheese or something! I nibbled another 2 beds in the same week after they were sprayed.
I think I made a big improvement in my beds, but Master dosnt seem to agree with me and decided to throw them out despite all my good work.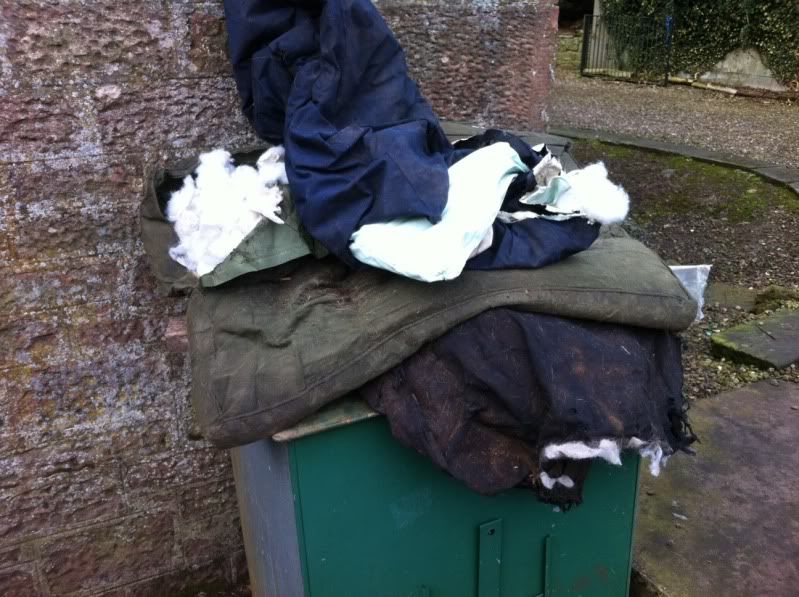 I dont think I will ever understand giants.
I must have dreamed up more sno last night while I was sleeping cos I woke up this morning and The Garden had turned all white.
Iíve now trained Her really well to throw sno for me to catch and let me show off how springy I am now.
First I get ready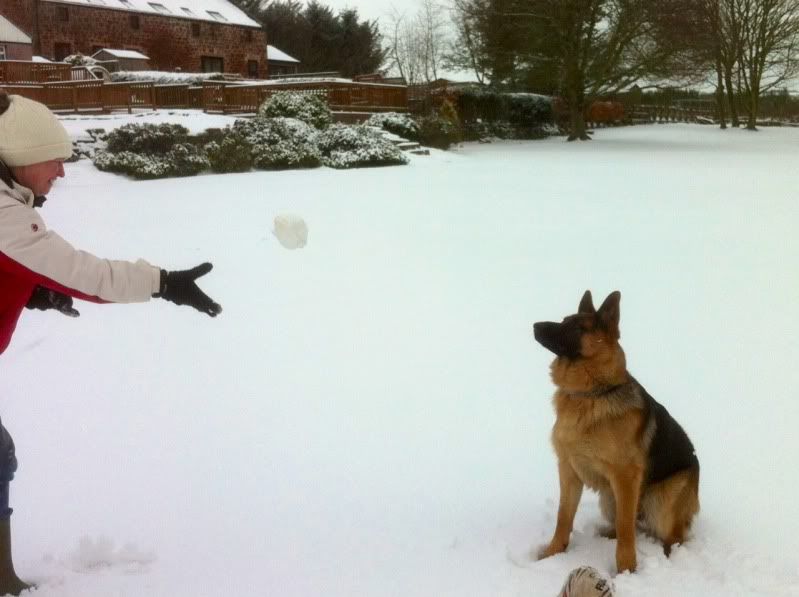 Then I start to jump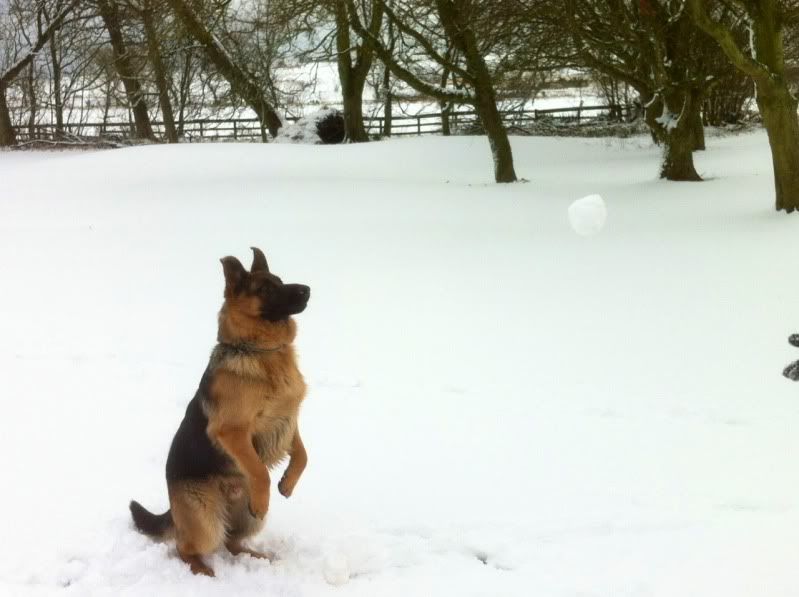 Then I stretch up really tall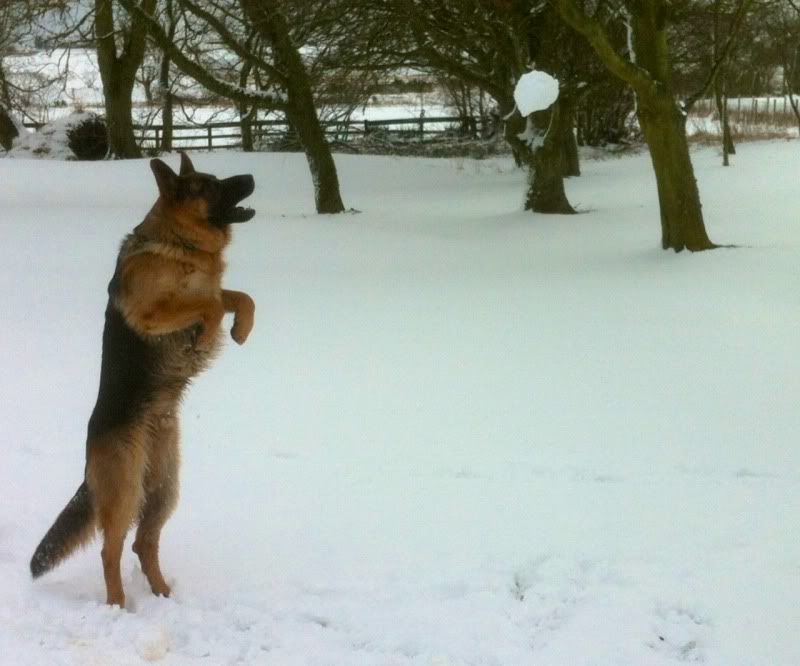 Then I leap into the air
Then I catch it in my mouthÖ..but sno is magic and it turns into water really quickly!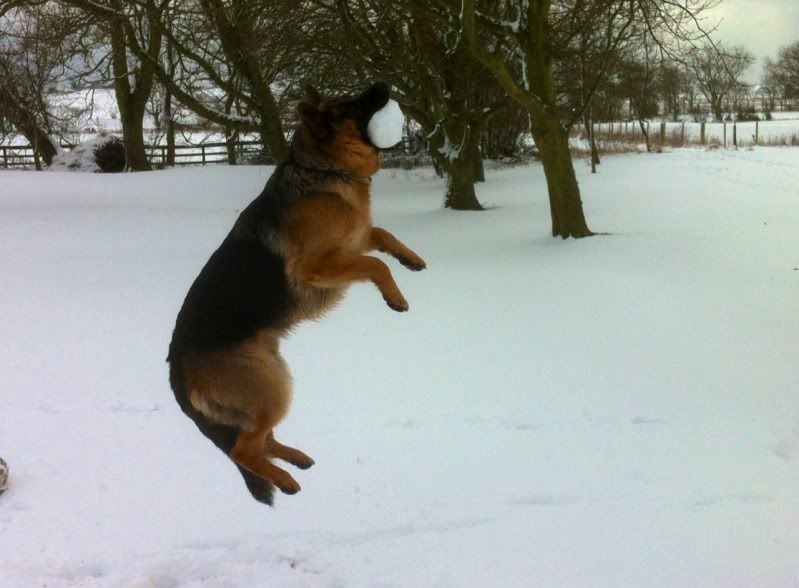 Every now and then I one go over my head
Just so the donkey can catch one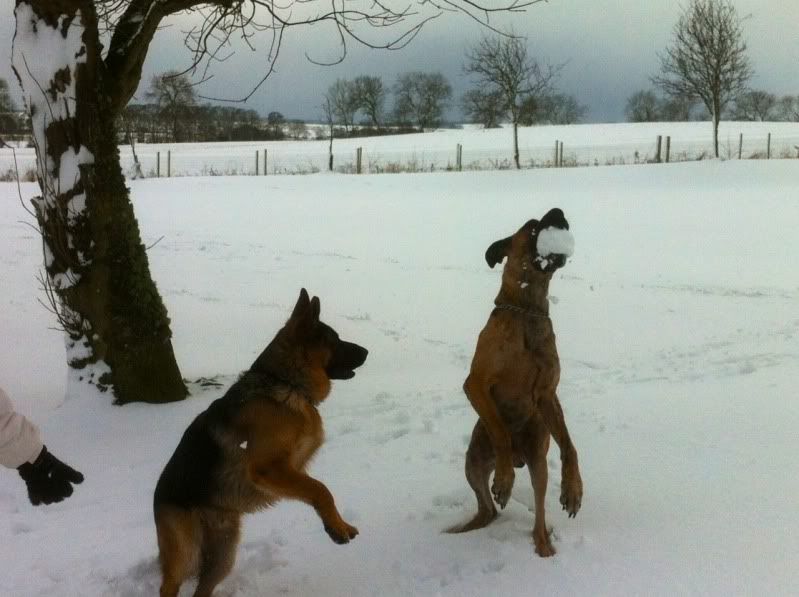 but I am normally much quicker than him
Being springy makes you really sleepy and I now all tucked up in the donkey's bed cos he still has a nice comfy cushion in his. I dont know where he is sleeping!
Nzo
Member
Join Date: Jun 2012
Posts: 77
Nzo here again
I have a new favourite toy this week. Itís the toy that the donkey likes to play with so I now like it really a lot! Sometimes Master throws it for the donkey to run and catch but I normally get there first cos Iím faster than him. Sometimes we both catch it at the same time. Then we pull and pull till someone lets go. The donkey normally lets go before me. I think thatís cos his teeth are not so strong as mine.
Here we are both pulling the toy.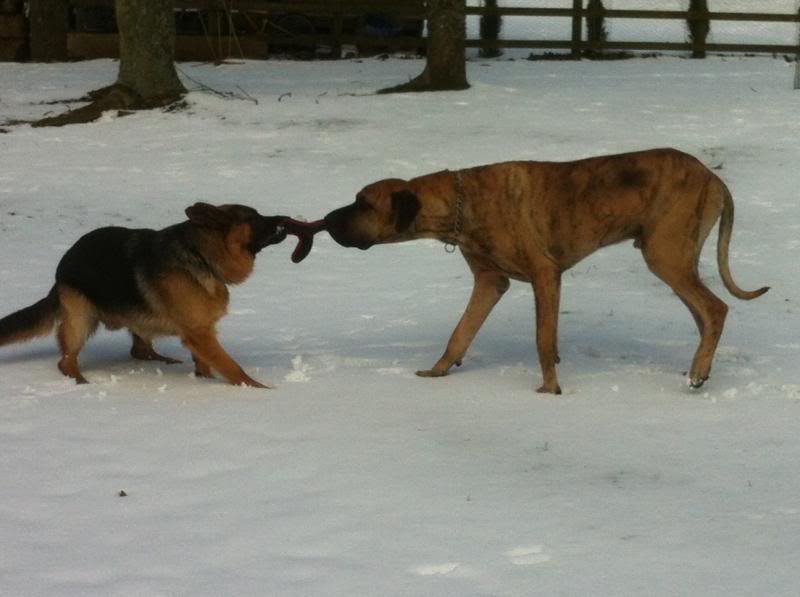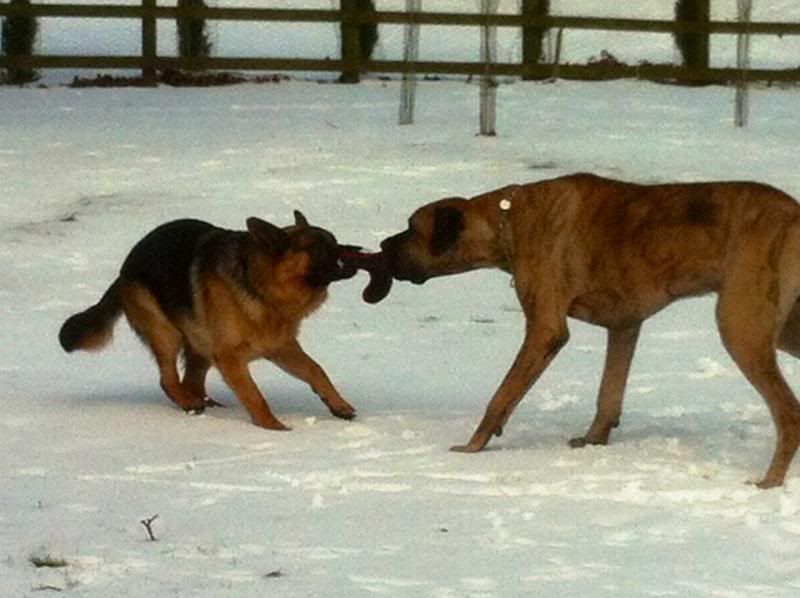 Every now and then the donkey wins the pulling test but then he is just does a spoily sport and put the toy where I cant reach it!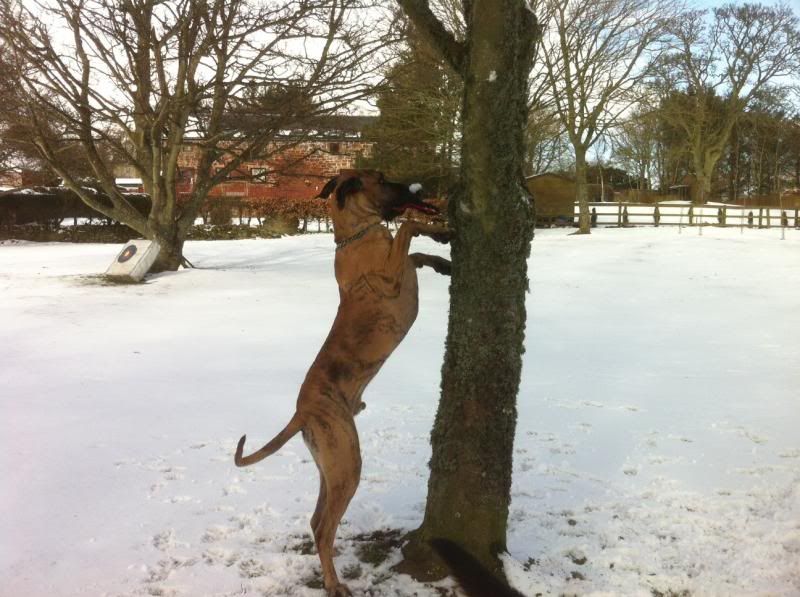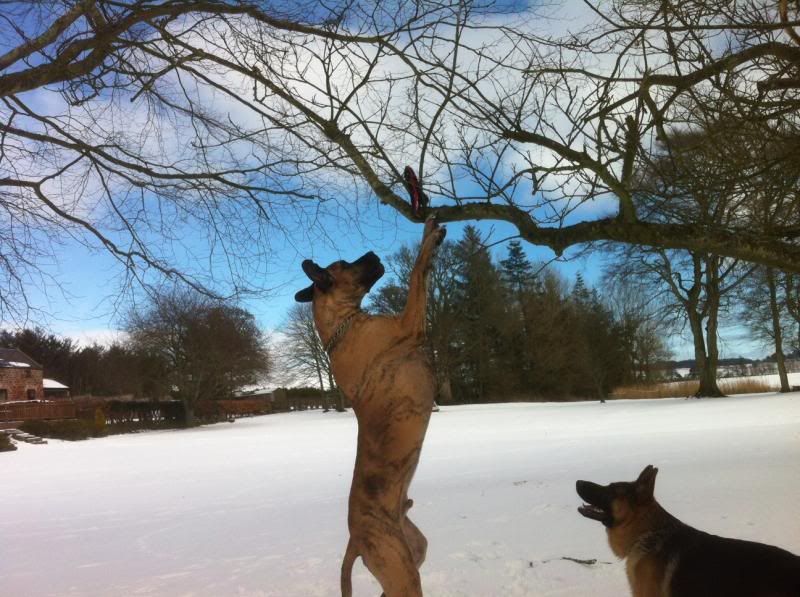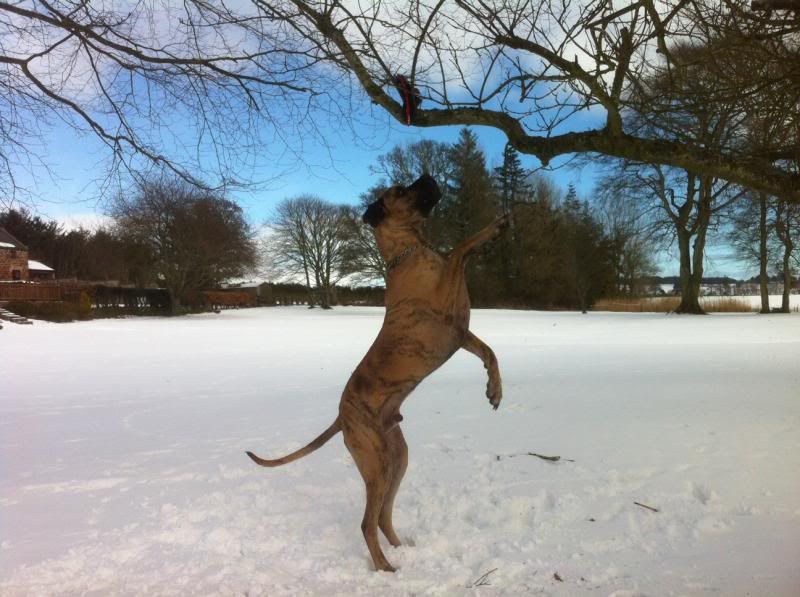 I managed to beat Master's spoily sport on my bucket this week. I jumped up on the brick next to the bucket and made myself really really heavy and made the brick fall over. That meant I could lift the bucket and have some fun.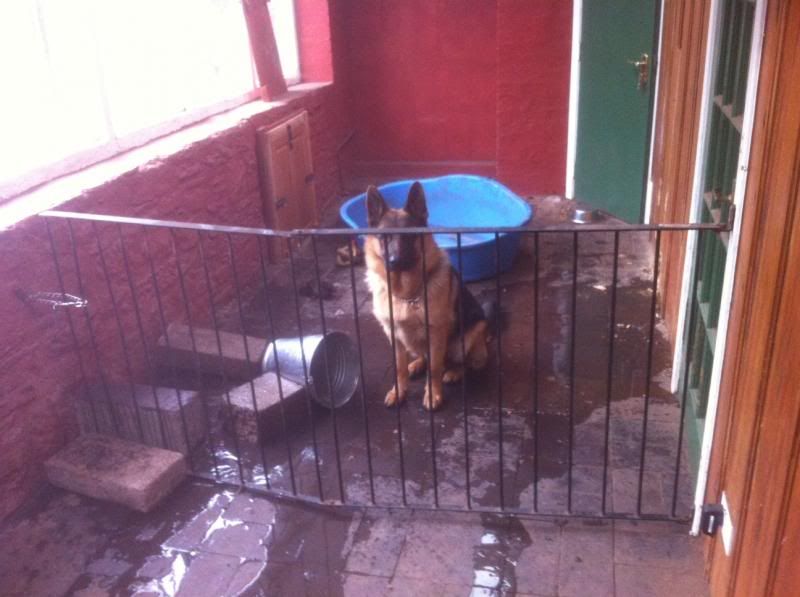 I wonder what Master will do next?
According to the donkey I am going to be a 1 sometime soon. I donít really know what a 1 is. The donkey tried to explain it to me. He said the giants put on funny hats, there is a yummy cake thing but the giants set fire to it.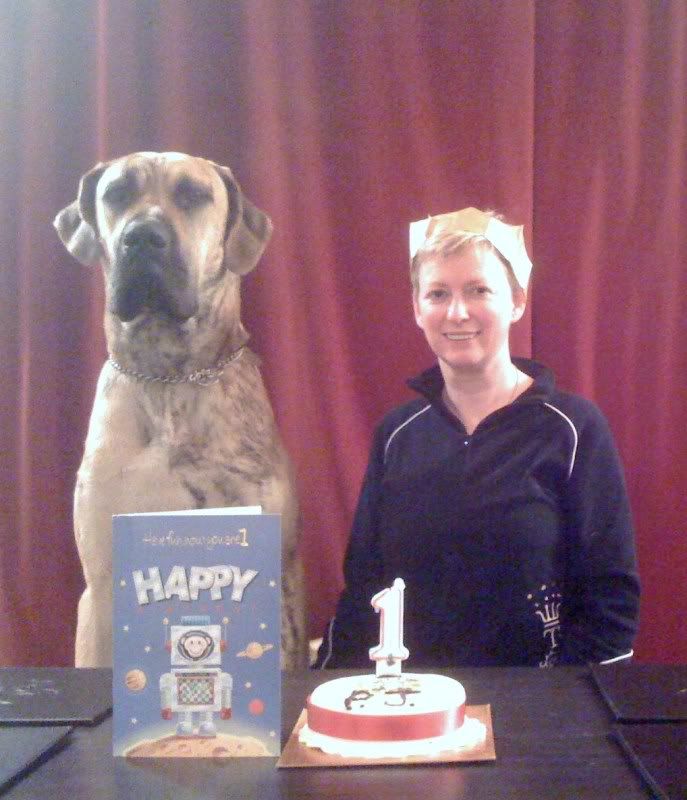 Then they sneeze on it to make the fire go out. Then THEY eat the cake! HuhÖ..whats that all about. I donít really think the donkey knew what he was talking about cos that sounds well strange! I donít think I want to be a 1 any time soon if thats what happens.
NZerO