TOLEDO, OH: "Bandit" 1.5y/o B&T Boy - Needs Help!
---
This dog was forwarded to me by a rescue contact yesterday (12/27/12). Apparently Bandit's family is moving TODAY and is not planning on taking him with them and are looking for a place for him to go. From his description, it sounds like he will need a dedicated GSD rescue or a GSD knowledgeable person. It sounds like he has not had a great life so far and the person who sent the e-mail to me said that if he ends up in the shelter, he will likely be put down.
I do not know this dog personally and I do not have any further information about him. However, if you'd like to know more or know of a rescue who may be interested in him, the owner's e-mail contact is included in the e-mail below (remove spaces).
Bandit is currently in Toledo, OH. Here is the e-mail and photo:
Here is the information on the GSD-
His Owners are moving tommarrow! All information I have is from a verbal conversation with the owners, Bandit is a 1.5 year old unaltered purebred male German Shepard dog. He is said to be wonderful with the kids (I saw him jump on them all) He was not very happy when I approached the yard, but once his family got there he was happy. His owners said that he would need to be handed off by them to another person.
The owners said that he was an inside/outside dog; however reports from the neighbors said that he lives outside on a chain most of the time.
He was very sweet when his owners were nearby, he jumped but was not mean when his family was around.
I think he needs to be with a professional, or someone who knows the breed very well. Just a typical foster family would be a bad fit. I fear that if he ends up in the pound or a kennel he will become kennel agressive and therefore be put down.
Janelle is his owner, they have no phone access, only email. (bellajs 814@yahoo . com)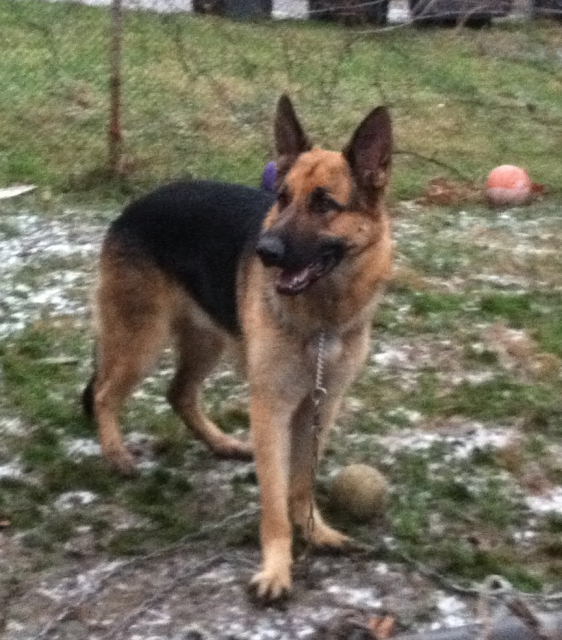 ---
Pat

Kaiser - 8 yrs old

Ray (Radar) - 8 yrs old - At the Bridge