So supposedly my GSD puppy is 16 weeks old but...
1) She is small/underweight for her age.
2) She still has all her puppy teeth with no sight of her adult teeth coming out.
3) 4 different vets have mentioned that she does not look 16 weeks old.
My g/f and I paid a good amount for her and we just want to know how old she actually is. The breeder keeps saying she was born on April 28th, 2014 which would put her at 16 weeks and 2 days today, but she looks more like she is 12 weeks old... which if that's the case, would put to rest any fear that she is underweight or has some other more serious issue.
The breeder has not been much help and we are ordering a DNA test to make sure she came from where he says they came from. She is supposed to be a pure bred GSD with the blood line of a male GSD that was the champion of Germany and a female GSD that has won many awards.
Regardless of what the deal is, she is an amazing dog that eats/chews everything she is not supposed to and we love her to death. We just want to know if there's anything we need to worry about.
Thanks in advance for any help or information.
Here is a pic of her when we first got her... she is supposed to be 9 weeks here.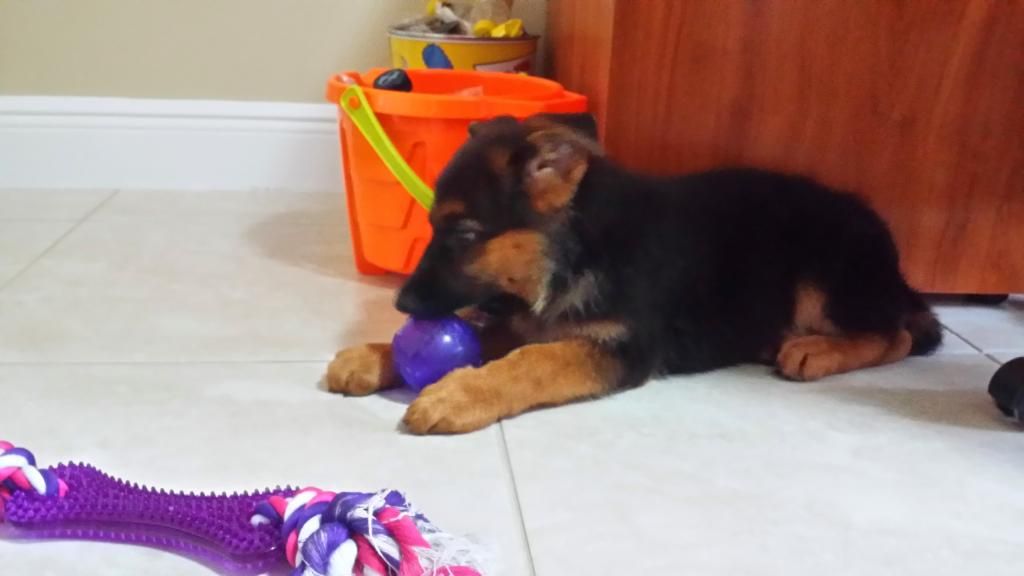 Here she is a few days ago at nearly 16 weeks according to her birth date.