raysmom
VALLEY VIEW, OH: "Dory" - Sweet Senior Girl (adopted)
---
"Dory" was e-mailed to me to crosspost. She is currently at the Cuyahoga County Animal Shelter in Valley View, OH.

Dory (Kennel #47 - ID#120786) is a senior girl. She is blind in one eye, but sees just fine with the other one. She walks with a slight limp, but she doesn't let her slow her down. She loves to take walks and is looking for someone to love her. Dory's Petfinder post says she would like to be the only love of your life.

There is no further information given about Dory. Please contact the shelter at the number or e-mail below to learn more about Dory.

Valley View, OH is in the Cleveland area - easy access off of I-80/90.
DORY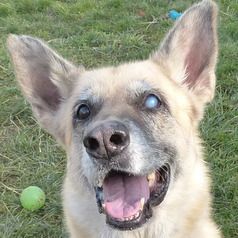 http://www.petfinder.com/petdetail/24825489

Cuyahoga County Animal Shelter
9500 Sweet Valley Drive
Valley View, OH 44125
Phone: 216-525-4827
karcher@cuyahogacounty.us