Re: The Recovery Process
---
It's hard to believe, but true. I cruised through this forum while killing some time at work on Christmas Day and saw a new post in the adoption pages. It was for a year-old black/tan male named Ike. Go look for it yourself if you don't believe me; I'm still not sure I believe it myself.

I read about Ike and his high energy. According to the owner he seems to always have a ball in his mouth and always wants to play. Just like Eich. I immediately e-mailed the owner and we began a 3-day conversation in which we exchanged photos and stories of our dogs. Unfortunately, Ike lives in Georgia; 1,000 miles from me.

I showed my wife the thread and the link to Ike's pictures. Her only comment was "How the **** did you find this?" I like to think it found me.

This sounds like the beginning of a wonderful adoption story, but it stops here. I'm just not ready. The thought of bringing another dog into my home right now only makes me apprehensive about how things may not go right. By 'right', I think I mean I am expecting another 'Eich', and I don't think I will ever get one. Does that make sense? Eich was a piece of me, never more than a couple of feet away. I still desperately want him back. I think if the time were right I would be on a plane (or a two-day road trip), and nothing/nobody would be able to stop me. Instead, I find myself thinking of my boy.

Tomorrow will be three months since he died. I remember thinking that I would have to delay my February '09 travel plans in order to take care of him. It turns out I will be going to Florida instead of staying home playing hospice. Florida, by co-incidence (?) is a mere couple of hours from Georgia. I have indicated to Ike's owner that I would like to meet him in February if he's still around.

Maybe this isn't the end of the story....
---
Cary
NY - 10509

Eich 3/4/01 - 9/30/08 (HSA)
Rookie 4/16/09 - 7/8/16 (HSA)
Re: The Recovery Process
---
This may sound crazy........ but maybe Eich is sending this boy to you. Yes, you will never find another Eich just like I will never find another Czar, but that does not mean that there is not another dog out there for you. Kai is my 3rd shepherd and no, he is not like Czar or Ringo, but he fills this house with love and happiness. There will always be a little spot of your heart just for Eich, but the rest of your heart........
---
~ Kathy ~

Kai vom Theishof ~ GSD
Maggie ~ Pug
Natasha ~ Queen Kitty
Midnight ~ Boss Kitty
Lennie ~ "Special" Kitty
Re: The Recovery Process
---
Dear Eich;
Today marks three months since I has you euthanized. Things have been pretty bad around here since. I've put on 20 pounds because we don't run and play with the balls for an hour a day anymore. I neglected a lot of outdoor maintenance before the winter set in because, quite frankly, I now have trouble going outside in the yard alone. There are so many little things bothering me I cannot begin to count them all. So many things bring tears. Mark came over yesterday to put a battery charger on his motorcycle which is in the shed for the winter. I went into the shed and saw your crate, broken down and leaning against a wall in the corner. Rhonda came down for dinner with me the other night at work. She told me later that she had trouble driving that route at night; it was the same route she took when she brought you to the vet three months ago.
There have been smiles, too. I was re-stacking the woodpile about a week ago and I thought of how you spent hours chasing that chipmunk who would always escape into the logs. Alissa sent me a picture of you, holding your Kong in your mouth and looking into 3-month old Kira's stroller. I must have been at work or something; I don't remember that picture being taken and never saw it before, but I knew exactly what you were trying to do before Alissa told me; you were trying to get Kira to take the Kong from you, weren't you?
I would tell you how much I love and miss you, but I'm sure you already know this. I'm sure you know I really wanted to carry you into your golden years. I was prepared to make sacrifices in order to ensure your comfort. You were so healthful and dynamic, I was sure you were going to live well past your typical life expectancy. Remember Laney from next door? She was 14 when you first tried to play with her and she made it beyond 16, although she was pretty much blind and deaf at that point. When you turned seven I wished for at least seven more years for you. You would get only seven more months. In the seconds after you took your last breath the vet placed his stethoscope on your chest, then told us, "His heart stopped". I looked right at him and said, "So has mine". I've thought about that and wondered if it was melodrama, if I was just overcome at the moment. It wasn't, I wasn't. A piece of me is gone and I will never get it back.
Do you remember during your final week, being in the driveway while I was cleaning up my old classic car? I was trying to scrub lime and acid stains off the side window? I really wanted to get that window clean, and the stuff I just bought was beginning to work. It was about that time I felt your ball bump up against my foot. I looked over the car and there you were, at the top of the driveway, ready to pounce, staring at me, having strategically placed the ball on the ground in the precise spot that would cause it to roll down the hill and hit my foot. Some people would have called it coincidence or luck. I know better. Do you remember what I said to you? I said, "You're right, this can wait".
I want you to understand that I wanted the best for you, and that is why I had to do what I did. Hemangiosarcoma is a death sentence, and I don't know why you were chosen, but you were. The more I learned about the disease the less I wanted to know. How would it end? Would you have a stroke? Would your digestive system collapse and would you die vomiting blood? Would your pericardium fill with blood causing your heart to be slowly smothered while you experienced the sensation of suffocation? Oh, the horror of what was going on in my mind… I felt so helpless! I was terrified while you were sick. But you seemed OK. In fact, you were amazing. All you wanted to do was swim and play, and you did! I thank God for that. I feel that I paid the price for your comfort. Thank you for every little thing you did; for showing me that all you really need is a ball and a friend. I was and am still so proud of you and what you were, a piece of me.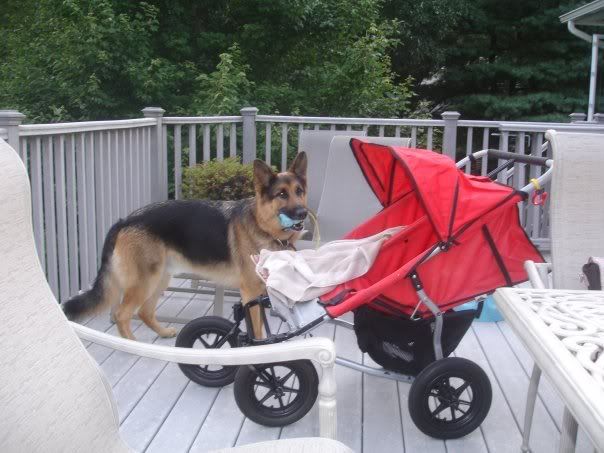 ---
Cary
NY - 10509

Eich 3/4/01 - 9/30/08 (HSA)
Rookie 4/16/09 - 7/8/16 (HSA)
Re: The Recovery Process
---
Quote:
Originally Posted By: MaryJaneCary, I visit this section because the bond between you and Eich is inspiring. I use the present tense, because you feel the bond to this day.

You both are teaching me something about life.

Mary Jane
The very same reason I visit this thread also. The love in your writing brings tears to my eyes.
It was about 3 months after I lost Max that Sammy came into my life. I didn't feel that I was ready either, but I will always believe that he was sent to me by Max. It took me a while to open my heart to him, but once I did, the joy was incredible. I still think of Max often. So many things remind me of him. But at least now I can think happier thoughts and be grateful that I have this big goofball Sammy to fill that horrible void that I was feeling.
Cary, don't be afraid to open your heart to another. It is not being disloyal to Eich. I can promise you that nothing would make him happier than to know that you and your wife were able to share your love with another dog. He would want that for you...
---
Kris
~~~~~~~~~~~~~~~~~~~~~~~~
Murphy, Sheltie/Keeshond, 10/31/91-10/3/10
Max, GSD, 6/3/96 - 4/26/08
Kitties: Taz, Chessy, Jacki and Lucy
Samson, GSD
Re: The Recovery Process
---
I had a dream last night, and I recall more details than usual. Rhonda and I were on vacation somewhere, staying in a hotel. Eich was with us. It was a suite; a bedroom and a main living room. It was mid-morning and we were just getting up. I was concerned about getting Eich out for a walk since I had slept later than my usual 7:00 AM wakeup, even on vacation.

It was a Tuesday and the TV was on. The news channel was indicating that it was opening day for the Mets baseball season, so that would put us right around mid-April. I have no idea where we were.

I took Eich and we got into the elevator to go down to the lobby so we could go outside. The elevator went down past the lobby to the parking garage. The doors opened into a vestibule where about a half-dozen people were waiting for the elevator. They stood there and look at me with blank expressions. There was nobody I knew, nothing was said. Nobody moved. I held my hands out as if to say, "Are you guys getting on, or what?" Just then, Eich (who was no longer on his leash for some reason) walked out of the elevator into the vestibule to investigate these people. I stepped out to retrieve him, but he got back on and the doors closed before I could back on.

It gets a little weird here. I am able to see into the elevator shaft and the elevator itself as it starts to rise; I think it was like an old-fashioned grate-type door on both the elevator and the elevator shaft. I am frantically pushing the call button to no avail. There are now people in the elevator with him. The car goes up one level and opens on the lobby. I am concerned he will get off and get lost so I yell into the shaft, "Eich, sit!" He does, and remains on the elevator as people get off and new people get on. The door closes again and the elevator continues up another level. I say to someone in the vestibule with me "These people have no idea", but I am not sure what I meant. I yell, "Eich, down!" He lies down and the people on the elevator begin to play with him, petting him as he does his typical half-rollover whenever he was feeling submissive. He's clearly happy and in no distress.

The elevator finally responds to me pressing the call button. It now moves sideways about 20 feet (this IS a dream, remember?) and begins to come back down. I run out of the vestibule and into the adjoining laundry room where the elevator stops and the doors open. This part gets disturbing. I call Eich and only hear his whining, not like he is in pain, but the excited whine he would make while hanging out of the car window when he saw another dog. A man gets out of the elevator. He has attached Eich's collar to a hook on the floor of the elevator. Eich is lying there, not in pain, but clearly bothered that he cannot get up. It seems that Eich has been tied down to prevent him from running off, but it has been done in a very uncaring manner.

I am furious at this coldhearted person. I grab the man, who is considerably larger than me, and throw him to the floor while saying something to the effect of how I was going to end his life.

Then I woke up. It was about 5:50 AM this morning. I was not emotional when I woke up and am not as I write this, unlike my previus post just a week ago. I think this dream has significant meaning. Here's what I figure:

I'm not sure what the hotel thing means. I had previous dream involving a hotel room when Eich was sick. I really don't remember all the details, but it was very personal.

Eich died at 4:34 AM on Tuesday, 9/30/08. It was Tuesday in my dream, early morning in actuality.

Eich on the elevator going up without me might have been his death. I had no control over what was happening, the elevator wouldn't respond. I was panicked, Eich was fine, even playing with people I didn't know.

The man who tied him down was the cancer. It's bigger than me, rendering me helpless. It's uncaring and callous. It tied my dog down and immobilized him. I wanted to eradicate it, but could not, so I just woke up instead.

Does any of this make any sense?

Eich was happy and playing with people as he rose in the elevator. I think I need to stop pushing buttons and let that elevator get to the top floor.
---
Cary
NY - 10509

Eich 3/4/01 - 9/30/08 (HSA)
Rookie 4/16/09 - 7/8/16 (HSA)
Re: The Recovery Process
---
I think you are right on track with your dream, scary isn't it...
The only other thing I would say to you about your dream is that I also believe Eich is telling you it is ok to let go because he will always be with you in spirit and in your heart.
---
Darlene

To view links or images in signatures your post count must be 10 or greater. You currently have 0 posts.

Annika Vom HausWesterman 7/30/03-4/18/07
Manto Vom Grum Majestat 5/31/05, work in progress
Bodo Vom Landgraf 7/7/03, Bh, retired
Venja Von HausLohe 6/10/04, Bh


Re: The Recovery Process
---
Quote:
Originally Posted By: Annikas MomI also believe Eich is telling you it is ok to let go because he will always be with you in spirit and in your heart.
You know, Darlene, I want to believe that. I really do. I just feel
right now
that any dog I bring into my life would be an attempt to replace him, and that wouldn't be fair to me, Eich, or the new dog.
I had a fleeting thought just this morning while I was getting ready for work. I thought of how Eich would stay in bed and listen carefully for the medicine cabinet door to 'thump' closed, knowing that was the precise time to get up and go out. I actually wondered how long it took him to figure that out and if any other dog would do the same thing. I really miss the little things like that; how he meshed perfectly with us.
In any event, it's getting easier to talk and write about. I can now reflect on him and actually smile instead of trying to hold back tears.
---
Cary
NY - 10509

Eich 3/4/01 - 9/30/08 (HSA)
Rookie 4/16/09 - 7/8/16 (HSA)
Re: The Recovery Process
---
I took advantage of the 45-degree weather here in NY and washed about 30-pounds of sand and salt off my truck a little while ago. I have a box of old shirts and socks that I use as rags. I pulled out an old tank top to wipe down the door sills and there it was; about 15-20 GSD hairs, stuck to the old shirt like every other piece of clothing I owned 4 months ago.

I thought of how I had been washing the truck for over an hour and didn't really think about Eich not being there until that moment. Three months ago I would not have even tried to wash the truck, and the sight of a dog hair-covered shirt would have ended my day.

I came here just now and re-read my open letter to Eich for the first time since I wrote it. As corny as this may sound, that letter gave me alot of relief.

I am leaving on a vacation next week; the same vacation I thought I would have to cancel in order to take care of a sick dog. I anticipated feeling guilty about going, or maybe getting depressed. I am actually quite looking forward to going and hope to "get away" from everything for a little while, especially the house which still isn't the same.

All in all, I think this mourning/recovery process really sucks, but it's taking its course.. People ask if I've gotten another dog "yet". I know they mean well, but it sometimes pisses me off. I'm not angry or resentful in any way... it just seems like a private matter to me... alot like someone asking when you plan to have children. I guess that's what Eich was to me.
---
Cary
NY - 10509

Eich 3/4/01 - 9/30/08 (HSA)
Rookie 4/16/09 - 7/8/16 (HSA)
Re: The Recovery Process
---
Hi Cary,
I had a dream too last night about Sashi. I had lost him and i was in this strange place and there were stairs. The only reason I can think stairs were in it was because Sat I had to climb 3 flights to get to my sons apt! Anyway I asked this girl if she had seen Sash or knew where he was and she mentioned that yes she saw him on VERY BUSY ROAD here which goes to out local SPCA and I screamed is he ok??!! So I get on the phone to the SPCA and some lady answered and I kept asking her: is he OK?! over and over, it was like she wouldnt answer me or didnt want to. I ran down there and its big so it took me awhile to find him and when I did, he was in a cage and I thought: no, hes not alright
He didnt look good/
when does this pain and anxiety ever go away? it ruined my whole day.
I, too have Sash' box of toys still where I always kept them and his bowls are still in the kitchen.
I try to remember good times but sometimes makes me sadder. I just want him to be alive again
Well that is my story and I hope you have a good time on your trip.
I tried to have fun Sat. But Im the same with the yard, I cant stand to go out in the backyard anymore, too painful.
---
Sashi
ALWAYS REMEMBERED
Sept 1, 1999- Aug 11, 2008

Neek
Our special needs Rescue
adopted 09-March
4 yr old
Re: The Recovery Process
---
Sashmom, I know where you're coming from. I just made some preliminary plans for a trip I need to take in June and the thought of dog care popped in to my head more than once.

All in all, time is helping. I'm at the eve of 4 months without Eich right now and the happy thoughts are just beginning to come in. I was shoveling my driveway (AGAIN!) just last night and smiled at the vision of Eich playing in the fresh snow.

Hang in there with me.
---
Cary
NY - 10509

Eich 3/4/01 - 9/30/08 (HSA)
Rookie 4/16/09 - 7/8/16 (HSA)