New from Texas
---
Hello,
I have been reading and learning on this site for over a year, what an awesome resource.
My first pup (at 2) was a GSD. My parents brought me back from Germany (Army Brat) and they came across our first family dog - Ludwig.
Flash forward 40 some years and I finally got my own GSD, Lola, 7 weeks ago. She is now 14 weeks and although I am worn out already, she is a great addition to our family.
She is already walking great loose leash and doing well with come, sit, and down. I am getting with a trainer later this week, to train me.
Hope I can add to the site, but I am just a pup myself.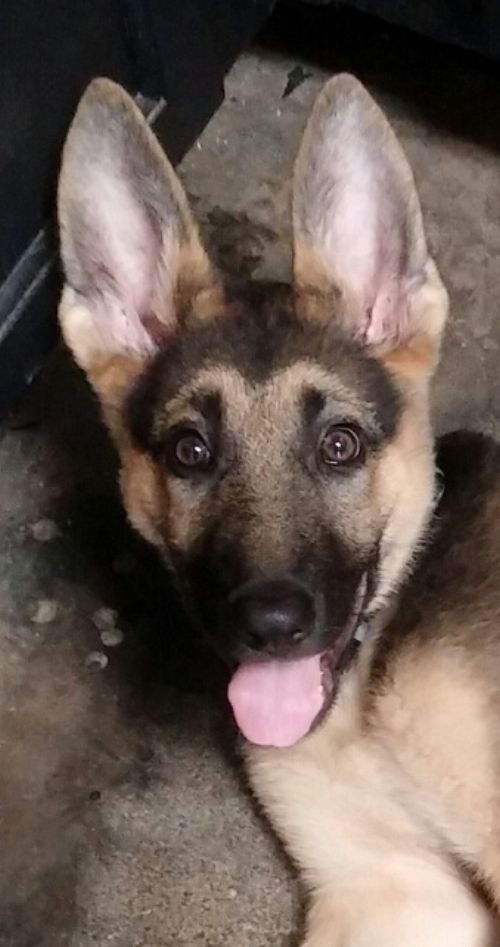 She's adorable!
---
Shanna

My Pack:

Jasmine - Female Miniature Poodle - born Aug 15, 2010
Loker Delgado Von Stalworth - Male GSD - born Jan 26, 2012
Koda & Zazu - 7 year old male cats
Alex - Male Cocker Spaniel (rescue) - RIP Cuddlebug 2007-2010
To view links or images in signatures your post count must be 10 or greater. You currently have 0 posts.

How cute!

Welcome to you!
---
Kathy

URO3,UCD Aleshanee Windridge "Kayos" CD,TDX,RE,CGC,HIC,TC
PTE,AG2,AN,URO3,UCD Xtra!Xtra! V TeMar "Havoc" CDX,GN,RE,CGC,HIC,TC,BH
UACH,URO1 Tidmores Rising Star Lydia "Mayhem" CD,BN,AX,OAJ,NF,RE,HT,TC,CGC,


Bridge
Lucky, Wolf, Max