Howdy from Spring, TX
---
Arf! Arf! Arf!
<Babblefish>
Howdy everyone. My name is Rose, but my owners call me Rosie. I was born on Valentine's Day 2014 in Conroe, TX. My new owners live nearby in Spring. Today I am 14 weeks, and I weighed 36 pounds. My dad is a faded sable and my mom is pure black. Although it's too early to tell, I appear to be headed toward being either a black bicolor melanistic, or if I get some color in my face, maybe a rich bicolor. I am a good looking dog, or so my owners say. Presently I can receive deep space radio signals through my ears.
I am completely potty trained and crate trained. In time, I will have the run of the house when my owners are gone. So far I have been relative non-destructive, plenty of toys. I have not eaten the cats either. One really doesn't like me very much, the other I get along with, but I am not allowed to eat her food, though I have snuck it when the cat isn't looking. I love to go for walks. I do okay on a leash, but what I really like to do is go off leash when no one is around in the woods. I am very well behaved and stick close to my owners. I don't bark much unless I am startled by a stranger. I get lots of reinforcement when I am alert but not aggressive.
My owners said in a couple of months I will go to the vet to get tutored. I love learning new things.
Here is my picture.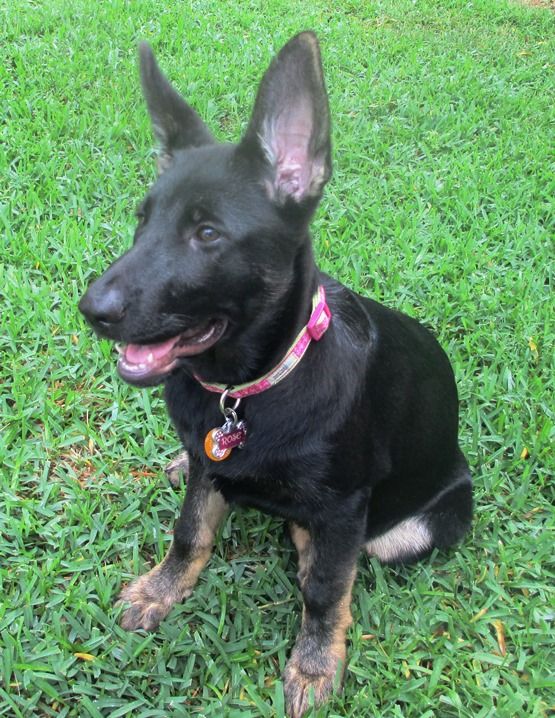 Love, Rosie
</Babblefish>
Arf!
---
Last edited by WholeLottaRosie; 05-31-2014 at

11:58 AM

.
Hello Rosie,
I'm Nikki and live in San Antonio. Congratulations on being potty & crate trained. I learned how to go potty outside pretty quick myself but tricked my mom into thinking I didn't like my crate and she fell for it
I prefer the couch and I thought my mom would never get it!
Nikki
---
Olivia von Jagenstadt "Nikki" 11/21/2009


Heidi Mouse 02/10/1995 - 02/21/2009
Nice intro! Welcome to you. (You're beautiful, by the way!)
You are a lovely and smart girl Rosie! Welcome to you and your humans!
---
Kathy

URO3,UCD Aleshanee Windridge "Kayos" CD,TDX,RE,CGC,HIC,TC
PTE,AG2,AN,URO3,UCD Xtra!Xtra! V TeMar "Havoc" CDX,GN,RE,CGC,HIC,TC,BH
UACH,URO1 Tidmores Rising Star Lydia "Mayhem" CD,BN,AX,OAJ,NF,RE,HT,TC,CGC,


Bridge
Lucky, Wolf, Max
Welcome to the forum. I love the name, Rosie.
---
Carrie

Mac - 4 year old GSD
Bart - 9ish year old GSD/Akita
& 3 Cats Buffy, Rusty & Magoo
welcome aboard
---
Ace Von Backyard 3/12/2014
---
Kaleef Black Bear Bugatti
To view links or images in signatures your post count must be 10 or greater. You currently have 0 posts.

CGC, Advanced Obedience, Intermediate Air Scent Tracking,
650+ trail miles