New Member
Join Date: Mar 2014
Location: Indiana
Posts: 1
New from Indy
---
Morning ladies and gents. Figured i would introduce myself as well as Roxy, we just picked her up yesterday. Joined the forums couple days ago, its almost like information overload so far, any tips would be appreciated. This is my first GSD, currently dog sitting the wife's brothers pointer Phoebe (2 yrs old), which we've had 2 months, and she isnt taking to Roxy yet, hopefully she will come out. Anyways Roxy is 6 weeks yesterday. Couple pics:
Coming home:
Meeting Phoebe: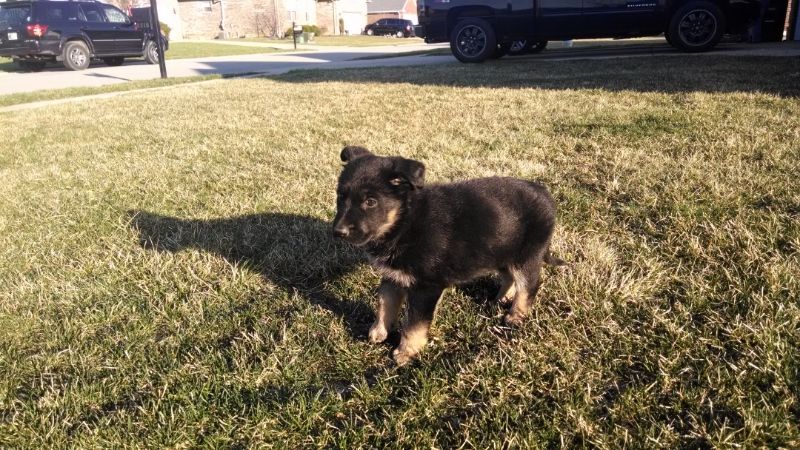 Cute puppy!

Lots of info. here for sure, great site.
I am in NE IN and have an 18 mo. old female gsd.
Welcome!
Welcome! I grew up just a bit northwest of Indy, not there anymore though. Cute puppy!
---
Ryker: (USDAA) SR (DOCNA) C-BTA C-ISLA
Chandra: puppy in training!

Living forever in my heart, Solstice: (AKC) MX MXJ MJB (USDAA) PDCH (DOCNA) MEX-Bronze
she looks like she was taking her first car ride very well! my guy hollered
---
Tiger A.K.A Clown Town- 12/19/13
Member
Join Date: May 2013
Location: Indianapolis, IN
Posts: 60
Welcome! I live on the SW side of Indy. Your pup is adorable! I have 2 pups, an 11 month old girl we adopted from a rescue (so may or may not be mixed) and a 7 year old male mix from Bloomington ACC. This site has given me a great deal of info. I rarely have to even ask, usually just a quick search will turn up answers for me!