New Member
Join Date: Mar 2014
Posts: 3
Hello from Canada
---
Hello everyone,
I am new to this forum by my baby girl is turning a year old in 2 days!
My little one is named Kiwi (Because when we got her her fur looked a lot like the skin of a Kiwi fruit). When we got her she was poorly cared for and very skinny. Her bones were sticking out and she didn't really want to move much. They had her on adult food straight from weaning off the mother (Grocery store brand at that) and were switching it between two different brands dramatically every other week. The poor thing could not digest any type of dry dog food properly (Without
very
loose stool). We got her on raw however and since then she has thrived!
She is now a happy healthy dog who is energetic and loving. She definitely isn't a pure breed however and when she was a puppy from her food issues her growth was stunted pretty badly as well. She is about knee height and they claimed her to be a GSD cross Mastiff. The parents looked pretty ragged as well.
We are glad she is in a better place now
.
Here are some photos of her from a puppy to now:
The day after we got her home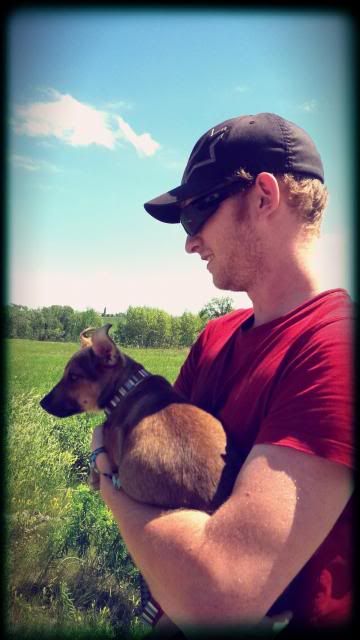 Kiwi about a month ago pretty much the same looks as now.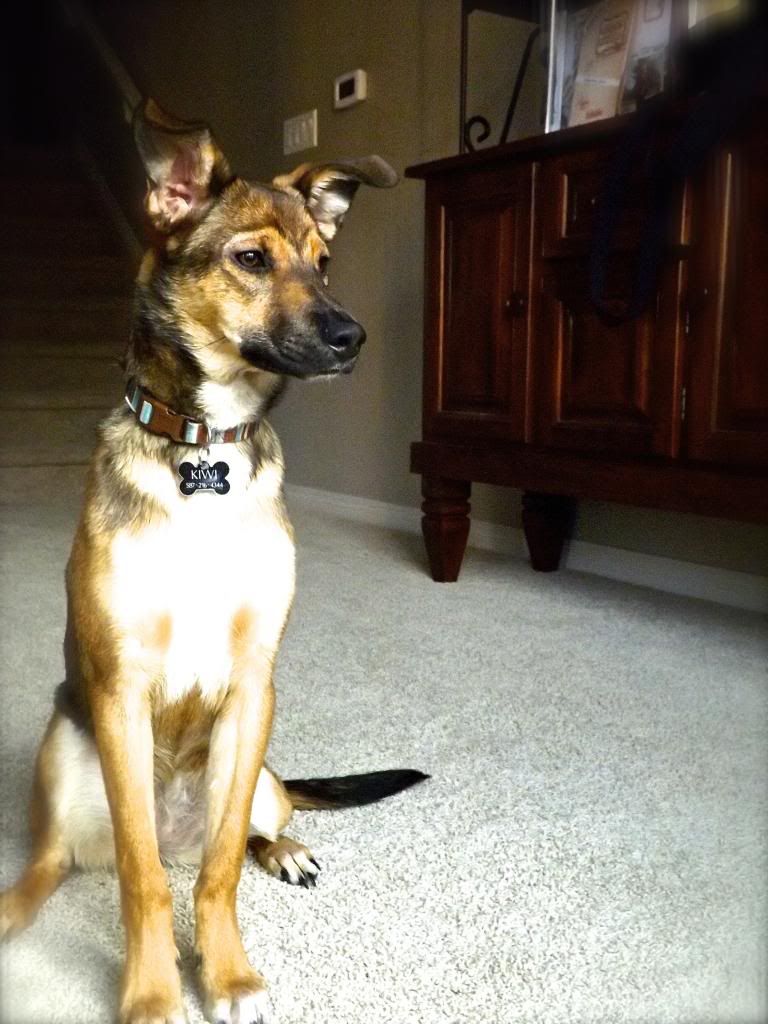 Hope you enjoy the photos! I look forward to learning even more to make her life and mine together more enjoyable
from Ottawa, it's always nice seeing a fellow Canuck join
Pretty girl!
---
Shanna

My Pack:

Jasmine - Female Miniature Poodle - born Aug 15, 2010
Loker Delgado Von Stalworth - Male GSD - born Jan 26, 2012
Koda & Zazu - 7 year old male cats
Alex - Male Cocker Spaniel (rescue) - RIP Cuddlebug 2007-2010
To view links or images in signatures your post count must be 10 or greater. You currently have 0 posts.

hello fellow canadians! welcome kiwifruit. she does look very healthy now, good job on the TLC
---
Tiger A.K.A Clown Town- 12/19/13
---
Last edited by TigervTeMar; 03-20-2014 at

12:45 PM

.
Member
Join Date: Feb 2014
Location: Northeast Ohio
Posts: 56
What an adorable little miss! Congrats on the amazing job of getting her where she needs to be.


Porter - GSD/Chow mix 7/13/05, rescued 9/2005
Maddie - GSD 9/08/12, rescued 6/2013
New Member
Join Date: Mar 2014
Posts: 3
Thank you everyone
She really is an amazing girl