New Member
Join Date: Feb 2014
Location: Kentucky
Posts: 7
Howdy from Kentucky! (and a ? about his color?)
---
Hi, everyone, my name is Rina and I have been lurking on this forum for a while now, reading everything I could about German Shepherd Dogs before finally deciding to bring one home! Three days ago, we got our first GSD puppy and we're training him via the information found on the Leerburg and it's going GREAT!!! He's so smart and we already love him so much! I'm looking forward to getting to know more GSD owners and contributing whatever I can!
Here's our new guy, Daily:
(ETA: for some reason, I can't get the picture to work. You can see him on my blog:
http://rinamarie.wordpress.com/2014/02/15/a-new-dog/
)
Can anyone tell me what color he is? I'm thinking sable, from everything I've been reading, but the tips of his fur are white, not black, and everything I've read says the tips of a sable dog's fur will be black.
The Agility Rocks! Moderator
Join Date: Aug 2001
Location: Bushkill, PA (The Poconos!)
Posts: 27,408
Welcome to the forum! It does matter where and how you store your pictures to have them show up here easily. Most of us do --->
How to post pictures on this site
He's DEFINITELY a beautiful sable! They can change alot the first year. What did his parents look like???
You see this yet? -->
Coat colors and patterns found in the GSD
---
***
MACH3 Bretta Lee Wildhaus MXG MJG MXF MFB TQX HIT CGC TC
Glory B Wildhaus AX, AXJ, XF
plus Miss Osin Blue Wildhaus
"Nothing new can come into your life unless you are grateful for what you already have. ~ "--- Michael Bernhard, gratitude
New Member
Join Date: Feb 2014
Location: Kentucky
Posts: 7
Thank you, MaggieRoseLee! I hadn't seen that link before, i'm checking it out now!
New Member
Join Date: Feb 2014
Location: Kentucky
Posts: 7
Figured it out, thanks! I don't have a picture of his parents, but here's a picture of his older brother...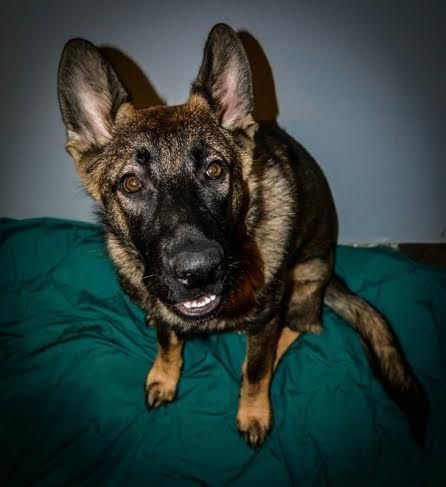 New Member
Join Date: Feb 2014
Location: Kentucky
Posts: 7
Just found a picture of his parents (not great pictures, but they're all I have)