I hope "mostly" German Shepherds are still welcome...
---
From Texas, going to be bringing home my new addition in a little over 4 weeks (or just right at 4 weeks, depends on various timing).
Dam is an unknown mix, but if I had to guess I would say Border Collie x GSD.
Sire is a full blooded German Shepherd from Czech Lines.
I am not paying for the puppy, and mother is going to be spayed after all puppies find new homes and her teets shrink back up (I really hope the current owner keeps her inside during the rest of this time and/or is willing to abort, as it's out in the countryside with lots of male dogs around).
But, yeah. I'm excited.
Born January 2nd, so will be 8 weeks old right at the 27th/28th of February, which is when I hope to be bringing her home, if everything works out as planned.
First and foremost I want a well behaved and well rounded dog. Plan on doing a lot of obedience training, as well as building prey drive for either schutzhund sport or personal protection dog training (the latter is what I would prefer). I don't want to do a lot, and I honestly don't care if the dog defends my home. I don't care about my possessions, but a dog that, at the right age and with the proper control and training, can defend ME and those with me if need be... or at least keep them at bay... would be nice.
But if she turns out to not be the right kind of dog for that, I'm perfectly happy and content to just work on the obedience training, and have a buddy I can go trail riding with and take to horse shows with me.
And before anyone asks, she will be getting spayed as soon as she's old enough.
So... yeah. Even though she's not pure German Shepherd, I hope we're still welcome here.
I had joined a couple other personal protection dog forums, only to find that they were the furthest thing from active, so I thought I'd try a large forum that keeps popping up with every google search for puppy training, schutzhund stuff, toys for GSD type breeds, etc.
Sorry for the essay. I get long-winded sometimes.
ETA: And a picture... think that might be in order.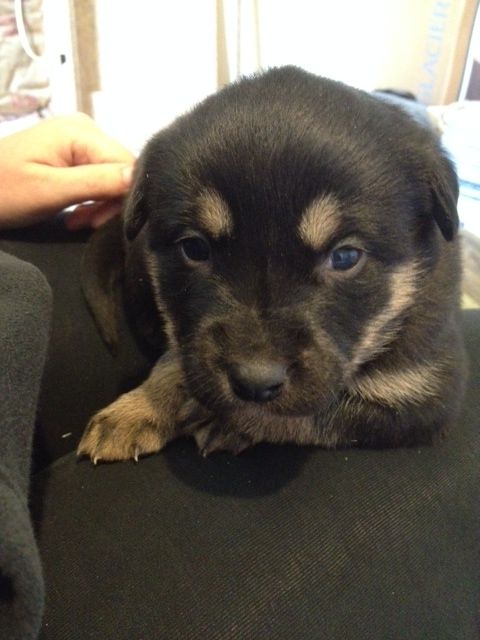 ---
Last edited by Serbrider; 01-30-2014 at

12:30 AM

.
---
GSD/Dinozzo (A.K.A. SG Jocose vom Mittelwest); Cats: R.I.P. Xena & Zora; Ferrets/Falkor, Draco, Drogon
She is gorgeous, looks all GSD to me but if she does have some Boarder Collie in her then she will be a good runner and a good worker
---

if your GSD is eating and eating and eating and losing weight - please consider testing for EPI.


To view links or images in signatures your post count must be 10 or greater. You currently have 0 posts.

That's my hope.
If she's up to doing some Agility, more than willing to work with her in that... really, as I said, first and foremost a healthy well rounded dog, and then from there go with what would work best for her.
But yeah. Really excited and ready to have her here already!! I am going to be making her a catch pole, getting her crate all set up (already have a very large cat crate I plan on using at first, then moving to a large dog crate that I also already own, and then if need be moving up from there), making a couple other toys, getting other toys, etc.
Ready to have her home, but I'm glad I have the time to prepare.
And she will be RAW fed like my current dog and cat.