New + Stories Of When You Got Your Dog? :]
---
Hello there, I am dubbed as Spike. I used to grow up with GSD's, but they were all female. I eventually dogsat one, his name was Riley, for a friend and when he left I just broke down sobbing. I then decided that I needed a German Shepherd in my life again. As of now, tonight I go to pick up my puppy from a breeder.
I currently have a VERY spoiled 7 month old Persian cat. The cat does not seem to comfortable around big dogs, but I am hoping a puppy can warm up his heart, He is still young and not set in his ways, so hopefully he can learn the Dog is a good ally to have. xD
I work from home/at home as a Cosmetologist as well as a model. My boyfriend is going into the Navy probably very soon. He has to go down to Jacksonville to choose his job for them then we get a ship date. This is not a safe part of Florida. :/ Crime is insanely high and at the apartment everytime I leave there are cops, robberies, we were even robbed once. Hopefully the dog will be a deterrence, most people think twice before robbing a German Shepherd home. I have honestly never owned a puppy. o,o So this will be new for me.
I do not know what to write. Haha.
Um, When I do get pictures I will show you, of course, as of now, I only have my cat which I will post. He is insanely adorable as well as probably more spoiled than he should be. He knows Sit and Shake and No. So If I can train a cat, I am almost positive I can train a dog.
About my soon to be puppy, He is red and tan, American/Show bloodlines, Parents are German bloodline, that being said they have pink papers and both work in Schuz.
I am going to go look for tips now to introduce a dog to a cat :3
Thank you all for reading this, I also love meeting new people and tips. Stories of when you brought your puppy home are also amazing. :3 Share your first few days?
Also ;,; This is Romulan, My cat and one has me in it. xD
and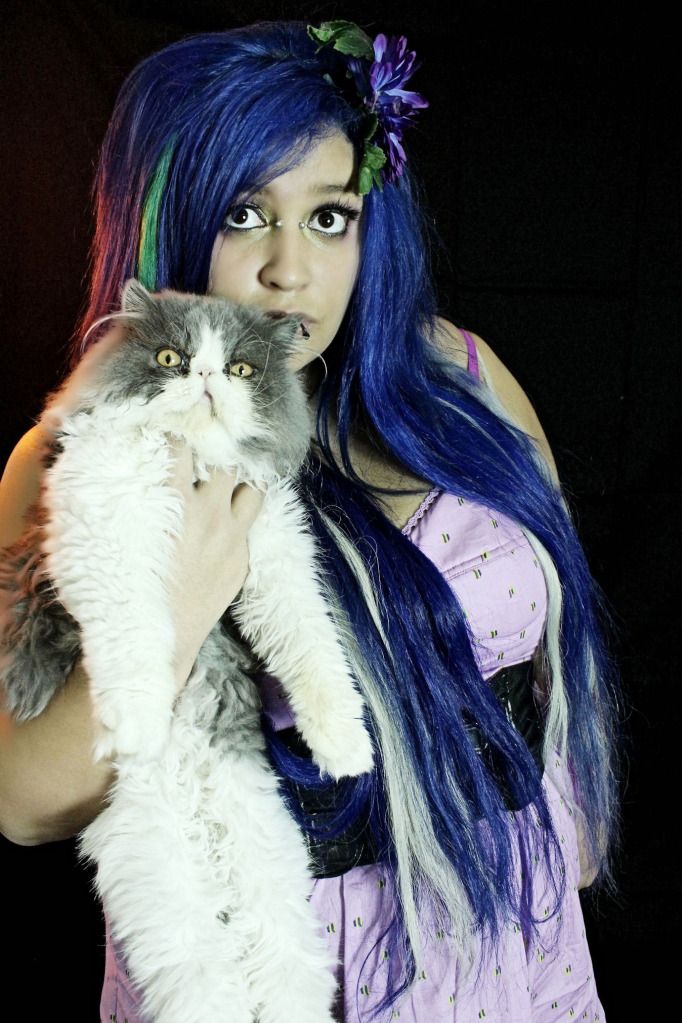 Your cat is very tolerant!

I also have an American Showline (Niko) that has a very low excitement threshold and a high prey drive, so it was a real challenge getting him used to my two cats when we brought him home at 8 weeks. My cats had very little experience with dogs at the time, and they did not like my rescue dog either, but they particularly did not like Niko.

From the very beginning, when the cats would walk by his crate he would bark at them. It took a while to train him out of that (using positive reinforcement and verbal corrections). My cats were both getting older and it was a sad coincidence that they both passed away this summer, but even at three years old Niko still was overly aroused by them and we never fully trusted him around the cats. My male cat had a bit of dementia, and he acted like he was oblivious to Niko, so it was not as if he was running away from Niko and exciting him to chase. Niko was always just very fixated on him, and we were able to teach him to leave the cats alone when were we there to supervise, but like I said we never fully trusted him alone with them.

We made sure that the cats had the upstairs as a "dog-free" zone with a baby-gate that had a cat door in it at the top of the staircase. We also had to keep the litter box away from the dogs, cat poop is really an attractive treat to them. My husband cut a kitty door in a closet and kept the litter box in there.

He also built a cat feeder box, so that cats could fit in there and eat their kibble (we free-fed them) and my chow hounds didn't eat up all their food!

Another thing to think about is if you leave cat toys out, you might want to not do that once you get your puppy. Cat toys are pretty small and present a choking hazard or could be eaten and cause a blockage in your puppy. After we got dogs, we put all the cat toys away in a toybox when they were not in use.

Are you prepared for what might happen if your cat never likes your puppy, or if the puppy never likes the cat? We were hopeful in the beginning too, but in the end there was always a lot of tension between the species and if we were different owners it could have ended badly for my cats. I just would hate for you not to have accepted the fact that you may have to manage each separately, and to have planned for it ahead of time.

I do wish you the best of luck though! I see lots of other GSD/cat owners whose pets get along marvelously, so it is obviously possible!
---
Leah
Niko: American Showline GSD 5 years old
Rosa: American Muppet Dog (GSD/Border Collie mix) 5 years old
Hello! I am new here as well! We just adopted out GSD Wednesday. His name is Gator.
We got him because....I miss having a dog around the house, and because we have 3 kids who have been dying to get a dog. The timing was right, so we made the leap! GL with your new pup, and I hope you have an easy transition. I also have a cat *domestic short hair* and while he doesn't like the fact that he has to share the attention, he seems to genuinely like Gator!
The cat seems to deal well with him, Rommie is just watchful, but if in worst case he is staying and dog goes to training.
Renegade is here.
Three days thus far. Doing well with potty training.