And often times the camera comes out in times that are not normal: Christmas, family reunions. The dog could be on their last nerve because their hugging Aunt Lulu that they just met 3 hours ago, and haven't been able to shake of yet, or because they are hugging their owner, for a picture, with strangers around.
Think about it. With strangers around, and suddenly your owner gets the great idea to get a picture of herself with the dog. And she wraps her arms around the dog in a squeeze. That is fine and dandy when the family is intact and everything is calm and peaceful, but when you got 2-legged predators everywhere, and suddenly your owner has you in a choke hold, could be the dog is getting mixed messages.
If I tried to get a picture of Babsy hugging me, all bets would be off. Not because she isn't a hugger, but because she doesn't like cameras. Neither do I for that matter, but when I get the camera out, her ears go down and she gets into a submissive pose. Why? I have never squirted her with a hose, yelled at her, or beaten with a camera. But she just knows that I am going to do her in with this instrument of sudden death. So yeah, you will not find a picture of Babsy hugging me without indications of stress.
Let's see if we can find any stress in this picture of Karma and my nieces: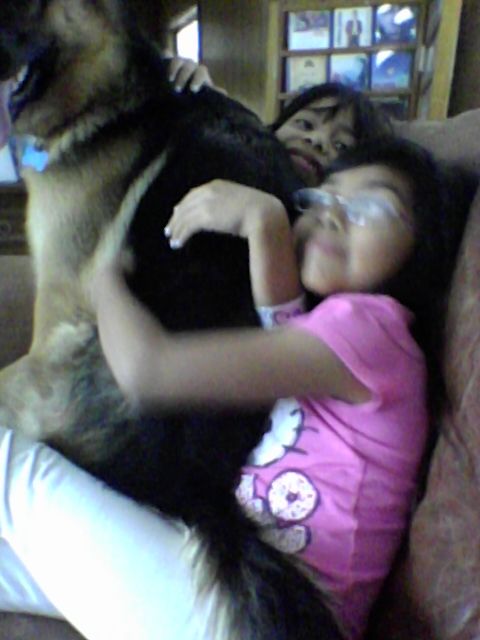 Well, maybe the fact that she put herself there, sitting on them, I dunno, if the hugging was getting to her, I would think she would leave.
---
Jenna, RN CGC & Babs, CD RA CGC HIC
Heidi, RA CGC
SG3 Odessa, SchH1, Kkl1, AD
Ninja, RN CGC & Milla, RN CGC
Joy, Star Puppy, RN CGC
Dolly CGC & Bear CGC
Hepzibah
Mako also missed the memo that he is supposed to be stressed out by hugs.

When we are laying together he always tries to snuggle underneath my arm. We took a nap on the couch today. I was on my back and he was laying on top of me. He stretched his neck, gently bit by hand, and rolled over - pulling my arm over him.

He likes to be held. He will jump into my arms if I allow him to. And I give him a bear hug just to hold onto him.

Oh and he GIVES hugs as well. He arches his neck over your shoulder and points his nose down towards the ground. Presses his chest up against yours and his head against your back. Giving a little squeeze.

Probably all learned behavior. I held him and cuddled with him a lot as a puppy. I guess we never really stopped. But he definitely seeks them out now.

My rescued senior. Nope. Doesn't like being restrained and shuts down with too much physical contact or even just being in his space in general. He was not socialized to humans though. Practically feral. Junkyard dog.
By and large the article is very vague?? Hugs depend on the dog and the relation to the owner. You can't be hugging up on a dog with "serious issues" that's kinda sorta a given I would think??

As I stated, I saw this on "BoxerForum" and as I would have though ... by and large it's getting very little support there also.
Ninja used to jump onto her dog house and wait for her daily hug. I moved her to a pen where her house is up under the shelter, so we are missing out with that. But she certainly does solicit hugs.
---
Jenna, RN CGC & Babs, CD RA CGC HIC
Heidi, RA CGC
SG3 Odessa, SchH1, Kkl1, AD
Ninja, RN CGC & Milla, RN CGC
Joy, Star Puppy, RN CGC
Dolly CGC & Bear CGC
Hepzibah
Junior Member
Join Date: May 2016
Location: Toronto, Ontario
Posts: 38
Thought I would share this image
New Member
Join Date: Feb 2016
Posts: 17
I'm all for being aware and watchful of the weird miscommunication in body language between humans and dogs but....I feel like this is not 100% true. When Kimber is upset or uncomfortable (teething, mostly) she will follow me around and lean on my leg or sit on my feet, and wait until I get low enough that she can get in my lap or put her head over my neck or shoulders and press her chest to me, even using her paws to hold on to me. When her back toenail got squished, cracked a bit and was bleeding, she squished herself as close to me as she could while I cleaned it even though she hates toenail/paw related stuff (we are working on that)
I'm sure is a learned thing but if she didn't like it I think she would avoid it, especially in situations where she is already stressed.
I have to disagree with this article. Perhaps the dogs get stressed out when a stranger hugs them, but not necessarily the owner. My pup shows some of those signs BUT I want to point out that on his free will he will get right next to me, put his face right into my lips and ill give him kisses. He than falls asleep while I hug him and he will stay this way for hours. I'm assuming he enjoys my hugs. He also likes to get a hug when I get home from work.
Ok, every picture you will see of my dogs hugging someone will not include me. Why? Because I am the one wielding the camera. No one else generally cares to photograph my dogs. Because everyone that I might allow a camera in my presence, is not a dog nut like me.

So, it that is so with me, than what about other people? When does the camera come out? Is it every day? Or is during holidays like Christmas, and family reunions? I ask because a lot of the stress a dog might appear to be experiencing could be due to the fact that the person he is up close and personal with might not be his owner, or some other, non-regular person is pointing a camera at him and his special person in an already crazy situation.

Dogs love hugs. Lots of them do. But they don't want to be tackled by a two year old he doesn't know and sit politely while the kid mauls him, when the guy on the other side of that sparkly thing is passing out really yummy smelling tubes of meat product. And, when they don't know Aunt Wanda at all, maybe after being hugged seventeen times over the course of four hours, Fido is just done -- especially with that smelly perfume assaulting his olfactory.
---
Jenna, RN CGC & Babs, CD RA CGC HIC
Heidi, RA CGC
SG3 Odessa, SchH1, Kkl1, AD
Ninja, RN CGC & Milla, RN CGC
Joy, Star Puppy, RN CGC
Dolly CGC & Bear CGC
Hepzibah
I think you make some good points selzer as a couple others with similar lines of thought.. Different people hugging my dog would definitely put stress on them.. Add the chaos that usually ensues (at least for a dog used to a routine) during a holiday get together and I stress is already in place.. Add the new smells (which I really agree could be a stressor) of different colognes, screaming kidd, and then 'picture time' and doggie is in overload.. I've seen some dogs photo bomb (I have one) and love the attention.. Then, the other (my girl) who always looks away or moves if the camera comes out and really only likes my hugs and occasionally one from beloved family members and the pictures will show a stressed dog...

Would be an interesting study if done clinically..
Reading the source study, this jumped out at me:
Quote:
If you put the search terms "hug dog" or "love dog" into something like Google Image Search, or Flickr, you will get a virtually infinite scroll of pictures of people and their children hugging their pet dogs. I decided to look at a random sample of 250 such pictures. I used a variety of criteria to try to keep the data as clean and precise as possible. I only used photos where the dog's face was clearly visible.

I can summarize the data quite simply by saying that the results indicated that the Internet contains many pictures of happy people hugging what appear to be unhappy dogs.
As others have mentioned, his criteria for determining stress can certainly cover just about any dog behavior, especially in a picture out of context.. That's not very scientific. The first picture has a floppy ear dog with "ears down", and the dog looking away from the child...
AT THE CAMERAPERSON
. I mean come on, looking at the person taking the picture is a sign of stress? Really?
---
Faelan - GSD - Born 09/29/2011

To view links or images in signatures your post count must be 10 or greater. You currently have 0 posts.
Updated sporadically.
Posting Rules

You may not post new threads

You may post replies

You may not post attachments

You may not edit your posts

---

HTML code is Off

---