Elite Member
Join Date: Jun 2003
Location: San Diego
Posts: 1,816
Re: Cancer and Dogs
---
While this is being proactive, you can't be "lulled" into a false sense of security. My dog Onyx had a complete full body ultrasound (he was in to check to make sure his bladder had no more stones) in June of 2004 all organs were normal, no abnormalities were noted. September 29 2004 he was euthanized due to multiple tumors in his spleen (he was bleeding out) and his liver. There may have been more in his heart and lungs, but viewing the spleen and liver was enough. He had been a little off the day before and didn't eat his dinner. In the morning her seemed fine and ate his breakfast. When I came home from work he was in shock - one of the tumors in his spleen burst and was bleeding in his abdomen. Hemangiosarcoma can develop so quickly, most of the time it is found too late.

Rainer has had a couple ultrasounds and x-rays prior to starting his protocols and he was always awake. They do not need to sedate the dogs for that.
Re: Cancer and Dogs
---
Wow, the quickness of that growth is very scary
LJsMom, I guess you don't what anesthesia that they used.
I actually went to that Dog Cancer Vet site last night and listened to his hour "infomercial" and he was the one that mentioned. He mentioned a couple things I never knew. To be truthful, the send out a transcript after the video starts, so I read ahead...
---
To view links or images in signatures your post count must be 10 or greater. You currently have 0 posts.
Re: Cancer and Dogs
---
Regarding that infomercial that I watched, I should add something else that was said.

The vet said that they are learning that one way that early vaccination impacts the body's long term chance of getting cancer is that it trains the immune system to watch and patrol for certain diseases, at the expense of other things that it should be doing, like seeking out and destroying cancer cells before they take hold.

Scary, huh? That certainly is what has happened to Indy. If I increase her immune system to fight cancer (particularly her NK killer cells), it attacks her lyme vaccine site and her liver has problems, etc.
---
To view links or images in signatures your post count must be 10 or greater. You currently have 0 posts.
Senior Member
Join Date: Apr 2001
Location: Corinth TX
Posts: 205
Re: Cancer and Dogs
---
We loss our wonderful Ch. Bandit to Cancer in Aug of 2009. It came on very fast. He was diagonosed on July 12 with acute lymphoid leukemia and died on Aug 12. We had no signs that he was sick. One month he is running and playing in our back yard with his pack the next he very sick and our vets are trying to figure out what is going on and he is dead within a month. It has to be one of the hardest things I have ever been through. I never thought that my health 7 year and 11 month old male would die before his mother who is 10 years old. But you just never know. I think about that dog every day... Because of Bandit I have learn to enjoy our dogs every day a little more sweeter. We sure do miss our wonderful Bandit.
This is our Ch. Bandit in Jan of 2009. I would have never guess in 8 months later he would be gone.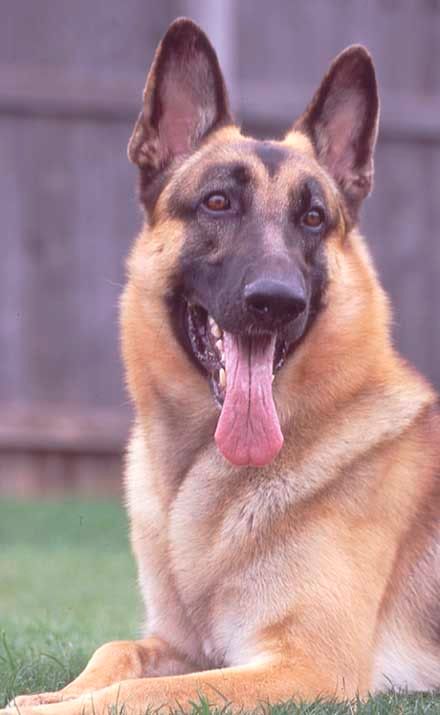 ---
Bae,CH.Bandit,Bonnie and Bonita
Mom Debbie
Re: Cancer and Dogs/Flagyl
---
Can flagyl, particularly long term use, cause cancer?
***************
A 1998 study that concludes that short term use does not cause cancer:
http://www.journals.uchicago.edu/doi/pdf/10.1086/516306
***************
But then there is this:
Is Metronidazole Carcinogenic?
By: Andres Bendesky ; Daniel Menendez ; Patricia Ostrosky-Wegman ; Daniel Menendez ; Patricia Ostrosky-Wegman
Format: Article Peer Reviewed
Year: 2002
Published in: Mutation Research/Reviews in Mutation Research Jun2002, Vol. 511 Issue 2, p133 12p 13835742
Summary
Metronidazole (MTZ, 1-[2-hydroxyethyl]-2-methyl-5-nitroimidazole), an antiparasitic and antibacterial compound, is one of the world's most used drugs. MTZ is potentially carcinogenic to humans due to the following facts: it is a proven mutagen in bacterial systems, it is genotoxic to human cells and also, it is carcinogenic to animals. However, due to inadequate epidemiological evidence, it is not considered as a risk factor for cancer in humans. As it will be discussed here, the existing population studies are deficient since they have not included sufficient sample size, the follow-up time has not been long enough, and the individual sensitivity to the drug might have been acting as a confounding factor. Due to the increasing use of this drug, more and improved studies are needed to elucidate its mechanism of genotoxicity and its carcinogenic potential. [Copyright 2002 Elsevier]
***************
And a newer study (2008) is more disturbing, regarding the immunosuppressive role of flagyl:
Evaluation of immunosuppression induced by metronidazole in Balb/c mice and human peripheral blood lymphocytes
Mohammad Fararjeha, 1, Mohammad K. Mohammadb, Corresponding Author Contact Information, E-mail The Corresponding Author, Yasser Bustanjib, Hatim AlKhatibb and Shtaywy Abdallaa
aDepartment of Biological Sciences, faculty of science, The University of Jordan, Amman 11942, Jordan
bFaculty of Pharmacy, The University of Jordan, Amman 11942, Jordan; accepted 16 October 2007.
Abstract
The immunomodulatory effect of metronidazole (MTZ), a nitroimidazole drug used as an antiprotozoal and antibacterial agent, was investigated using Balb/c mice and human peripheral blood lymphocytes. For in vivo studies, mice were divided into six groups, six animals per group, group I received vehicle alone while the other groups (II–VI) received intraperitoneal injections of MTZ (14, 28, 42, 57, and 114 mg/kg) respectively. For in vitro studies different concentrations of MTZ (5, 10, 50, and 200 μg/ml) were used. MTZ showed a significant decrease in the percentage of circulating neutrophils and monocytes and an increase in the percentage of circulating lymphocytes. The relative weights of spleen as well as the relative body weight gain also decreased. Detectable changes were seen in the histology of spleen and thymus. Splenic plaque-forming cells (PFC), hemagglutination (HA) titer to sheep red blood cells (SRBC), spleenocytes and human peripheral blood lymphocytes proliferation (MLR) were markedly suppressed by MTZ treatment as compared to control group. MTZ also induced a significant decrease in delayed-type hypersensitivity (DTH) reaction, phagocytic activity (assessed by phagocytic capacity and phagocytic index) as well as TNF-α secretion by peritoneal macrophages. These observations indicate that MTZ significantly induced immunosuppression in mice and in human peripheral blood lymphocytes.
And later in the article:
4. Discussion
Despite the overt use of MTZ as an antibacterial and antiparasitic antibiotic in humans, there is little information about its potential influence on the immune system cellularity and function. MTZ has been shown to induce suppression in the bone marrow, a primary lymphoid organ, and to affect male fertility [4]. Furthermore, it has been observed that MTZ induces DNA single-strand breaks in the lymphocytes of patients on standard doses of the drug [3] and [8], therefore toxicity to the peripheral lymphoid organs is suspected.
Gastrointestinal absorption of MTZ after oral administration is very fast and is comparable to intraperitoneal administration. In the present experiments, MTZ decreased the gain in body weight of MTZ-treated mice in all used doses over 14 mg/kg. Furthermore, all the tested doses of MTZ decreased the relative weight of the spleen, and the doses 42, 57 and 114 mg/kg body weight induced atrophy in the white pulp of the spleen. In addition, the dose 28 mg/kg induced atrophy in the medulla of the thymus, suggesting a possible effect on the activation and differentiation of the T-lymphocytes, an effect that might explain the relative increase in the circulating lymphocytes (Table 1). We have shown that the highest two doses (57 and 114 mg/kg) of MTZ decreased the percentage of neutrophils and at the same time increased the percentage of the lymphocytes at the same level of significance (p < 0.01), suggesting a suppression of the phagocytosis defense mechanism by neutrophils, therefore bactericidal activity inhibition is suspected. The decrease in the spleen relative weight and in the atrophy of spleen white pulp and thymus medulla may be the reason behind relative lymphocytosis because of lymphocyte primary and secondary lymphoid tissue homing suppression, a conclusion which is consistent with the finding that MTZ inhibits leukocyte-endothelial cell adhesion in rat mesenteric venules [9]. Peripheral blood RBCs showed a decrease in number when MTZ was used in the highest dose which may be due to the suppression of the bone marrow [4]. These parameters form, in part, the first level of tests for immunotoxicity screening [1]. Since MTZ induced changes in these parameters, the results of the present work indicate that this drug causes modulation of the immune function.
<snip>
In conclusion, the present study shows that MTZ has an inhibitory effect on the humoral as well as cell-mediated immune responses. The results demonstrate an immunosuppressive effect of MTZ in mice as well as in human lymphocytes. The effectiveness of MTZ in the treatment of diseases should be counterbalanced by the increasing evidence of its immunotoxicity. Further studies should be considered to study the significance of using MTZ in patients under long-term treatment.
---
To view links or images in signatures your post count must be 10 or greater. You currently have 0 posts.
Re: Cancer and Dogs/Flagyl
---
By the way, I'm not sure what all the above means, but to me, it raises some concerns. And with all these problems of GSDs and spleens, and the high use of flagyl in GSDs.....it makes me wonder if there isn't a contribution there? Of course, I'm just makin' stuff up here.
---
To view links or images in signatures your post count must be 10 or greater. You currently have 0 posts.
Re: Cancer and Dogs/Flagyl
---
No wonder the holistic vet wasn't happy that LJ had been on Metro.
---
Joanne

Kryska's Ironwill Steel Train SD (Siberian Husky)
Mila (GSD) Adopted from BDBH.

Waiting at the bridge:
Lady Jane Cobb (GSD - age 15)
Sasha (Siberian Husky - age 13)
Niko (Siberian Husky - age 14)
Wooly Bear (Siberian Husky - age 13)
Re: Cancer and Dogs
---
Quote:
Originally Posted By: LJsMomIf a dog has an undiagnosed Hemangiosarcoma, will it show in bloodwork?
Last year Ringer had bloodwork done and he was slightly anemic. A few days later, on May 23, he started breathing hard, very labored, he wouldn't eat and he could bearly move. I rushed him to the ER where they did an ultra-sound and he was diagnosed with hemagngiosarcoma of the heart. They drained the fluid and his breathing went back to "normal". He gobbled down several McD's cheeseburgers on the way home. I had to have him put down the next afternoon due to other health issues.
---
Gayle, Faith, Ledgie, Scooby
At the Bridge: Andy, Abbey, Tasha, Tex, Echo, Yukon, JR, Too, Niki, Bo, Ringer, Kelly, Honey, Mac, Slider & Bruiser
Master Member
Join Date: Aug 2008
Location: MA
Posts: 670
Re: Cancer and Dogs
---
I lost Vegas last year due to lymphoma. Diagnosed in July and dead at the end of August. He became partially blind in one eye as it spread. Fast moving, we think it went to the brain due to things he was experiencing. I am still astonished at how fast my 120 pound gentle giant went downhill. He is till missed and from time to time I call for him instead of Lainey by mistake.
---
Kim (MSPCA Vol.), Lainey (Lainey Express Destiny Ryanhaus) and Beau (formerly Booker GSD/Lab?- Rescue)


(At Rainbow Bridge) Vegas- Our Gentle Giant R.I.P. 2000-2008 Meisha - Moo Moo R.I.P. 1990-2000-All GSDs
Re: Cancer and Dogs
---
I just got the dreaded diagnosis of lymphoma, in the abodomen, so most likely the gastrointestinal variety. Blood tests come back tomorrow and the oncology appt. is monday. I'm very lucky that there are three top rated specialty veternary clinics around me. I chose the one with 4 oncologists who had the quickest appt. Chelsea had only started having symptoms three weeks ago, starting to refuse kibble, refuse biscuits and only eat the soft meaty treats and beef filet squares. So now I'm cooking chicken and broth to mix with a small bit of rice and some cottage cheese. She won't eat the kibble, but straight meat gets her attention right away. All the links and info in the topic has been very helpful and I don't feel so horrible. The vet sounded hopeful as well, so I'll just keep my fingers crossed that it's early stage. Unless the oncologist says it won't make a lot of difference, we will do the chemo if it will have a good chance of remission and improved quality of life and more time with my 11 year old girl. I can't imagine life without her. She's so friendly and gentle with everyone and loves parties.

So thanks for the links.
Pam