Help! Torn pad
---
Zeus tore his pad and is now missing skin on his paw. He is unable to walk on it right now. Will it heal on its own??
What can I do??
It can heal on its own of its small. However iv herd of dogs needing stitches after this
I would take him to a vet, especially if it's large.
If it is small and does not need stitches it can heal, but if it is big enough to need stitches then there is no way around it. If it is small enough you can soak his paw pad with Epson salts to help speed the healing. Of course he won't sit with his paw in the warm water so you have to sit on the floor with him while he lays down and hold a sponge soaked in warm water with Epson salt in it. Just put a towel under that foot and hold the sponge on it until it cools, then rinse and repeat with warm Epsom salt water. I did this for Pyrate when he stepped on a small piece of glass and cut his paw pad. It really did heal faster I believe.
---
Teri

Amorette Vom Godinghofer of Summerland (AKA Abby) 5/21/15
Snake Vom Eselspfad RN CGC (AKA Raina) 3/5/08
Pyrate CGC 4/1/03-5/16/12 RIP
To view links or images in signatures your post count must be 10 or greater. You currently have 0 posts.


Too many to list waiting at the bridge but remembering them all
The Agility Rocks! Moderator
Join Date: Aug 2001
Location: Bushkill, PA (The Poconos!)
Posts: 27,408
My dog have ripped their pads off and also had wicked slices in their pads.

As long as the bleeding stops............ they heal up fine on their own. I make sure it's clean, then put NeoSporin type products in/on it and then for the first few days get a makeshift bandage on it to keep it clean, medicine on it, licking stopping, AND give a barrier so the dog can put some weight on it without the open nerves going CRAZY at touching the ground.

A big bandage (so won't stick, bandaid type) directly over the wound. Then I wrap that cling vet wrap over/around the foot then up the 'ankle' to where it narrows above the foot. Then use that white/waterproof medical tape OVER the cling ( don't get on the fur or you'll have to cut if off).



---
***
MACH3 Bretta Lee Wildhaus MXG MJG MXF MFB TQX HIT CGC TC
Glory B Wildhaus AX, AXJ, XF
plus Miss Osin Blue Wildhaus
"Nothing new can come into your life unless you are grateful for what you already have. ~ "--- Michael Bernhard, gratitude
Elite Member
Join Date: Nov 2013
Location: Lake Tahoe Area
Posts: 1,346
If you don't think you need a vet, clean it, disinfect, wrap it and put it in a dog bootie for a could of days.
---
Karin
Dutch Shepherd - Ptygo (Tee-Go) de las Flores
Rescue GSD - Freyja (Husband's Dog)
Thanks everyone!
it wasnt big enough for stitches. So i ended up cleaning it, used neosporin, then wrapped it. He is now doing fine with no more limping!
Lisl cut hers too when she was still a puppy. Fortunately it was the upper pad on the pastern and didn't affect her walking.
I put some neosporin on it, put a non-stick piece of gauze, and wrapped it well.
Check to make sure her pads are still warm after you've wrapped it to make sure it isn't too tight.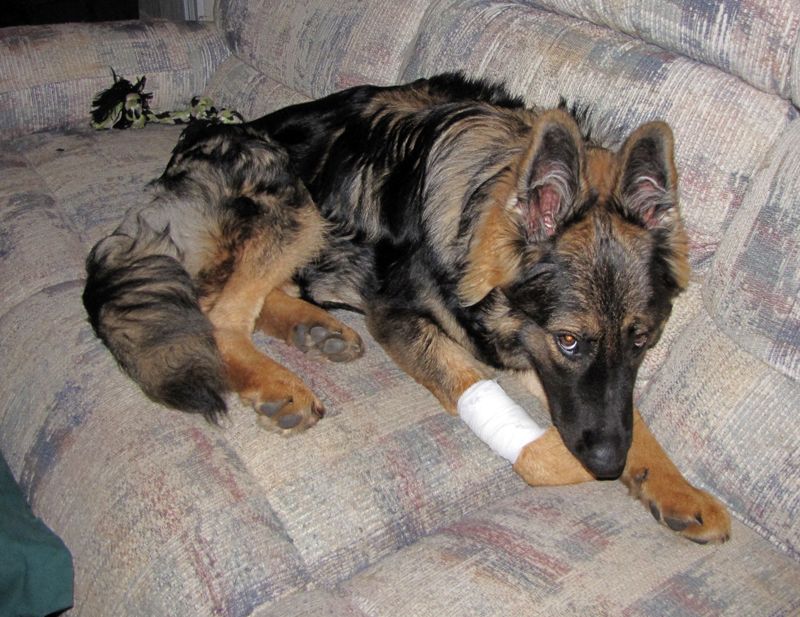 ---
Bear, Anna, Molly, Ossie, and The Countess Lisl von Schlaf

An Unhappy German is a Sour Kraut!
My dog wore off several pads running on a hot walkway at a friend's house. I ran to the vet with her and they clipped the shredded skin away so the pads could heal and it wouldn't snag. It wasn't deep, it was the top layers only. I'm much more careful now about heat but it wasn't a serious injury.