Alternative to Cone of Shame
---
Baron had to have a cyst taken out for biopsy on his head today. The vet put him in the cone of shame. Obviously he can't lick it but I guess he will be able to scratch it?? But he also has to be crated and he can't move, or eat, or drink. Any suggestions?
---
Layla

Bella - GSD mix (3/21/10)
Harley - GSD (2/5/10)
Baron - GSD (10/13)
I have used a product which looks like a neck brace of sorts with some straps that go around their chest area I believe.
It looks like this...
Home Page
Not sure if it will keep a dog from scratching his head however?????
SuperG
Idk if it would work on Baron bc he seems full grown. But when Cafall was still small (10 months) I was able to use one of those travel neck pillows and safety pin it to his collar to keep him from licking at the area after his neuter.
I absolutely LOVE this product:
Jorgensen Laboratories Soft-E-Collar | Lambert Vet Supply
I have one of these purchased 10 years ago, and it has held up brilliantly. The vinyl coating cleans easily. The dog is much more comfortable, having use of peripheral vision (and the collar itself functions as a pillow for the dog's head when it lies down--very comfie).
I didn't like the Kong air-filled option sold on some websites, at least for a multi-dog household. It looks too much like a toy, so other dogs are tempted to bite at it while it's being worn, poking holes in it and ruining it.
For scratching with back feet on a spay incision, I put them in a t-shirt: front legs through the arms, head through the neck, waist of the shirt gathered around the dog's torso and secured with a rubberband or hair-tie around a big knot (1980's style!). To that I add tube socks over the back feet, secured with knots the same way (NO RUBBER BANDS AROUND THE LEGS!!!--gather a little knot of sock material on the side, and secure that knot so the band is only on the knot hanging on the side). I call it the Foster Hausfrau costume -- it looks absurd, but it keeps them from scratching open a spay incision, if they're the sort of dog inclined to do that.
---
Last edited by Magwart; 08-28-2014 at

07:18 PM

.
Here's a photo of a dog in full post-op "Hausfrau" gear: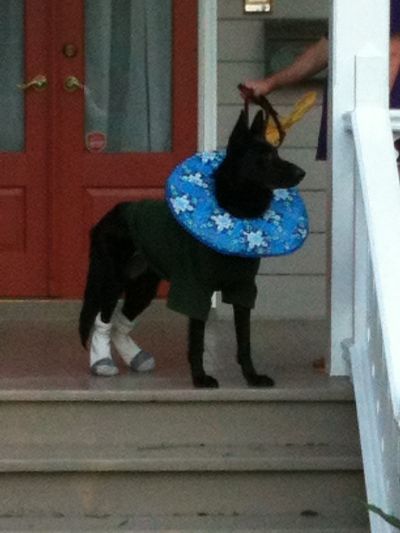 Quote:
Here's a photo of a dog in full post-op "Hausfrau" gear: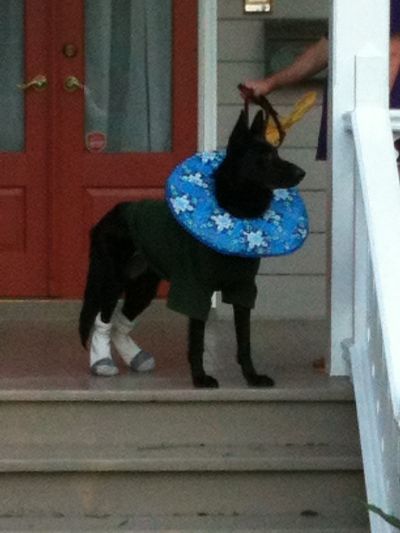 AMAZING! We are getting our female boston terrier spayed this month-- she may be dressed in a miniature version of this soon! Thank you!
Elite Member
Join Date: Jun 2009
Location: Here, of course
Posts: 1,677
Quote:
Here's a photo of a dog in full post-op "Hausfrau" gear: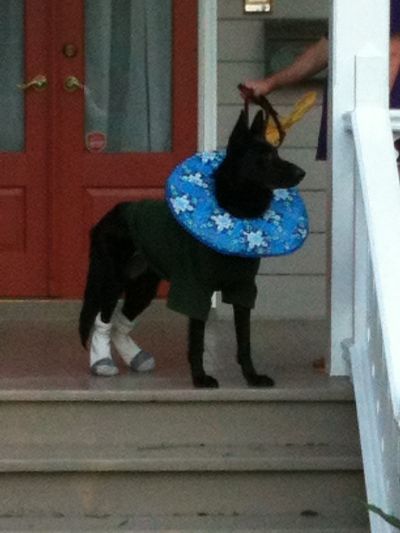 Still manages to look regal and worthy of the GSD mantle.
---
Never cook bacon while naked.
That dog totally looks like it should be in the movie " Summer Rental" beside John Candy.


SuperG
Thanks for all the suggestions! I love the pic Magwart! He can't lick the incision because it's on the top of his head. Just wondering if he can scratch up there with his leg. Unfortunately, the neck pillow type collars wouldn't prevent that. Left it off him last night and this morning while I could watch him like a hawk but otherwise it's been on. He's not happy and somehow the cone freaks Harley out and he keeps growling at Baron in it. Ten days of this. Ugh!
---
Layla

Bella - GSD mix (3/21/10)
Harley - GSD (2/5/10)
Baron - GSD (10/13)
I have this
http://www.amazon.com/Comfy-Cone-E-Collar-Large-Black/dp/B000XY7CKE