???
---
So a few days ago we brought Butch to the playground. He ran up one way , jumped off the other end, and landed weird. Hes been limping since so ive kept him home, but today he seen another dog and totally pushed it while playing around. H??is limp is now way worse, and hes laying there whining. Hes obviously in pain, its coming from the joint above his left paw. Where im from there is no vet, we have one that travels in once a month or so but its not currently here. Does anyone know what i can do to help him with the pain here at home??
Sent from
Petguide.com Free App
If I were you, I'd drive through the night to the nearest E-vet, that's all the advice I have, sorry.
Sent from
Petguide.com Free App
c
Thats exactly what I would do too..if I had a vehicle and knew how to drive :/ thanks anyway! Hes finally resting now, if its not any better tomorrow I will continue to look for a ride!
Sent from
Petguide.com Free App
Elite Member
Join Date: Jan 2013
Posts: 1,152
Rest,crate if necessary. Ice the area, wrap it with vet wrap or compression bandage. If its serious this wont help much but thats about all you can do for alot of injuries.
Crowned Member
Join Date: Feb 2011
Location: ontario -
Posts: 12,634
You do need to see a vet .
The joint above the paw , the pastern, is where the radius and ulna meet .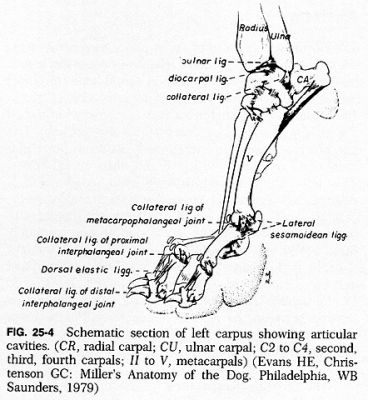 IF the dog is still in a growth state (pup - youth) and the growth plates are still growing , there may be damage to the growth plate , bruising, which will cause deformity.
The foot may swing out like a seal flipper.
---
Carmen

**********


To view links or images in signatures your post count must be 10 or greater. You currently have 0 posts.