Ear Problems
---
My GSD is starting to bald on one of her ears. She has flaking of dry skin as well in that area. She does have allergy probems and is currently taking Hydrozine 50MG tablets, 1 in the AM and the other in the PM. We clean her ears out once a week as well. She will be 6 next month and we live in the DFW area. Is it normal for a GSD to have these problems?

Thanks in advance for any and all assistance!
Re: Ear Problems
---
I wonder if it's demodectic mange? Not as common in an adult but that is one of the spots it shows up and it does sound like your dog has some immune system issues.

Does she scratch her ears a lot? That or some kind of skin allergy could also be the culprit. My Basu lost some hair on his ears when he had a flea allergy.
---
Ruth & the 4 Legged Rescue Gang

Rafi the malaroo

To view links or images in signatures your post count must be 10 or greater. You currently have 0 posts.

Gio & Varda, the krazy kittens
....In my heart:
Cleo Kitty
Chama
Kai
Basu
Massie
Re: Ear Problems
---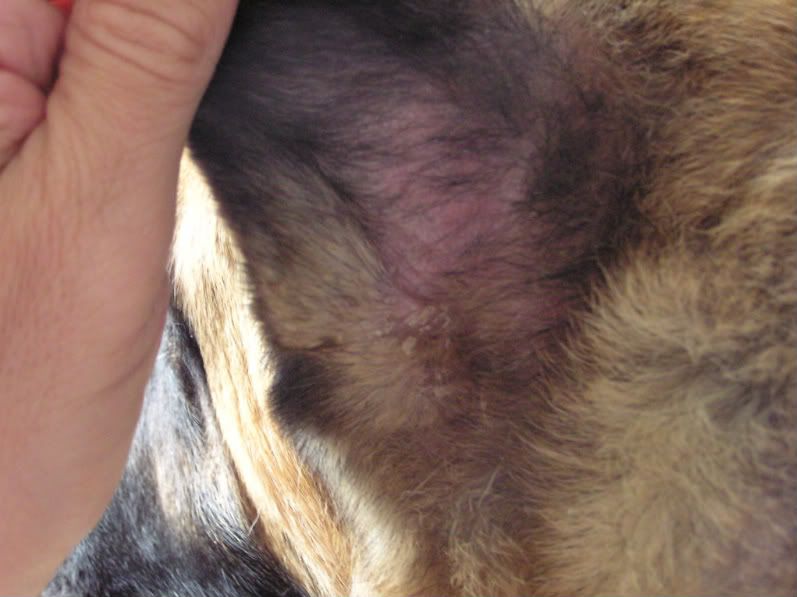 [/img]
She has had allergy problems and she does itch behind the ear as well. You can even see some of the flaking as well. I wnet to the vet a while back and she said that it wasn't mange, just allergies. This time she has lost a bit more hair though. Let me know what you think of the picure.
Thanks!
Master Member
Join Date: Dec 2005
Location: New York
Posts: 712
Re: Ear Problems
---
how does the inside of her ears look?
Re: Ear Problems
---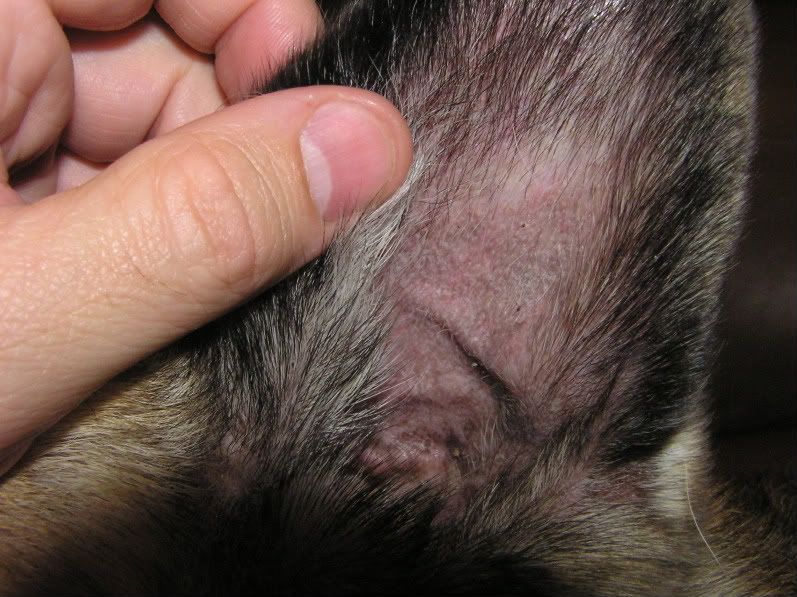 I just took this photo, my camera gets much better photos outside with sun. In any case the inside doesn't look bad, a few flakes here and there that's all. We use Epi-Optic once a week to clean the inside of her ears out.
Re: Ear Problems
---
Have you looked into the ear canal to see if there is "gunk" in there? Any odd smells, as compared to the other ear.

If she does scratch that on ear a lot, it could be from that. There's someone else that has a dog losing hair at the tips of the ears, can't rememmber who right now. Is she scrathing that one ear quite a bit?

It is not a normal thing, but lots of these dogs have stuff that's not "normal".