Elite Member
Join Date: Jan 2011
Posts: 1,805
Amazing enough, there is a couple that is planning on breeding their dwarf GSD to produce more. They had a litter with three in it, they are all about a year old and a total health mess, no hair, bare skin, wiry coat, just a total mess, yet they think they are the best thing since sliced bread. No amount of talking does any good...
The female they kept is a year old, hopefully she just won't come into heat.
runt or dwarf??
---
Oh geez - if I was a vet I'd be soooo tempted to spay that dog if it ever came in for a surgery - people are stupid sometimes.
Sent from
Petguide.com Free App
She's adorable! Best of luck with her. Hope she is otherwise very healthy.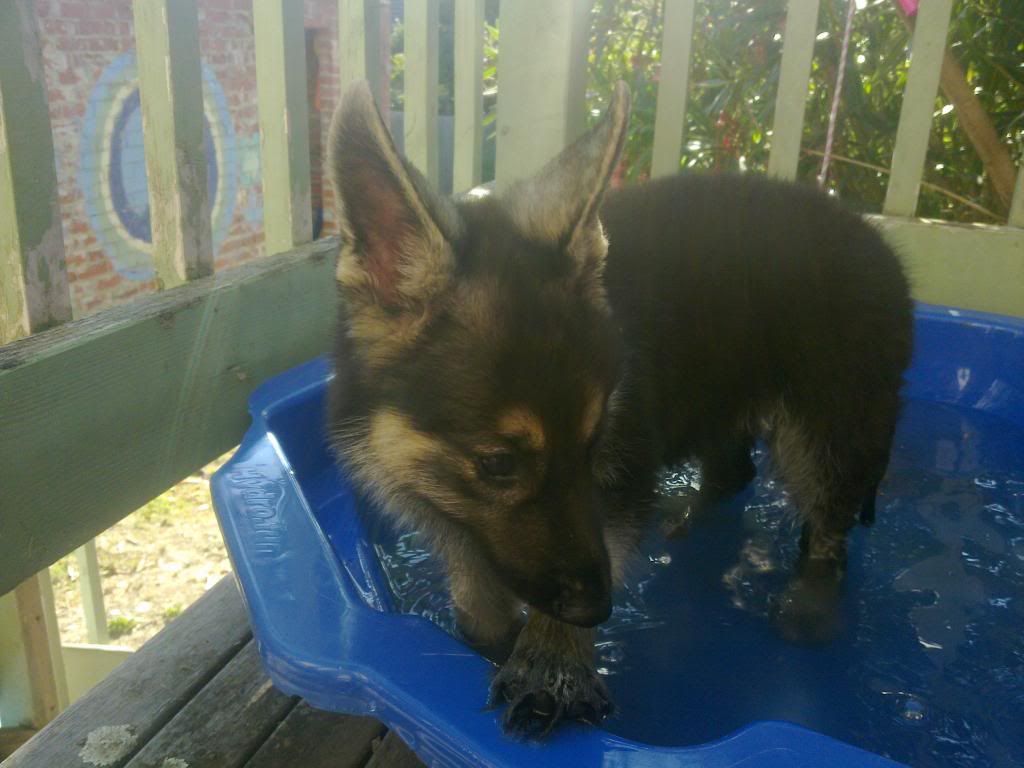 these were taken yesterday. she currently weighs 5.7 kilos. she was putting on about a kilo a month but since starting the thyroxine she has put on 1.2 kilos in 3 weeks. she has a tiny bit of hair loss on the side of her snout near her nose which has not progressed too far but has appeared on the other side too now. i'll get the vet to have a look at it soon. apart from that all seems fine. she continues to get her adult teeth. the vet will need to assess if any of these need removing due to her half inch overbite & the risk of them digging holes in her palate. luckily our new vet is an animal dental specialist as well!
i could understand people wanting a dwarf initially but they don't realise what they are getting into. yes, they are cute but the potential side effects are scary & i wouldn't deliberately wish these upon any dog & anyone deliberatly trying to produce this genetic defect should have their dogs confiscated.
---
Last edited by LittleLady; 02-05-2013 at

06:41 PM

.
Thank you so much for the pics and update, I look everyday for any progress! She is just beautiful
I hope you get the results back soon so you can have a concrete plan in place for her.
---
Miss Molly Moo (aka The Piranha/The four legged Mouth) GSD 31/10
Raennik Hassan (Cooper) GSD 19/10/11
Paris Tabby Cat 15 years
Texas Tabby Cat 15 years
we are still waiting on dna test results. blood had to be sent to the netherlands. our vet hopes we'll get an answer within the next 2 weeks. i'm sure i know what the answer will be but i need to be sure before progressing with treatment options.
otherwise, our little fluffball is doing well!
Dwarfs can live a normal lifespan if medicated properly and if they have no congenital heart defects...so it sound like you are on top of things....The University of Utrecht in the Netherlands is where they have built a database of pedigrees and the DNA testing as well I believe, so it sounds like your vet is really on top of it!!!

Good luck and hoping she continues to thrive!

Lee
---
Csabre Sch1, Hexe Sch2, SG Bengal, Lynx, Komet, Kira HGH & Kougar v Wolfstraum ~ Ziberia IPO1 ~ ATB Basha, Kougar & Kyra, Fenja, Sch3s, Cito, Sch2, Danger RH & Alice Sch1s ~Kelsey
wolfstraum.net

She's still as cute as ever! Like others, I've been keeping an eye on this thread. Glad she's doing well. Hope she continues to do well. She's precious.
---

To view links or images in signatures your post count must be 10 or greater. You currently have 0 posts.


Shasta GSD 5/5/10 CGC, ITD, TC
"Dax" Thor z vom Weberhaus CAX, CGCA, ETD, HCT, NCO-1, PKD-T, RATI, RATN, RA, TC 3/18/2013
Zena GSD 6/1/03-2/16/2016
Riley GSD/BC 1/10/05-2/1/2013
Crowned Member
Join Date: Jun 2001
Location: SouthEastern WI
Posts: 14,168
Any word on the test results? How is Gypsy doing? We need new pictures!!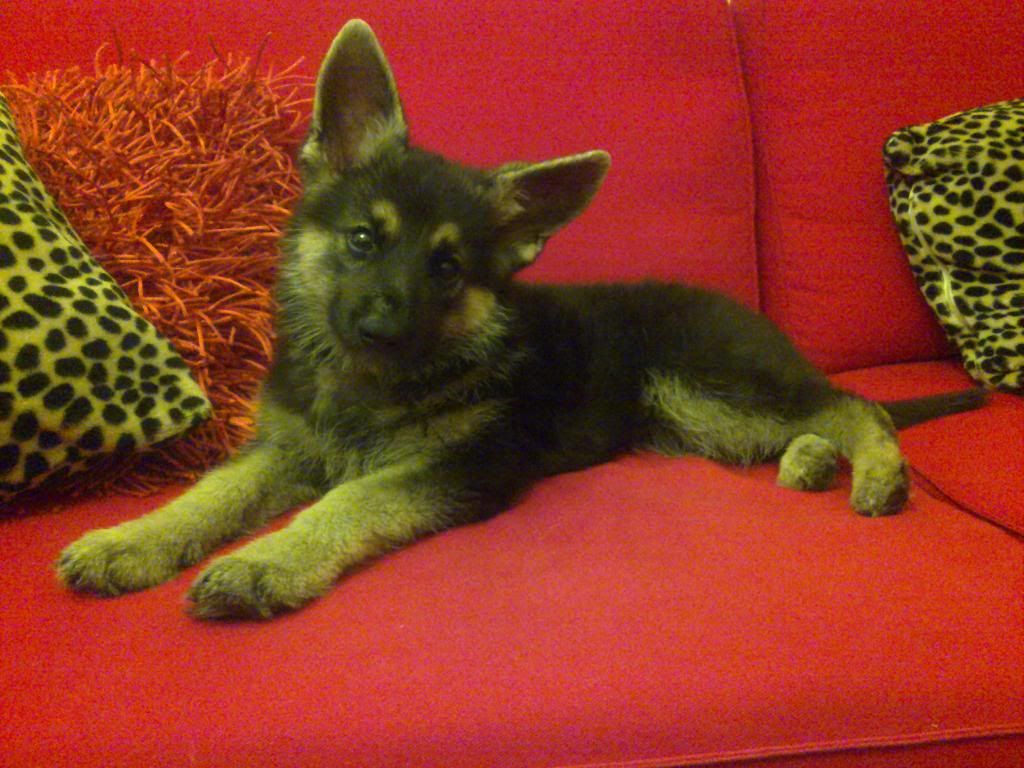 we're still waiting on the test results. she is doing well. energetic, outspoken & eating well. teeth are coming through nicely. losing a little more fur on her nose which you can see on the photo but nothing too extreme. it doesn't so much fall out as kind of flakes off with a little bit of black skin? the exact same thing happened to my cats ear 6 months ago & the fur grew back ok altho i believe gypsys may be thyroid related... not sure what caused the cats issue.
we have "graduated" from baby puppy school & will be playing with the big dogs next class, which should do her well as she tends to have a dominant streak!
we can sit, drop & shake hands. also can high 5 as a variation of shaking hands. we forget everything we've learnt in the presence of other dogs!