New Member
Join Date: Feb 2014
Posts: 14
What to know about your first puppy
---
Hello GSD Forums,
After visiting vonlotta this weekend in Locust Grove, GA, we found what we hope is our new puppy (have to wait until 21st). We have read as much as we can on these forums so far, by way of perusing the stickies and looking around.
What are some necessities that you all recommend that we buy to prepare for a new GSD puppy.
Any recommendations on favorite toys, chewables, crates, etc.?
Anything and everything are welcome. We are going to flood this thread with puppy pics when the time comes
New Member
Join Date: Feb 2014
Posts: 14
Here are the only two photos we currently have of our girl: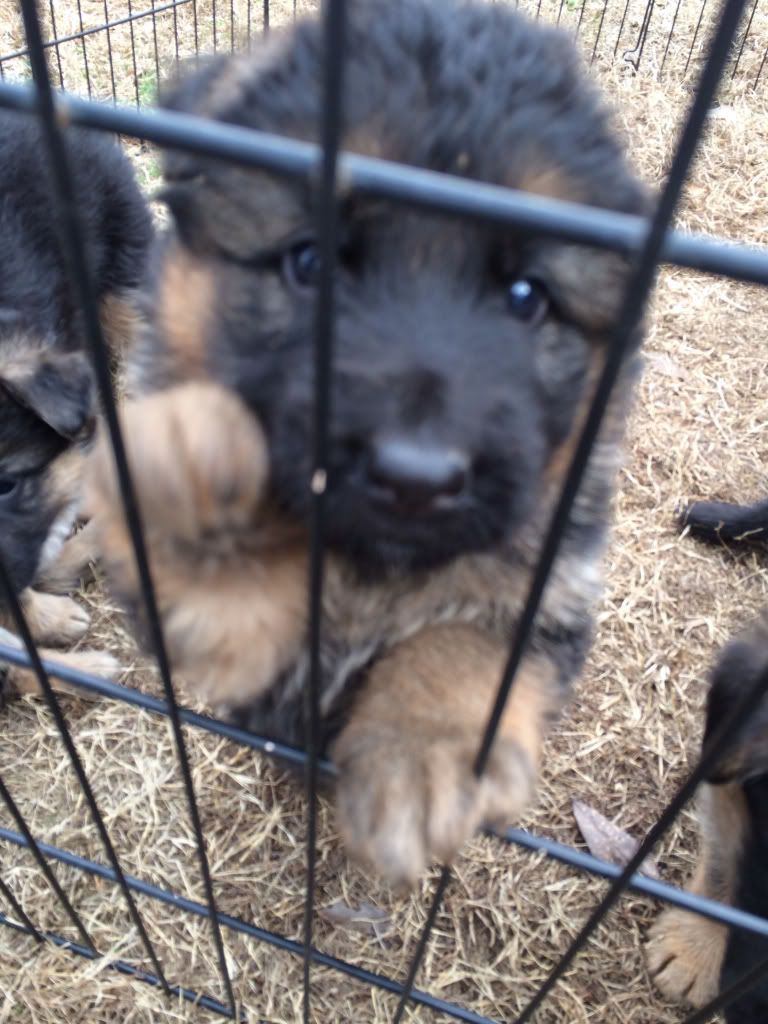 Is there any specific pet pee removal spray that you all recommend. The sticky I read referred to Lifes Great Badpupp-pee stain removal aid. I can't find that online anywhere.
Buy the biggest crate you can find that comes with a crate divider for potty training. I would recommend toys that have no stuffing in them but squeak, rope toys, balls, treat dispenser toys for when he gets a little older. A cheap collar because he's going to grow out of it so quickly. An extension leash for potty time. A shorter leash for tethering him to you. A cheap bed if you want one for him. I'm saying cheap because more than likely he'll destroy them. Haha. If you can, buy some bitter apple spray for your wood furniture and invest in a good pair of shoes so he doesn't chew your toes off. Haha!
Also invest in some vicks vapor rub for your arms after he turns into a landshark (to be used as a bite/chew deterrent on YOUR skin, not his!). An x pen if you can afford it. Some blankets to put in the bottom of his crate (so you can switch them for washing if they get accidents on them)... I would also suggest nail clippers for right after you get him home if the breeder didn't already clip them - and to get him used to them as baby. Quick stopper powder just in case... I can't think of anything else. I use Wellness puppy food for large breeds. Sometimes petco has it on sale.
*-*Summer*-*
And we use Folex for poop stains. I use a mix of equal parts listerine and hydrogen peroxide for urine.

*-*Summer*-*
I also feed my pup Wellness large breed puppy. Everyone remarks how soft and shiny her coat is and she has tons of energy.

Summer's list covers about all of it, but don't forget training treats. I mix the treats with some kibble and keep a pocketful all day. That way, I could reward good behaviors throughout the day without overfeeding of treats.

Good luck! She's adorable!
---
Mystique: Solid Black, 11/10/2013
The only other things I'd add would be a squirt bottle with 50/50 bleach mix for cleaning up accidents on hard surfaces (tile or hardware floors, etc).. At a 50/50 mix it will disinfect but not be really harmful in case of accidental ingestion.
New Member
Join Date: Jul 2010
Posts: 23
I would add a toy box. We learned the hard way to keep the destuctable toys picked up...lol. And pretty much everything is destructable. Last thing Gus chewed up was a solid rubber hockey puck.
Elite Member
Join Date: Jun 2012
Location: Great Mills, MD
Posts: 1,661
Welcome to Puppyhood!

A large, wire crate with divider is best. You never really know what the final size of your dog will be, so you want to go with something large, but the divider is essential for puppy training.

Chew toys...and lots of them. I bought several large bags of Rawhide chips along with a bunch of No-Stuf toys. They have squeakers, but are practically indestructible. My hardcore chewer who has destroyed Kongs had a No-Stuf for 4 years. We just threw it out as no amount of washing could get the wet dog slobber smell out. A lot of them can be filled with water bottles, making it a cheap, reusable toy. I also bought several stuffed toys as they are good to put between your hand and the pup's mouth and a few of the dental rings. They have nubbies on them that seem to soothe the teething pains.

A good, strong leash.

I love Nature's Miracle. That stuff has been a life saver. It works very well on hardwood floors and their No Mark solution is the only No Mark stuff I've used that actually works. It's a bit on the expensive side, but the one gallon jug lasts me a very long time as I use it in a squirt bottle. It's always on sale on Dr. Foster and Smith's...I get it for about $15 cheaper than in Petco...so instead of the $30 plus tax bottle in the store, I get it for about $16 a gallon if not less depending on their sales. It's not uncommon to get 4- 1 gallon bottles of NM and have to add on a box of Greenies or something else to get to $50 whereas 2 gallons in the store has me over $60.

Nail trimmers and Ear Cleaner. You want your pup to get used to having its nails done and Ears cleaned. A year down the road, you'll be happy you did it.
---
RIP Sebastian, Baby, Cheyenne, Baxter. Gone but never forgotten.

Finnian The Irish Lad WGSD: SAR
Abeni the Little Warrior: Pomeranian rescue.

"Res nos operor ut alius algo"
"Go mairidís beo"
Junior Member
Join Date: Jan 2014
Location: Colorado
Posts: 45
I am going to add:

make sure you have a bottle of hydrogen peroxide handy... I had to make my pup puke 3 times in the first week I had her. (2 TBS down her throat according to my vets instructions!) the first time because she ate mouse poison (GASP! And had to be on Vitamin K for 3 weeks after that) and the next 2 times because she swallowed my 4 year olds socks whole.. omg. Thankfully at 5 months old, she has outgrown the need to eat anything and everything.
Junior Member
Join Date: Jan 2014
Location: Colorado
Posts: 45
Oh so also... if you take the puppy places like I did, make sure those people don't have mouse poison under their bed... because your puppy will definitely look under the bed... sigh.