And she's home! It's Arya...
---
When I first introduced her, this was her picture. At 3 weeks and 5 days old.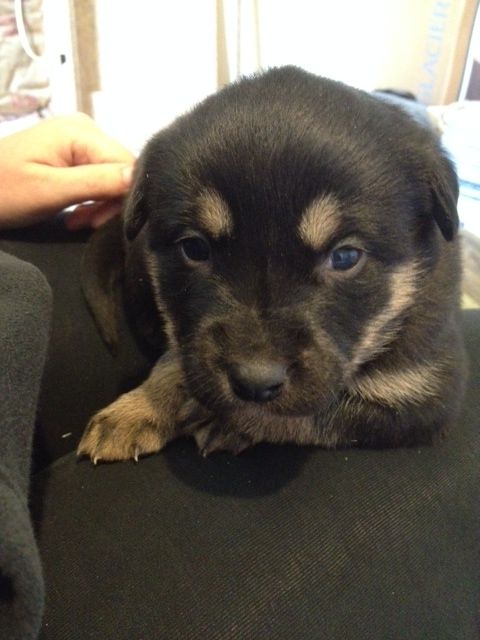 And now...
She's 7 weeks old (was planning on 8 weeks originally so she could stay with her litter as long as possible, but the rest of the litter already had found homes by this Friday, so there wasn't any point in waiting longer).
I picked her up last night... so far... she's fitting in great.
My older dog is being an old grump... but she gets enough time away from the puppy, and always preferential spots on the couch and bed, so she's not being ignored or overwhelmed. And she always has a way of getting away. Once Arya gets older I know they'll play with each other and be good friends, Tasha just doesn't like little puppies that much.
But what's great is that Arya is actually really respectful of her space, and doesn't push anything. Which is AWESOME of a 7 week old puppy.
Also practically crate trained (her former foster momma did this), even though she sleeps with me at night. I like my animals to sleep with me... so it works out. She's in the crate for the hours during the day I'm gone though.
She went to work with me today and met my boss's dogs, and all introductions when GRAND. Which will be great, because it'll allow me to have her with me at work to give Tasha more time away from a crazy puppy.
So... of course... I have pictures.
In bed last night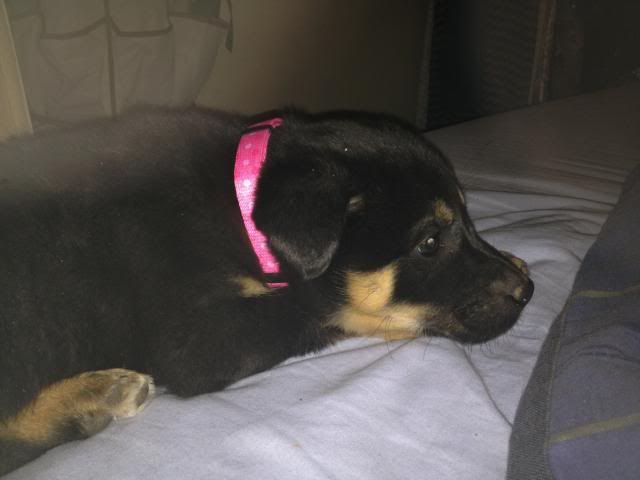 Asleep on top of the couch (it's a pretty big area up against the wall)
With my boss's dog... he LOVES her.
And eating her first truly raw meal...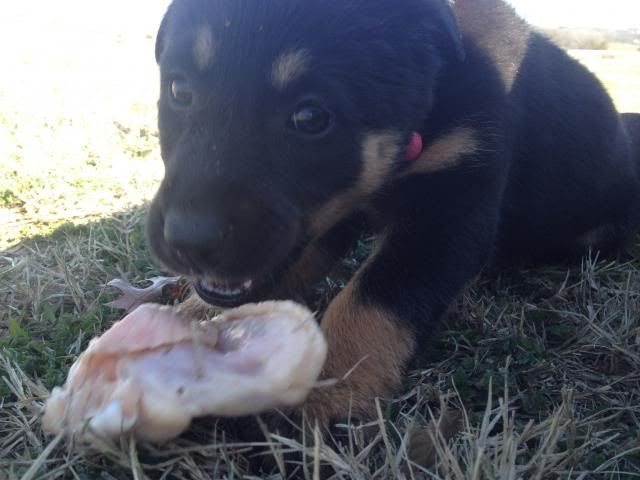 ---
GSD/Dinozzo (A.K.A. SG Jocose vom Mittelwest); Cats: R.I.P. Xena & Zora; Ferrets/Falkor, Draco, Drogon
The Agility Rocks! Moderator
Join Date: Aug 2001
Location: Bushkill, PA (The Poconos!)
Posts: 27,408
What a beautiful pup!
---
***
MACH3 Bretta Lee Wildhaus MXG MJG MXF MFB TQX HIT CGC TC
Glory B Wildhaus AX, AXJ, XF
plus Miss Osin Blue Wildhaus
"Nothing new can come into your life unless you are grateful for what you already have. ~ "--- Michael Bernhard, gratitude
New Member
Join Date: Feb 2014
Posts: 2
She's adorable
cute pup.. Congratulations!!
---
"A House Is Not A Home Without A German Shepherd"
I particularly like the Haughty Diva expression in the first photo.
Jelpy
---
My furs are not in storage, nor draped across the bed. They're peering out the kennel door just waiting to be fed.
(Anonymous)