My puppy's size, age and growth
---
Is my puppy growing too slow? She'll be 6 months this sunday and she is starting to teeth the past week. Yesterday i saw a few teeth fall out so she's right in the middle of it.
She also is pretty small for her age. There's a 7 or 8 month old female GSD in my training class and she's much bigger. My dog is maybe 40 lbs.. the last time i went to the vet she was around 35 so maybe she's more than 40. Maybe 40-42 or something.
Is she a slow developer? People say sometimes comment on how small she is when they hear that she's 6 months.
These are some pictures of what she looks like now. She still looks very baby like and acts as such.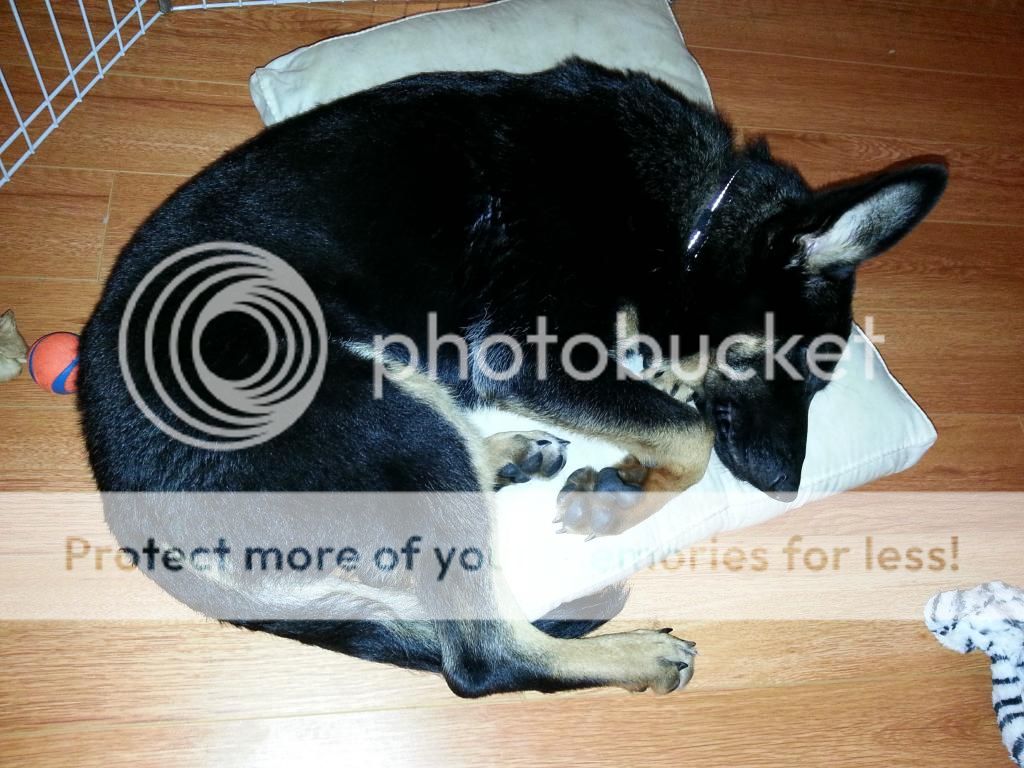 Elite Member
Join Date: Jan 2013
Posts: 1,152
She has to grow into those ears...
42 pounds for a 6 month old female, sounds about right. She looks good in her pictures, and she does have some big ears, so she'll grow more, no doubt. My 6 month just had a vet visit on Monday and she weighed in at 47.1, she looks lean, but she's a very active puppy and it's her build. Now compared to my little man, who is 5 months, she looks like a string bean, as he's 56.1 pounds, but each Shepherd is different.
Banned
Join Date: Aug 2009
Location: California, US
Posts: 5,928
Very CUTE! But BIG Ears!!!!!!!!!!!!!!!!!!!!!!!
awww where did you get that giant purple octopus toy!? love that picture!
---

To view links or images in signatures your post count must be 10 or greater. You currently have 0 posts.
Megan
Lara
To view links or images in signatures your post count must be 10 or greater. You currently have 0 posts.
(12/14/2012) CGC
Jarvan
To view links or images in signatures your post count must be 10 or greater. You currently have 0 posts.
(12/25/2015) ~IPO in training~