Banned
Join Date: Nov 2010
Location: Wisconsin
Posts: 5,130
Wanted to add...

Dog fight threads are very interesting. The OP tells us their side of the story. Usually missing most of the details. Many of the really important details are also missed because in general people do not read dog body language that well and just blame the fight on who ever was the first to bite/growl/bark or the dog's owner who isn't on the forum to defend themselves.

I've once talked to a lady at a private dog park about her GSD (she got him from one of my club members). She said he was the sweetest dog ever, he never started fights, he was friendly to all dogs. All the while I'm watching her dog try to dominate mine. He dog was more than a year younger, but about 3 inches taller. The first thing he would do when he came over to my boy was try to put his chin on my dog's back. My boy, who is also sweet and playful, doesn't take very well to this (both intact males). So he'd react aggressively and scare her dog off. When I explained this to her, she was shocked that her sweet little 90 lb 9 month old would be doing such a thing. She had absolutely no idea that he was actually the instigator (my dog was being commanded to ignore him). If I hadn't explained this to her, and she hadn't actually witnessed it, she would've definitely thought I had the meanest GSD in the world and why is he randomly attacking her GSD who is just trying to play with him.
Quote:
A Cairn Terrier mix attacked my pup today and they got in to a fight (if you got punched in the face you'd react back right?). I managed to get collar Charlie and had to kneel on the other dog because i wouldn't stop trying to get to Charlie, even though Charlie was trying to avoid the situation. The other dog then went to attack a fellow dog owners puppy.
Did i react in the right way??. I know i need to protect my dog.
Kaasuti - Remember, you can control your pup, but you can't control your pup's environment. Any time you are in a place where there are dogs running loose, you need to be vigilant about protecting you pup. If that means placing it on a long line so you can be there to protect him within miliseconds, then that is what you need to do.
It is sad that folks don't control their dogs. But never assume that since Fido is running loose, that Fido is a well behaved dog.
---
Hondo Von Dopplet L Bauernhof "Hondo"- GSD
Lilie's Tug McGraw "Tug" - Golden Retriever
Maggie - Mini Dachshund (Rescue)
Lonestar Pivo - Texas Blue Lacy
Ashe - Barn Cat
Katie / APHA
Quote:
A 6 month GSD and a Cairn terrier mix? You'll have trouble yelling at that owner for his dog "attacking" yours. Who punched who in the face? Cause I don't see a cairn terrier having much success trying to punch a GSD in the face...
I think that any dog, including a Cairn Terrier or a Chihuahua, for that matter, can be a potential problem for a GSD youngster.
I have reactive dogs. Had the Cairn attacked mine, it could have ben a totally different deal.
Glad the OP's pup went on to play unphased afterwards
---
Nadia - GSD -DOB 12-29-07
Zisso - GSD- DOB 9-16-07
Pepe & Kiki`my sweet kitties

Zisso is my heart~Nadia is my Love~My kitties bring me everything in between~Together they bring me Joy!
Knighted Member
Join Date: Feb 2011
Location: Toronto Ontario
Posts: 2,081
I agree with
martemchik
and these todays terriers aren't going to be killing anything larger than thay are.
6 month old gsd's can be lil tyrants to small dogs
---
Last edited by pets4life; 12-21-2012 at

10:29 PM

.
Quote:
... these todays terriers aren't going to be killing anything larger than thay are.


Why do you say that? I've met a few well bred terriers that are still capable of doing what they were bred to do. That's like saying today's GSD's aren't going to catch any criminals or herd any sheep.
Quote:
Cause I don't see a cairn terrier having much success trying to punch a GSD in the face.
LOL, have you ever met a Cairn? Most of them are game to take on whatever comes their way.
Sheilah
Banned
Join Date: Nov 2010
Location: Wisconsin
Posts: 5,130
Quote:
LOL, have you ever met a Cairn? Most of them are game to take on whatever comes their way.
Sheilah
Oh no, I don't doubt that a cairn could hurt a 6 month GSD. Like I said, we have a westie in the family and he only backs down from my GSD when the GSD is really really pissed and the westie can tell he's going to do something.
I just don't think its physically possible for a cairn to punch a GSD in the face...he could lunge and bite but not punch (unless the GSD is laying down).
I read it as the cairn came over to the group, might've played a little rough, and the GSD pup (like GSD pups tend to do) punched the cairn in the face, the cairn didn't take so lightly to it and decided to tell the 6 month old who's boss. In this situation...the GSD is at fault, if I'm reading it wrong then hopefully the OP can tell us exactly what happened.
I just hate blanket statements like 99% of dogs in that park are great, and this is the only one that is terrible. Its the only one that isn't trained, ect, ect. I've gone to dog parks all my life and 9/10 dogs aren't trained well enough (for my tastes) when it comes to recalls and call offs. I'll admit that my dog isn't aggressive but he does like to throw his weight around...I have to make sure he's not trying to show his dominance to the wrong dog because that dog might react and then my dog won't back down. I've seen my dog at least "try" to start plenty of fights.
When it comes to dogs and their language, it usually takes someone very knowledgeable and very attentive to see what is actually happening in a dog pack. And sadly, 99% of people that go to dog parks aren't those.
Knighted Member
Join Date: Feb 2011
Location: Toronto Ontario
Posts: 2,081
jax gsds can do that are still bred for it, no carn is ever going to be able to take on an otter or a badger if it trys it will die very quick by itself without the hunter.
Terriers are still bred to work also. Why would you think one breed was still bred to do it's original purpose and not others. That makes no sense.
THIS is why I say don't take your dog to an uncontrolled environment where dogs are off leash and not under your control, it isn't fair to put your dog in that situation. Especially where there are big differences in the size of the loose dogs.
And to anyone doubting a Cairn could do damage to a GSD PUPPY... why? Because they're cute? They are terriers. I'd rather break up a fight between two GSDs than two Patterdales - terriers of about the same size.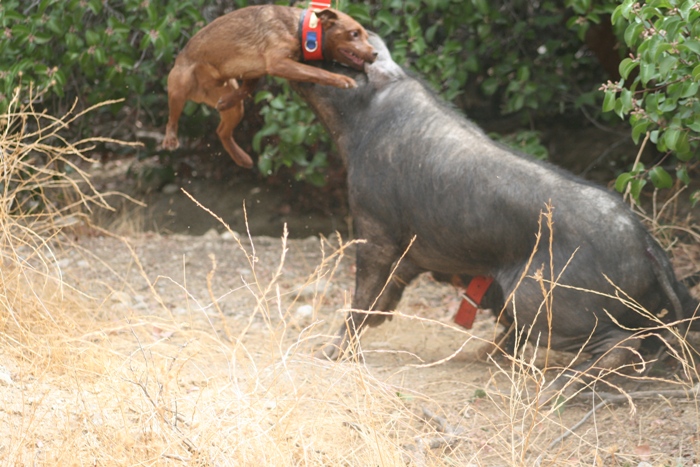 Tell me that is no threat to a bigger puppy? Terriers like these are bred to do damage to other animals, and not to back down despite injuries of fear. It WAS a real danger to your pup and I don't think you overreacted, I think you under reacted, I would have laid into the owner and made sure they took their dog out of there.
---

To view links or images in signatures your post count must be 10 or greater. You currently have 0 posts.


Sparkles, Lilith, Eve, Candy, Dahlia, Juno, Tonks.

Jaeger, Ben, Goose, Dirk, LingLing, Bentley, Elliot, Batman.