update
---
Manny will be 6months old next weekend. He has grown alot and weighs 55 pounds now.

The good- Manny is very affectionate with us and is becoming best buds with Max. Him being to rough with Max was our only problem before. He is very smart and obedience training is easy. He is very food motivated and catches on to new things quick.

The bad- We started new group training 3 weeks ago. We have found that Manny is fear aggressive toward strange dogs. Hackles up lunging pulling and barking at the other dogs. Has something wrong with his skin and has bald spots on both ears and one on his side. Went to vets for this Wed. They have took hair and skin samples and results can take up to 14 days. Is on cefpodoxime once a day and is being bathed with ketochlor twice a week until we find out more. Goes back to vet tomorrow to have 2 baby teeth pulled.

Questions- Our trainer is using bitter apple spray when Manny lunges at the other dogs. She will spray him right in the mouth with it. This gets him to settle down for awile then he will do it again. It seems to be getting better as now he will settle down when she just shows him the bottle but 10 15 min later he will go again. What are your opinions on her method and do you have any advice?

What opinions or advice do you have on the skin problem? Does the type of medicine and shampoo seem right?

Thanks for any help!
I don't know about the spraying to keep him from lunging at other dogs, or have not had to deal with skin problems. Maybe someone will come along later and have some suggestions for you. Good luck with your boy Manny.
---
karen, mom to:
ace-gsd (bi-color) 6/14/2010
mandy-yellow lab 1/31/2009
dixie-shep/lab 2/21/2013

baby-terrier mix (waiting at the bridge)
I don't like the idea of spraying a dog in the mouth to teach them anything. I don't want to knock your trainer, and if you're ok with it, then I don't mean to criticize you either, but I'd ask the trainer for a different method myself. Plus, that stuff can't get into their eyes. I hope she's careful with it!

Is your dog truly fear aggressive? My puppy reacts the same way but he's excited, not fearful. Is Manny toy motivated? I used that to distract my puppy's attention away from other dogs. I also gave collar corrections for ignoring commands when he was focussing on the dogs. I started bringing him to the dog park when he was around 9 months old too, so he could learn 'doggie' manners. None of this might be right for you and Manny, but I didn't want to just shoot down the spray idea without mentioning a (IMO, lol) better way.

Sorry, I don't have any advice about the skin condition. I hope the vet figures it out for you soon. I know how frustrating health issues can be. Good luck!
Spraying your dog in the mouth like this is going to exacerbate the problem, not fix it and cause more. Using a combination of tactics including counter-conditioning is extremely important for this. Don't fight fire with fire causing more upset and conflict in your dog in regards to his triggers (other dogs). Please look into B.A.T. training
Behavior Adjustment Training (BAT) | Official site for BAT: dog-friendly training for reactivity (aggression, fear, frustration) by Grisha Stewart, MA
and other related methods based upon using your dog's psychology to help teach him to think and relate to the world differently and retain his trust in you!
I got my GSD at close to that age and he acted the same way without previous socialization. I used counter conditioning and training at my gsd club 2-3 times a week. I live in the city, so I really didn't need a dog who was going to be crazy every time we saw another dog because Chicago is a really dog-friendly city!
Read up on BAT and other counter conditioning and desensitization material and make sure you fully understand every step, because it all is based upon your ability to recognize your own dog's threshold and working under that. If you don't do this and try to make your dog obey/accept rewards, etc when they are already past their personal threshold, you will think it doesn't work. It does work every time when done properly!
During training classes, I used a combination of positive reinforcement, encouragement, happiness when he did super well (on recalls, downs, stays, etc) and made it the best moments of his life! Yes, I used a collar correction only if I needed to, but with the same balance of luring with food and reward. In other words, learn to be quick about the correction and "blank acting" like the correction was just some thing that happened! and immediately follow it by giving him something positive to do, to get reward and praise for. Do you see what I'm getting at here? Learn about markers, primary and secondary reinforcers and most especially, the timing of your reinforcements. Training classes not only taught my dog to pay attention to meeeee around all those other dogs while he learned that they weren't going to go for him either so he learned to overcome his issue with others and to trust me.
It was amazing when he stood for the judge and was able to compete around hundreds of other dogs. You will be incredibly proud because it's months of work, not days or weeks. I was even able to take him to the German Shepherd Nationals for the weekend and had a great time with him as spectators!
About his hair loss and skin problems. Umm I don't know why your vet is taking 14 days to come back when the first simplest check for those symptoms for a dog this age would have been for Juvenile Onset Localized Demodicosis, which is a simple skin scraping and look under a microscope for the cigar shaped demodectic mite, which lives normally on all dogs, but get out of control due to an underactive immune system. Did they check for that first already and ruled it out, sending samples for further inspection to a lab? I don't know what it is, but I'm wondering if he/she even checked. Antiobiotics and ketochlor baths sounds like your vet began that regimen in case demodex is the culprit until lab tests come back. It sometimes resolves itself.
What is your dog eating? I swear by organic awesome food, you can study the feeding section of this forum for food suggestions and consider RAW. Feeding a high end dog food saves you all kinds of heartache and different medical issues sometimes. But your dog is 6 months old with a condition like this, which is a concern that it's something deeper than diet, or it really could just be a simple food allergy! I will be interested to know what your vet discovers. Why is your vet pulling baby teeth?
Thanks for all the advice!

Dont have alot of time right now but will try and answer some questions.

He is eating 4 cups of Blue large breed puppy chicken and rice a day. 2 cups twice a day.

The vet did not look at anything under a microscope.

Im getting ready to go pick him up from the vets right now. They pulled 2 baby teeth because his adult teeth came in next to them and did not push them out. The baby teeth were turning black and could have caused an infection.

Yes it is fear aggresion. Its weird though cause it is in spurts. He will be fine and just doing his thing and then bam will go off. He gets excited but this is different. His excitement is a different sounding bark and whining mixed in.

Next training is tomorrow night and I will talk with the trainer and try another method.

Thanks
Just back from picking up Manny. The teeth removal went fine and the vet said they did look at samples under a microscope and nothing was found. Just gonna have to wait aand see.

Thanks
Hello everyone.
Manny is doing much better! The skin issue is only a seasonal allergy and nothing came back on the test. The spots are getting better and we are giving benadryl when needed and are thinking about adding fish oil to his food. His current daily diet is 4 cups of blue buffalo large breed puppy chicken and brown rice. What opinions do you have on adding the fish oil? If you think its a good idea what brand and how much should he get a day? He eats twice a day 2 cups each time.
Training is going well and we only have one more bassic puppy class. He will be going into star puppy in January. The fear aggression is much better and is being handled with collar correction and distraction. Its almost a none issue anymore and we have made it through entire classes with not even a bark from him!!
Thanks for all the help! Here are some recent pictures.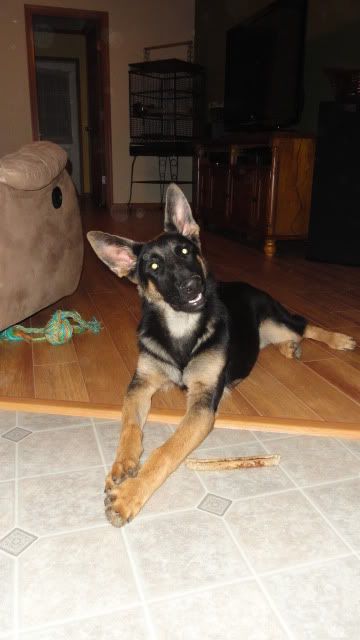 Okay!

So nobody knows if fish oil will help? Nobody can offer advice on a brand or how much he should get?

Thanks anyway!
We use fish oil for my guy - he tends to have dry skin but that is probably due to the lower quality food we are feeding him - and yes we are going to be changing
. We give him 2 - 4 pills a day. We just get a big container of the from Costco. He actually really likes them and won't eat unless they are in his bowl with his food.
Sent from my iPhone using
Petguide.com Free App
I give human grade fish oil daily(2000mg) and rotate that with coconut oil ever so often. I also have a humidifier running when the furnace is working hard. I see you have a parrot? Do you keep the humidity up for it?
---
Jane~
Kept by
To view links or images in signatures your post count must be 10 or greater. You currently have 0 posts.


To view links or images in signatures your post count must be 10 or greater. You currently have 0 posts.
and
To view links or images in signatures your post count must be 10 or greater. You currently have 0 posts.

Kacie
To view links or images in signatures your post count must be 10 or greater. You currently have 0 posts.
7.21.05-5.01.15